Age of Chivalry Preview #5 - An Orchestra of Death and Destruction
This week's Question of the Week: What feature do you believe would bring the most improvement to Age of Chivalry's Melee Combat?
Some things you just can't capture with screenshots- such as the satisfying crunch of your massive warhammer thrashing through armour and shattering the ribs of your now limp opponent. So this week we have decided to instead release 54 seconds of completely unedited, unscripted and totally random sample of the sounds of combat in CR1.
Why? Because we believe it is the most consistently underrated aspect of game design at any level, because we have in the past been given lower marks on the sound side of things and because we are committed to proving that Age of Chivalry excels in all areas. After this gruesome clip we're sure you'll agree!
Previously in Age of Chivalry, the majority of our impact sounds were very metallic in nature and generally sounded similar. In CR1 bones will crack and break lose of their flesh encasing, armour will buckle, skulls will crunch, necks will snap, throats will gurgle, flesh wounds will gush and the player will feel every ounce of weight behind his weapon as he plants it firmly in his opponents chest in a tremendous crash of metal and the flesh and meat beneath it.
Listen to the raw unedited sound clip from CR1:
---------------------
This week we take a different spin on things and take a peak inside Team Chivalry with an exclusive interview from Sir Loin, the Team's lead sound developer: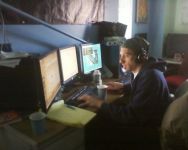 Tibberius: In your opinion how important is sound to a video game?
Sir Loin: To me, sound is just as important as any other aspect of video game development. When you are gaming, you are essentially relying on two senses: what you see and what you hear. In that simple sense, its half the game. Sound itself covers an awful lot of ground-- music, environmental ambiance, action, and voice-overs... Games are increasingly becoming an immersive experience, and good sound can really sell the action and mood within a 3d game environment. Conversely, bad sound can stick out like a sore thumb and pull you out of the game just as easily. Good sound often goes unnoticed because it becomes inseparable from the world you're in. Hence why It's often an underrated aspect of game development. I can even remember times where, as a team, we've been surprised- myself included -- about how some sound modifications and additions significantly changed how the game actually felt to the player.
Tibberius: What are some of the most exciting features for sound coming in CR1?
Sir Loin: Well, thanks to the efforts of our fine code team we've completely reworked the sound impact system. A lot of work went into this- I think I generated something like 80 or 90 completely new and original sound assets for combat alone. The map ambiances have continued to get fleshed out and are really coming together and just overall things in the developers version today have a really natural and intense feel to them that we've never had before.
Tibberius: How will these features work/add to the game experience?
Sir Loin: I think the impact system makes a huge difference. I remember the first time I heard it in action in a 32 man bot-match. Battle was just so much more vivid, diverse and intense. Basically, instead of hearing the same 6 or so different sounds for blunt, slashing, and stab damage, the game is now firing a random combination of sounds per impact. These sounds are dependent on the type of damage being inflicted: blunt, stabbing or slashing, as well as the type of armor worn by the player being hit. So if you hit a knight with a hammer you will hear two sounds simultaneously simulating the damage to the body and the impact to the armor. With 3 armor types x 3 damage types x 2 sets of 10 random sounds in addition to a random sound pulled from separate blunt, slash and stab damage to the body for each impact heard, we are now hearing an orchestra of clashing steel and broken bodies on the battlefield.
(For those too lazy to do the math, Each weapon you hold will be capable of creating a distinct sound combination from a pool of about 180 unique sounds, depending on the situation).
Tibberius: Was anyone harmed in the making of the Age of Chivalry sounds?
Sir Loin: Sadly, yes. Our wonderful voice-over artist, BodyoftheMany, choked on his tongue and shredded his vocal cords during the 1.2 VO recording sessions. Don't tell him that someday I hope to make the faction VO also class-based until after he is safely back in the padded recording studio.
Tibberius: What can we expect from the sound department in the future?
Sir Loin: Well, for one thing, I'll be busy with more maps. In the spirit of the new impact system, we will continue to tweak and add sounds to help make the combat as intense and immersive as possible -- things like fatigue-dependent swing grunts, near death treatments and automated battle cries (read as: L4D meets 300). The game is still progressing and there will be plenty to work on as the team continues to move the game forward. I won't be bored over Christmas break that is for sure!
-----------------------
Stay tuned next week when we talk to Wraiyth (Programmer) about why CR1 will be the most violent and gruesome Age of Chivalry yet!
In addition, we have several positions open for new beta testers for the game, help us make the changes YOU want to see, send application to: jobs@age-of-chivalry.com
Tibberius Bane - Age of Chivalry Marketing Coordinator