In this edition:
Progress update
Forums
What is UEaW V1?
Closing tempter
---
Progress update
Development of UEaW V1 has been slower this last month, mainly due to my second year of medical school starting. Shimrra can't keep going on his own, and Geroenimo has other commitments so the pace has been more relaxed recently. This doesn't mean nothing has happened
The Galactic AI draws ever closer to completion.
The new GUI is almost finalised, and is looking pretty sexy imho. Forum members can view some exclusive alpha shots of the Galactic GUI that were only released to our forums, if you want to take a look (and join the community ;) )
Balancing continues ever on...
The Executor-class Star Dreadnaught has finally been coded, courtesy of hour's of Shimrra's time.
Various graphical upgrades are continually in production. The most recent example is the re-skin of Coruscant - no more ugly clouds and dull surface: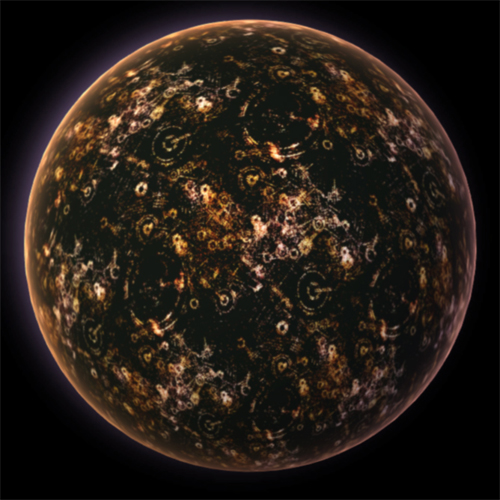 Forums
The website and forums are now operational again (indeed have been for some weeks, though we failed to notify on Moddb of this).
More than this, they've been upgraded to smf 2.0.1 and we've been re-structuring and generally improving the boards, and have been very pleased to see quite a few new users, after activity had been falling for so long.
As with the GUI shots I mentioned earlier, media reaches the forums before Moddb, and some of it is exclusive to the forums, so besides your chance to be a part of the community it is also beneficial to be a regular to them.
What is UEaW V1?
We've had a little confusion from newer members about what will
Space-only combat - this is a necessary and temporary restriction; due to the amount of content involved we can't realistically release land and space in one version, otherwise we really would be modding for evermore.
4 eras of Star Wars history - 8 factions each with their own navy.
Entirely re-developed gameplay - the game has been re-made from scratch, basically.
Significantly improved graphics versus vanilla.
Inter-era skirmishes.
Numerous era-based Galactic Conquest scenarios, with canon trade routes, re-made planets and a more diverse economy and population system.
Extensive orbital building and management options - economy, infrastructure and defence. These will be retained for V2 if and when land is implemented.
Research trees for every faction.
Brand new streamlined glass-themed GUI designed to reduce impingement on the game area.
Larger, tougher tactical combat maps.
Tougher, more aggressive AI.
Hopefully that will answer some of the more obvious questions.
Closing Tempter
Finally, there's so much new stuff and differences from the vanilla game in V1, we couldn't leave you without documentation. Just a sneak preview of the front cover ;)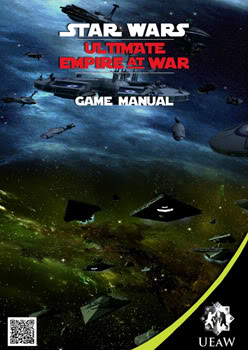 Until next time mentlegen (and next time may be posted by our PR rep, s-t-n),
Doktor von Wer (LTCC)