I've accidentally been doing monthly updates for Office Complex since I announced it. Trying to continue this trend, here's our next update. I can't think of much that is really notable. If you haven't seen it, there's the new and improved redesign of the rather iconic flooded room: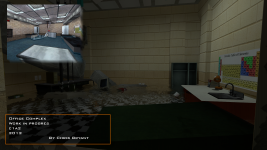 I think this is the best variation out of the ~10 there have been. It's not as large as the original in Half-Life, or the more recent variations, but it looks rather nice, and is my personal favorite. This is likely the final version (though that at a finished state), but who knows, yet another problem might come up. Oh, that's right, the many redesigns were based around the many problems I've come across.
Much of the work in the past month is more technical stuff, like map "optimizational" tweaks or getting our models working properly, ammo boxes destroy a bull, junk like that. The flooded redesign is the biggest we can show right now. As in, very soon we'll have a bunch o' visual stuff to offload on you, but for the time being, just know that Office Complex is coming along extremely well. Team Complex thanks you for the support.