So much is happening lately it's hard to tell it all. Lets start with my no0b cartoon attempt: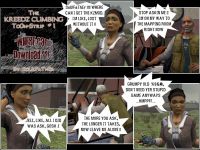 I will be doing more of them.
I have uploaded screenshots for 4 new maps, bringing our present total to 22!!
Pretty soon(tomorrow?) we have a Bunnyhop presentation video ready in our downloads section right next to our official MOD Promotion Trailer here on MODDB, so keep checking that for those who are interested in our unique game.
We are within a few weeks of a release so stay tuned!!!