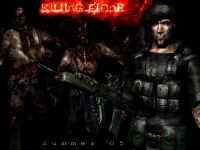 Well ladies and gentlemen....Load those shotguns, and polish yer knives, because Killing Floor is just about ready for public consumption! Killing Floor will be released some time on the day July 15th, featuring a full SINGLE PLAYER campaign which plays out like a part adventure game, part survival horror action shooter , part puzzle game hybrid. In other words, I have played almost all the resident evils there are to play, and you'll see that reflected in the mod.
But what of the Multiplayer COOP gameplay that made the DEMO release several months ago so entertaining to such a significant number of people?! Well it's making its return and better than ever. Featuring a working purchase system with gunlockers, and all sorts of upgrades like a "remaining enemies" counter that will provide you immediate feedback on just how many of the bastards are left, it should be a real treat for fans of brutal, COOP team -survival gameplay.
-14 weapons to blast your enemies to pieces with
-5 multiplayer COOP maps
-tons of horrific enemies who wont rest until you and your buddies are lunch.
-unique, hyper-gritty art direction that you probably haven't seen the likes of in many mods will keep you sweating ..
This thing has been more than a year in production folks, and the time is drawing near. Here is a link to the official trailer!