It's been a while since the last update, so here's a short and sweet "We're still here!" update.
Firstly personal lives, jobs, holidays, etc. have caught up with the team. It's been somewhat tough the last month getting things done as various people have been away and then just as one comes person comes back, another goes away somewhere!
We've also just started closed beta testing and the work required to get that set-up and running is nothing short of biblical. If you haven't been emailed about the beta then don't email us, we've picked who we want for the first small closed session. In time this will be expanded but at the moment we've got enough extra bodies to help out with what's needed.
We've hit some pretty big bugs in the first few days, fixed a few, added some more, wallpapered over a few more and everyone settled down for the long haul of spotting map and model errors whilst major bugs are being fixed and testing when they are fixed. Feedback from tester has been great so far although some are finding it hard to shake of their DoD/CS experiences and find that Ham and Jam is very different in some respects to what they would expect from a Source game.
Two new maps are well under way, Archery and Arnhem and as promised here is the first sneak peak at the latter.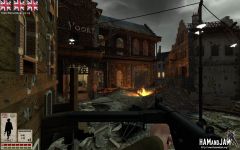 It's created by Albatross and is the first real city map for Ham and Jam. It's a somewhat spooky place with plenty of nooks and crannies to hide in to ambush people. It really pays to be with team mates and clear each building room by room before moving on.
Archery is also coming along nicely and is being created by our resident texture maker Spine. It's his first Source engine map so he's learning as he goes but he's managed to create a corker of a map. Based around the Norwegian Commando raids it's set in a snowy town with the objectives of a quick shock raid and features a great mix of long range and close quarters combat.
We're in need of a few team members to help get the mod flowing in certain areas as well
C++ Programmers
Weapon Animators (Max preferred)
Prop Modellers
If you have any of the above skills, have done mod work before and are free then please get in contact with the team at:
Hopefully we'll have plenty to report on next month once we're all more available and have had a chance to bug fix and react to the beta testers feedback.