Just a short notice from me, in this new year. :)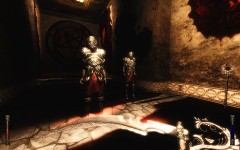 I am working on a patch that addresses bugs that people might have encountered and hope to release it soon. This will also update other parts of the game, as I have begun stripping away Doom 3 assets from the build and have been rebuilding particles and other effects.
I hope to release the patch within 3 or 4 weeks from now, perhaps sooner.
I will keep updating the images section and video sections at least a couple of times per week to keep you informed of progress.
Happy New Year! :)