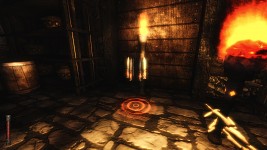 The second release is shaping up nicely. I'm currently in last minute play-testing and debugging with no real issues so far. Meaning... the release is ready for tomorrow, planned and ready to go!
Most of the work is currently going into testing the balance between difficulty modes and sniffing out small stuff like z-fighting in areas etc..etc.. Then late tonight it will be a matter of creating the final release, package and upload it then hope that MODDB approves it as soon as possible!
I added some batch files for easy configuration of the graphics options.
Been tweaking things here and there and am about to decide to keep the DarkWarrior enemies out of this release as I am simply unhappy with just about everything about them except for the model. Luckily there's only about 6 of those guys in the entire release so it's an easy last minute fix.
I'm taking a bit of a gamble in terms of the freshly added blood and gore.
I'm not sure how performance on lower end systems might end up so I have a quick patch ready to release if anything goes sour on that end that tones down the blood effects at the expense of visual quality. I'm not counting on any complaints in that regards but it's nice to be prepared and have a quick fix ready.
Just to get you warmed up for the release, I've included a quick gameplay video of Hub2!

I also just edited the tutorials a bit and am in the first steps of re-creating them in the form of small video-tutorials and example walkthrough videos explaining some of the more advanced fighting and platforming techniques that you can use in Grimm.
Other than that I'm about to invest a nightly 6 hour session running through the game in all three difficulty modes as a final test so I have a small to-do list in the morning. Then it's time to package things up, finish writing up the readme file and twiddle thumbs while waiting for the release to go live.
Are you ready?