By: DarkForce
Somewhere in between all the glitz and glamour of developing Freeworlds: Tides of War, another aspect has been hiding just under the surface: the story. Along with the other parts of the mod, it too is slowly coming to life.
We knew from the very beginning that alongside all the fantastic features of the mod, we wanted a universe where epic stories could unfold every day. But sometimes the most amazing tales go undocumented, remain unfinished or never truly take shape. Worse yet, a universe with no back story would feel lifeless. So when we decided to break with Star Wars canon, we knew we had to do it right. (Because that is the FW:ToW way!)
As such, we are proud to finally unveil Galacticnews.net!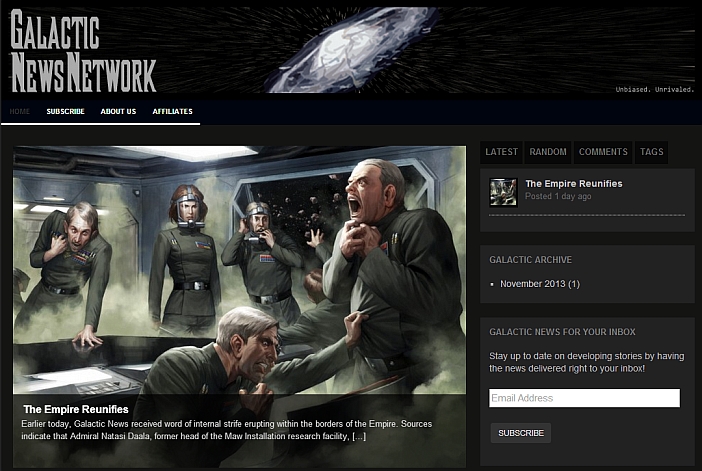 In the days and weeks to come we will be releasing in-universe news articles and other snippets of lore that detail our break with Star Wars canon and how our divergent timeline took shape. After our official release, this will be the place to go for information on major galactic events, new bits of story, and will go hand-in-hand with our player-driven roleplay system.
Start bookmarking, RSSing, and subscribing today!
(...yes there may already be something juicy for you to read right now!)

If you like what you see, and have been playing, please don't forget to tell your friends, your communities you frequent and social sites like REDDIT/Twitter about this mod. Player word of mouth goes a long way and we'd appreciate any of the support we can get for this mod of ours! Thanks everyone!