In a change from the norm, I want to discuss the concept designs that are going in to the Bespin System. Usually, I shy away from talking about concepts in preference of an actual finished product. Why? Well, a concept is just that - a concept. There is no guarantee what you see in your mind can be translated into the game.
So why talk about it, you say? Despite the fact that a lot of ideas are still in the concept stage for the system, we genuinely feel that we accomplish our plan. As an added bonus, I hope it gives our readers a small window of the ideas we chuck around - as opposed to just giving you the finished working product.
Bespin, by all extents, is a boring system. It has three planetoids, an asteroid belt and a sun. Compared to previous versions of the system, it is quite bare. We could fill it up with objects that filled the system in the past, but that would play against the canon-feel that we have been pushing for whenever possible with this project.
What will really make this system interesting is the planet Bespin itself. Bespin is a gas giant. In layman's terms, it has no surface to which to land. The higher reaches of the atmosphere had liveable conditions, prompting the construction of floating cities. In the deeper parts of the gas giant, Tibanna gas was mined. This gas was used in the production of ammunition for weapons.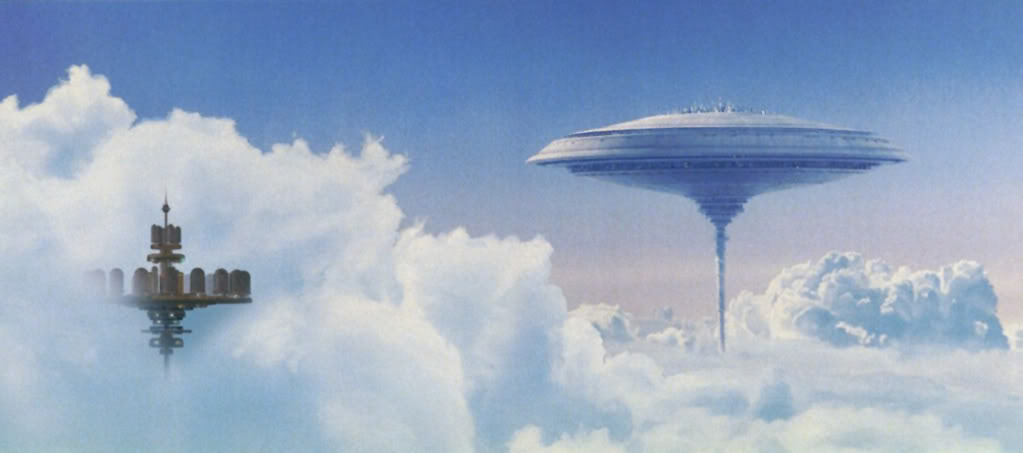 First seen in STAR WARS: Episode V - The Empire Strikes Back; Cloud City still remains visually impressive. If we can do half the job the film did at re-creating the planet, it will be a job well done.
When we opened the discussion on the system, the first idea that was thrown on the table was to attempt to make Cloud City an actual dockable base. Up until now, you just docked with the planet landing buoy that was titled 'Cloud City', before landing on the 'city'.
Many an idea was thrown around. The first was to try to nestle a model of Cloud City near the planet, while attempting to expand the atmosphere of the planet to encompass it. Unfortunately, there was no joy with this idea. Another idea on how to get this effect included using a Freelancer nebula to take the shape of planet. Again, we had no success with this method. It could be done, but it just looked pathetic.
Our final idea on this line of thinking came from Sushi. He proposed placing a nebula within a hollowed out shell of a planet. If it hard worked, it would have been pure genius. Once more, we hit the brick wall. The hollowed-out planet would visually disappear on Sushi when he tested this method.
We remained positive as we shelved 'Plan A'. As the old saying goes; if at first you do not succeed; try, try again. It didn't take long for 'Plan B' to formulate.
Plan B involves making the interior of planet Bespin into another system. So when you go to dock with planet Bespin, you will be transported to another system to bring you inside the atmosphere. We can set up another system jump effect so that it doesn't give the hyperspace effect when doing this move. A minor, yet important feature. We don't want this to look silly.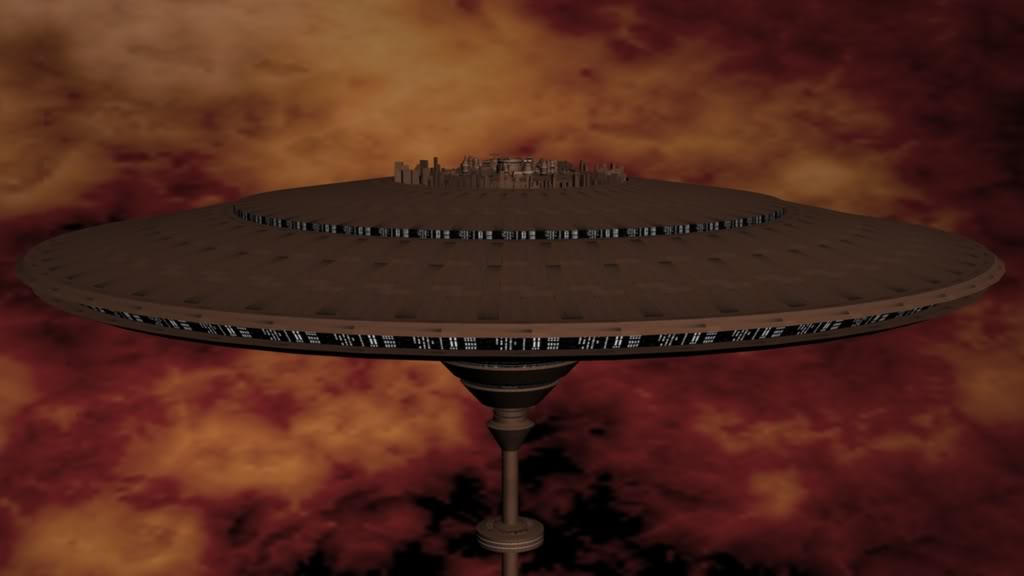 Zaxx's Cloud City model. This is NOT a Freelancer in-game shot (yet).
This micro-system will mimic the inside of Bespin. This will be a first, in my memory at least, for Freeworlds. To the best of my knowledge there have been no planetside systems in Freeworlds. Of course, this isn't new to Freelancer mods. There are many who have employed this technique successfully over the years.
Our options increase ten-fold in terms of bringing exciting elements to Bespin. By using a modified starscape, we can give a orange-cloud like background to the system to mimic the Bespin atmosphere. Closer to the core, we can use the nebula effects to depict the deeper elements of the gas giant. It is here we can play around with nebula cloud settings and mining zones to create an area where players can mine Tibanna gas from. Explosive clouds will be used to give the impression of volatile gas pockets and radiation features in Freelancer closer to the 'core' of the system will aid in giving players the effect of their ship being crushed by the pressure.
On the outer reaches of the micro-system, we will have Cloud City and most likely a couple of other floating cities. While we are tied down with the design of Cloud City, given that none of the others have canon designs, we have some freedom in how we design them. Qi has already expressed an interest in building something 'epic' for the micro-system. I feel confident myself that if we don't have any Tibanna Gas refinery models, that I could do a good job to mimic them given the Modular Station pieces.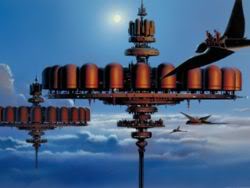 Bespin's Tibanna Gas Refinery - In the event a working model is not found for this, I am fairly confident of mimicing the design using the modular station pieces at hand.
Admittedly, Plan B hinges on having a decent looking Cloud City model. This whole idea would be for nought if we had a dodgy looking Cloud City at the end of it. Hopefully we will hit the jackpot and be able to convert Zaxx's Cloud City model into the game. But at the same time, we have to accept that this may not work and are currently on the look for alternatives. It never hurts to have every conceivable option covered.
While there are a number of question marks here and there over it, we are quietly confident that we can achieve this. Otherwise, you wouldn't be hearing any of this right now!