Web/Other located Anywhere.
The ESF team is seeking a talented artist to design and produce layouts and high quality images for the ESF site.
What is ESF?
ESF (Earth's Special Forces) is a fast paced 3rd person fighter based on the hit anime, Dragonball Z. Up to 32 players may battle in large scale environments while using a mixture of hand-to-hand combat and energy attacks. Players can string together melee attacks, hurl opponents into objects, and deal devastating damage with energy attacks. Gameplay has been fine tuned for maximum flexibility and caters to various play styles. Overall, ESF boasts to be the most immersive Dragonball Z experience ever created.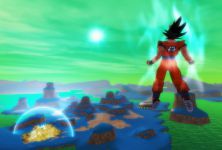 Description
The Web Designer/Content Manager is responsible for maintaining the ESF site as well as content on other ESF outlets. This may include forum themes, ESF site layouts, and the ModDB profile page.
Requirements
- Available to work a minimum of 10 hours per week
- Able to attend weekly developer meetings every Sunday at 19:00 GMT (7PM GMT)
- Self motivated, hard working, and has a positive attitude
- Driven to produce polished, high quality content
- Prior game development experience preferred
- Applicants must submit a link to an online portfolio
Software
- Adobe Photoshop or equivalent
- Adobe Illustrator *optional*
- Steam
- IRC
- A handy dandy text editor for editing pages
Skills
- 2-3 years of graphic design and web design experience
- HTML and CSS a must; PHP, Javascript, and other languages a plus
- Ability to create designs and themes that fit ESF's overall style
- Produce bitmap and vector based images
- Knowledge of how a site using a Content Management System operates
Compensation
The warm fuzzy feeling you get from working on an ambitious project with a great group of devs. Seriously, this is a hobbyist project and it actually costs money to produce...
To Apply
To apply please send an email with a link to examples of your work to Mastasurf@esforces.com