Web Design - Content Manager at ESF developers
Location: Anywhere - Looking for: Web/Other
Posted by Esforces.com on
The ESF team is seeking a talented artist to design and produce layouts and high quality images for the ESF site.
What is ESF?
ESF (Earth's Special Forces) is a fast paced 3rd person fighter based on the hit anime, Dragonball Z. Up to 32 players may battle in large scale environments while using a mixture of hand-to-hand combat and energy attacks. Players can string together melee attacks, hurl opponents into objects, and deal devastating damage with energy attacks. Gameplay has been fine tuned for maximum flexibility and caters to various play styles. Overall, ESF boasts to be the most immersive Dragonball Z experience ever created.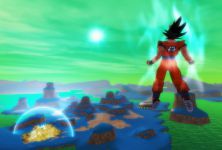 Description
The Web Designer/Content Manager is responsible for maintaining the ESF site as well as content on other ESF outlets. This may include forum themes, ESF site layouts, and the ModDB profile page.
Requirements
- Available to work a minimum of 10 hours per week
- Able to attend weekly developer meetings every Sunday at 19:00 GMT (7PM GMT)
- Self motivated, hard working, and has a positive attitude
- Driven to produce polished, high quality content
- Prior game development experience preferred
- Applicants must submit a link to an online portfolio
Software
- Adobe Photoshop or equivalent
- Adobe Illustrator *optional*
- Steam
- IRC
- A handy dandy text editor for editing pages
Skills
- 2-3 years of graphic design and web design experience
- HTML and CSS a must; PHP, Javascript, and other languages a plus
- Ability to create designs and themes that fit ESF's overall style
- Produce bitmap and vector based images
- Knowledge of how a site using a Content Management System operates
Compensation
The warm fuzzy feeling you get from working on an ambitious project with a great group of devs. Seriously, this is a hobbyist project and it actually costs money to produce...
To Apply
To apply please send an email with a link to examples of your work to Mastasurf@esforces.com
Since 2002 we have explored, played and enjoyed mods of all shapes and sizes just like Earth's Special Forces. We love games like Half-Life that have opened themselves up to modding. Because of communities like Workshop, Nexus, Curse, RTSL, GameBanana and Mod DB, more games support modding today than ever before.
Let's celebrate modding
As mods play a bigger role in the future of gaming, we believe it is important to recognize the effort the teams behind the work put in, giving us countless hours of enjoyment while asking nothing in return. We have the power to change our games and that needs to be celebrated to ensure it remains a big part of PC gaming's future.
It all started
In 2015, when the paid modding dispute left many gamers and modders worried about the direction the industry is headed. Things have since settled down, but we believe it is important to continue this small tradition to show we are not alone in our love for mods, and the open platforms that embrace them.
Mod Appreciation Week
Nothing is more motivating than knowing something you've built is being enjoyed by others. So this week if there is a mod you love on Mod DB (or anywhere else), make the effort to shout out to them, mention and link their mod in a tweet, blog, forum or facebook post with the hashtag #modlove2016 (or click the icons above for a pre-built post).
Game giveaway
To thank those who participate in spreading the love and awareness, we have partnered up some friends of Mod DB (Killing Floor 2, Mount & Blade Warband, Space Engineers, Insurgency, Chivalry: Medieval Warfare, Black Mesa, Contagion, S.T.A.L.K.E.R - get involved) & have a few keys to giveaway. To win one of the games, after you have linked to a mod on Mod DB (or anywhere else) in a tweet, blog, forum or facebook post, let us know by leaving a comment with a link to your post. At the end of the week we shall be picking members at random who followed these rules, and will send them a key from one of these games.

"; var modapprecation = $("#modappreciationweek span.messagealt").html(); $("#modappreciationweek a.modshare").mouseenter(function(){ $("#modappreciationweek span.messagealt").html($(this).attr("alt")); }); $("#modappreciationweek").mouseleave(function(){ $("#modappreciationweek span.messagealt").html(modapprecation); }); $("#modappreciationweek .togglebox").click(function(){ if(modapprecationtext) { $(".modappreciationweekbox .body").html(modapprecationtext); modapprecationtext = false; } $(".modappreciationweekbox").slideToggle(); return false; }); $(".44825bfc951a8ff5714f8bb710efda3freport").saveUpdate("report", false); $(".c76625d26ff7f0c55142db2c328da119watch").saveUpdate("watch", false); $("a.thickbox").click(function() { $.colorbox({href:$(this).attr("href"), rel:$(this).attr("rel"), open:true, onOpen:function(){ $(".nextmediabox").hide(); }, onClosed:function(){ $(".nextmediabox").show(); }}); return false; }); }); //-->