This month has been jam packed hard work by all the developers, as well as the testers. Roughly a month and a half ago, the developers started to go into their own crunch mode. Many new art assets, build commits and non-compiled levels were put into the queue. About 3 weeks ago, all of it was dropped on the testers. Daily builds of maps, many new code updates, and even more models, textures and animations were available for download. The test team began testing 3 times a day, 7 days a week, and at this moment, are still in crunch.
To help convey to you the great changes that have been occurring, here are some of the screen shots requested by the supporters that have donated to the new server fund. The first is a screen shot of areas from Detonate that have been given a face lift. Detonate has received many new changes in the past months, and we applaud all the hard work being put in by the developers. This map surely is something to celebrate.
The second screen shots are from one of our new maps, Cybernetic. Cybernetic, currently being working on by Venciera, is a map in which the player is thrown into a hostage rescue objective. The daughter of a powerful Punk organization has willingly joined an intelligence "brain bank" cult, called Cybersyn. The Punks want her back, and will do anything to get her. Here, we give you a little insight as to what the cyberspace environment looks like, with the towering Cybersyn skyscraper looming in both worlds.
As a special treat this month, we felt it necessary to unveil this new map to the world by showing you in-game, what it looks like, as if you were playing it yourself. The changes to Cybernetic since it's public releases have been amazing, and we're really excited to show you this gem.
After releasing our previous version, the developers took a 5 month break and went right into 13 months of hard work and a whole lot of planning. After such a long time of telling people "when it's done," we're thrilled to tell people the date in which supporters can play Dystopia. I take little credit for the hard work put in by the individuals to create such a polished product. I can tell you that these developers are some of the hardest working people I have ever witnessed.
With that, we bring you our next version -- 1.2 playable by Supporters, for Supporter testing on September 19th, 2008. To get in on the beta supporter testing, go here. Version 1.2 represents a unique direction for Dystopia, with many polishing changes and extra features that are sure to make your experience more fun and energetic!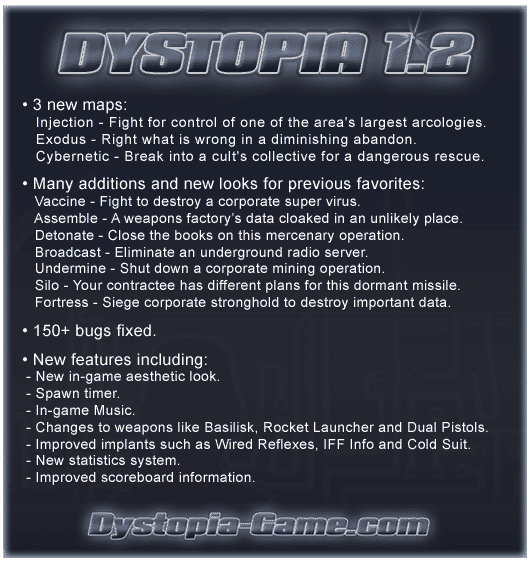 Supporters, we'll be ready to frag with you on September 19th! See you soon!