Hello! What you see on the latest screenshot -among other things- is the Hand of Aken. (aka. the level-difficulty-indicator-hand-sign ) The Hand of Aken is showing the player the current difficulty setting,
at the end of the level.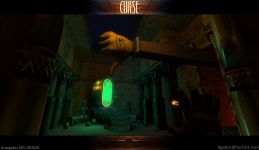 In 'Curse ', the game's difficulty settings are incorporated into the levels (and removed from the game menu). In order to change the level of difficulty - from the default 'easy' - the player
must do various tasks which enables a harder difficulty level. For example: On the first level, the player must break all the health crates, and push all the secret buttons, to turn the level into 'hard' mode.
When you see the Hand of Aken at the end of the level, you can decide to go to the next level, or to go back and try to unlock the difficulty levels.When I write 'difficulty levels', I mean it theoretically, practically it will be more like finding all the secrets, which, in turn will give you more rooms to explore and more monsters to kill.