Hey ho,
First of all, some screenshots of various new maps that were created in the last few weeks (more of them in the comments section).
Secondly, something you've really been waiting for for a long time...the first CWC building. And there'll be more of them soon!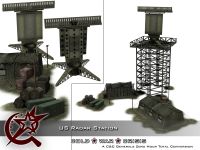 It's the US radar tower. The little generators are an upgrade that makes the radar independent of your global power supplies.
And last but not least, we have 2 new tracks by Remy waiting for you in our music player.
So long, thanks for staying with us in these times of rare news,
the CWC-Team