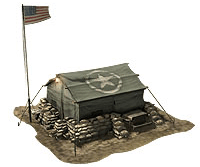 Now buildable: Rangers
The US Rangers are one of the elite troups of the USA. Versatile and upgradeable with one Bazooka and Thompson MPs they strike deep into enemy territorry before retreat.


New unit: Recon & Targeting Squad
This 1 men squad is specialised in recon and support actions. Beside the recon order it can call-in P47 strafing runs and artillery off-map support. Special abilities: recon, )47 strafing run, offmap howitzer shot


New unit: Anti Tank Team
Heavily armed with 3 bazookas these squad is specialized in tank hunting and destruction. Special abilities: Treads shot
New unit: Ranger Captain
The Ranger Captain gives combat bonuses to nearby troops. Special abilities: call-in Riflemen squad


New unit: Ranger Captain
The Ranger Captain gives combat bonuses to nearby troops. Special abilities: call-in Riflemen squad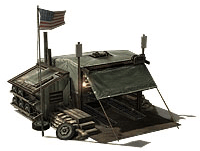 New unit: M21 Mortar Halftrack
Equipped with a 80mm mortar this halftrack is very effective against infantry & small unarmored vehicles besides a high mobility. Special abilities: Incendiary shot

New unit: M5 76mm Anti Tank Gun
Offering much more penetration power this anti tank gun can get very dangerous to heavy german tanks like the panther & tiger, especially at short ranges! Special abilities: camouflage

Now buildable: Stuart Tank
A small and cheap tank with thin armour. Can be seen as counterpart to the german "Puma" armoured car Special abilities: -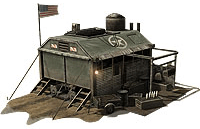 New unit: M18 Hellcat Tankdestroyer
With a flank speed of 80 km/h the fastest tank in WW2. The M18 was armed with a 76mm M1A2 gun, equal in ranges and penetration power to the Sherman M4A3(76) gun. The lack of armour made it very vulnerable to any sort of enemy shelling but he can compensate this with it`s high speed.

Now buildable: Pershing Heavy Tank
Nicknamed "Tiger Tamer" is was the only US tank that could match up the heavy german tanks in armour and firepower. His 90mm gun was adapted from a flak gun and has a high penetration power at short and midranges. Get use of special armour pearcing shells (APCR M304 Shot ) can boost it`s penetration power up to 70%. Special abilities: VET depending
Now buildable: M7 Priest (requires infantry doctrine)
The M7 Priest self propelled artilery is an artillery support vehicle and only available for building in the tankdepot when unkocked within the infantry doctrine. Special abilities: 105mm barrage

New unit: Tank Commander
Equip 2 of your tanks with a tank commander and these tanks will get several bonuses like improved line of sight and improved fire rates. Also the tanks will be harder to hit by enemy tanks. Special abilities: VET depending aura that enhances combat values
Command Tree Call ins:






New unit: 82nd Airborne Unit
An additional elite airborne paratroopers unit of the 82nd airborne division can be requested by the "normal" airborne squad to support the battle. This paradropped unit contains weapon supplies,
a sniper, a MG team and one 82nd airborne squad.
New unit: Urban Warfare Squad
Specialised on house fightings these squads have special prepared grenades for maximum casualties within detonations in closed rooms.


New unit: Ranger Infiltration Team
Dropped by an allied glieder this squad is specialized in fast territory capturing and sabotage missions.

New unit: Pershing ace
A Pershing heavy tank with a battle hardened VET3 crew can be request to support the battle. This ace tank hat an aura that enhances the combat values of nearby allied tanks!