Let's start this post off with some new content for the Ballistic Weapons mod!
Version 10 of our bonus pack is off to a great start, with two new weapons already modeled, coded and textured for ingame use!
First up is the RS04 .45 Tactical Pistol. This little guy finally his own weapon model thanks to the work of modeler Glosmostinex, who in turn based it off the concept art of Bonez18B. This gun will be available ingame with a variety of camo finishes with animations by the talented Captain Xavious.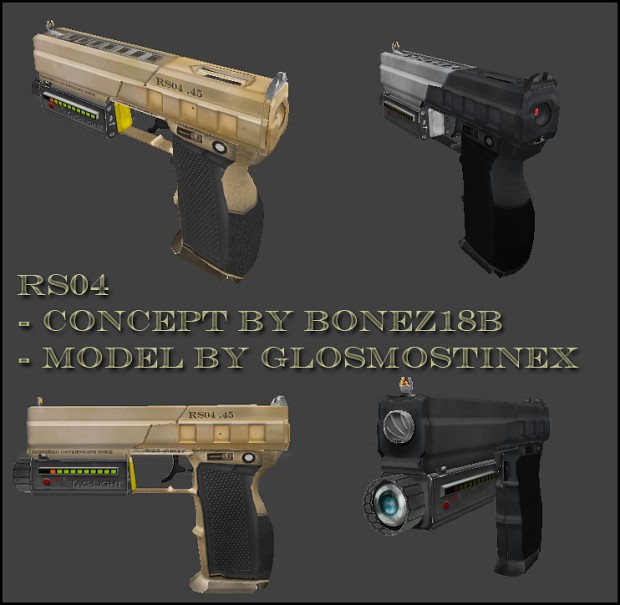 Second up is the PS-9m Tranquilizer Stealth Pistol, a newcomer that you may have noticed in our prototype testing package! This sneaky little dart gun was modeled by Blade Sword and is based of the iconic Stealth Pistol of Deus Ex. (Which we love.) Also comes with a giant mountable dart filled with medical gas that you can embed in walls or your teammates' squishy little eyes!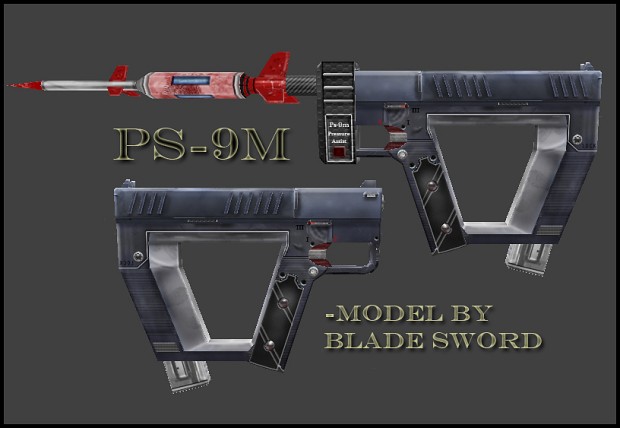 This is only the tip of the iceberg! Stay tuned for more and more weapons in the coming months!
---
Also, nothing kicks off a festive season better than some new downloads! I'm happy to announce the release of a new patch for our V9 pack. We browsed forums and online servers and incorporated the changes the players wanted. We also fixed a few leftover bugs too, and that's always good.
If you have V9 already, you can snag the patch file to get your mod up to date! Additionally, if you don't have the mod or had trouble installing it from the .zip, we now have a V9.0 + V9.2 UMOD file available as well.
Version 9.2 Changelog:
- Bulldog accuracy settings changed. (Accuracy improved, follows users settings better.)
- Bulldog runspeed reduced. (It's a really heavy gun.)
- Bulldog netcode modifiers optimized.
- Bulldog sometimes not cocking after firing online fixed.
- LS14 rocket reloads now work online.
- LS14 mismatched tips fixed.
- CYLO shotgun ammo now feeds the CYLO.
- MR-DR88 ammo no longer pounded into the floor.
- SKAS-21 pickup no longer tiny.
- HMC-117's splash damage range and damage increased.
- HMC team code optimized.
- Bots now use HMC 25% blast at range.
- Coach Gun's range massively increased.
- Coach Gun's spread halved.
- Coach Gun's damage increased. (Coach gun is quite good at range!)
- Coach Gun + Sawn Off no longer move around when jumping.
- A49 pitch issues when dual wielded. (No pitch change ever.)
- A49, MRDR dual wielding upside down bug squashed.
- Sawn Off 3rd-person's huge muzzle flash reduced.
- SRS M2 recoil adjustments. (More kick default, camo variants have less chaos or less recoil)
- A49 sound volume fixed.
- LS440M pullout/putaway sound pitch set to 1.
- MRDR88 Deathmessage fixed.
- Doom fists 'swap rank' reduced to 1. (They'll still show up first when the mutator is used though.)
-Sawn Off impact effects fixed online.
-Dragons Tooth teamskins fixed online.
-Added the instagib rifle as a mutator option.
-LS440M is now 'Instagib Rifle' instead of 'Enhanced Shock Rifle'.
We also have some servers hosting the weapons now, in case you want to test these weapons against real live people instead of the usual bots.
ut2004://8.6.77.145:7777 ABA clan server. [Fast paced arcade gameplay]
ut2004://66.55.137.194:7777 Dorian's Prototype server. [Development server with V10's WIP guns.]
ut2004://91.121.23.8:8040 LDG clan server #1. [Tactical Call of Duty style gameplay]
ut2004://91.121.23.8:8025 LDG clan server #2. [Tactical Call of Duty style gameplay]
---
Last, but not least, we're looking for new members! V10 is going to be our most ambitious release yet, with boatloads of new models, textures and sounds. We're going to need all the help we can get! If you're interested in helping out our community effort and have knowledge in UV mapping, animating, or texturing, just shoot us a message at the Ballistic Weapons Community group; we'd love to have you on the team!

---