Hi all! Today's news are going to be again quite long. They are full of animation news because we made some significant steps forward in this field. I finally found a way how to import CoDWaW's animations directly into 3D application environment. A new team member has joined us - Jessejoydb. Then there is a very important poll for you - mod watchers and fans. Finally, you can read some info about the 2 new Italian weapons and my comments for the modified Red Square Massacre SP map.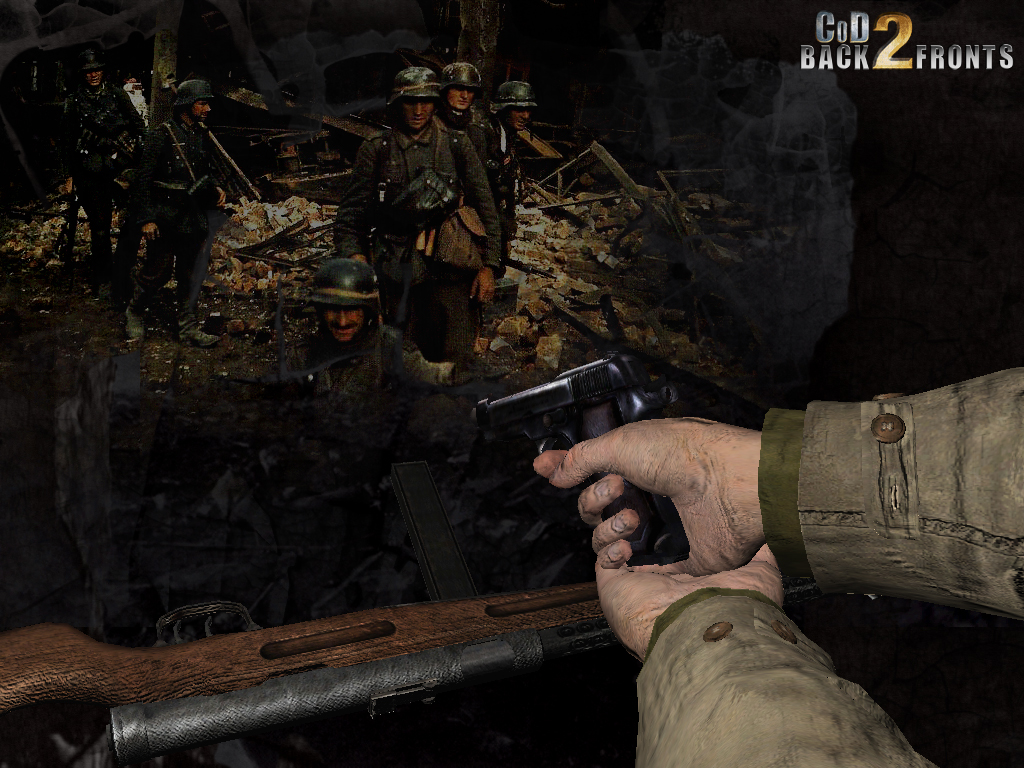 Jessejoydb is a talented animator. That's right! Back2Fronts team has 2 animators now :-) I am happy that I now have someone to share the huge amount of animation work. I already included his name and work into Back2Fronts mod summary as well as into "MOD CREDITS". He is the author of the pretty only one CoD2 animating tutorial which is published at filefront sites. If you are interested, download it here (note: filefront has sometimes issues, if the page does not show, refresh it untill it does).
He also did an important development research for the creation of custom grenade animations. It is important because grenade animations are slightly different from other weapons. He gathered very valueable information. Here you can check out his custom TNT grenade :-)
Animating
Animation development
In recent days I was trying to find a way how to import CoDWaW XANIM_EXPORT files into 3D application. Since CoDWaW, the modelling tools does not contain openable animation source files for 1st person weapon animations but just their compiled versions (= XANIM_EXPORT files). It means that modders cannot edit them.
Some of you probably remember the SW 357 and 30cal (M1919A6) animations that I imported from CoDWaW into CoD2 quite a long time ago. But at that time, I could only take their files and import them. I wasn't able to actually edit them because 3D applications cannot read the XANIM_EXPORT file format.
But I finally found a way how to do it. It is rather complicated and time consuming but it works and will serve as a great pattern for custom animations for Back2Fronts. Please note that the videos show more or less original CoDWaW animations, the ingame Back2Fronts versions will be slightly different.
You can watch here, or use video section.
CoD2 B2F animation import - SW 357
You know this animation :-) But this time I have it in 3D modelling environment so I can finally edit it...
CoD2 B2F animation import - Garand M1
My second try with CoDWaW animation imports, the Garand M1. The video captures all CoDWaW animations for it except from melee and bayonet melee...
Poll
We are experiencing time pressure in mod team, especially because of school duties of teammembers so the progress of work is not as fast as it should be. Long story short, the Beta release date [end of 2011] is coming but I have serious worries that we will not match the deadline. So I would like to ask you:
DO YOU WANT US TO POSTPONE THE BETA RELEASE (AND FINISH EVERYTHING FOR IT) OR DO YOU WANT US TO RELEASE IT STRICTLY AT THE END OF 2011 (WITH SOME STUFF MISSING)???
Please write your opinion into comments...
...and decide!
To help you decide, here is the overall Beta situation:
original weapons (models): 75% done, missing: Lee-Enfield scoped/unscoped
original weapons (animations): 60% done, missing: BAR, Bren, Garand M1, PPSh, Sten, GreaseGun
original weapons (sounds): 75% done, missing: foley sounds (pickups, etc.), minor corrections/additions
original weapons (scripts): 50% done, missing: timers, loctypes, chamber re-reload code, SP/MP add, weaponlist.gsc, check for errors (accu, rumble, soundalias, xanim/xmodel)
new weapons (models): 50% done, missing: Breda M30, Beretta M34, DP-28, MG-34, Unscoped Springfield late and early, Mannlicher-Carcano, Weaver scope, 30cal (M1919A6), Bazooka M1, plus corrections (PU scope, ZF-4 scope, ZielVier scope, Vampyr scope, FG-42 late and early, HDM, MP-38, MP-41, PanzerSchreck early, MG-42, Thompson late and early, Sten late, 35round magazine for PPSh-41)
new weapons (animations): 25% done, missing: FG-42 rework, MG-42 + MG-34 (same), DP-28, Beretta M34, Breda M30, 30cal (M1919A6), PTRS-41, Carbine M2
new weapons (sounds): 60% done, missing: foley sounds (pickups, etc.), minor corrections/additions
new weapons (scripts): 0% done, firstly original weapon scripts must be fully done
new nonweapon sounds: 75% done
new nonweapon soundscripts: 50% done
new nonmodel textures: 80% done
nonweapon scripts: 75% done
new effects: 10% done, missing: memory need reduction, smoke amount reduction, blood remake, unique weapon flashes, unique weapon shell ejects
new 2D graphics: 100% done
new vehicles: 10% done
present mod's size: 200MB, still growing
Italian weapons
MAB-38A (Moschetto Automatico Beretta Modello 1938A)
The new Italian sub-machine gun is an improved version over the older ones because it has more detailed model, which is probably final. The textures are also big improvement (DX9 now) over the older one but still there is a question of possible improvement (resolution). I put my largest effort into the reload animation because this sub-machine gun had quite a special way of reload in real life. Animation is final. The weapon goes with its own HUD icon and sounds.
You can watch here, or use image section.
CoD2 B2F Italian weapons MAB-38A (preview)
Ingame video of the new MAB-38A model and animation in SP Rhine (last CoD2 SP map). In Back2Fronts Beta, it will be naturaly available only in North Africa with Italian troops...
Beretta M34 (Beretta Modello 1934)
The Beretta M34 is just a quick built model. It temporary uses original CoD2 animation but custom one is being made by our new team member Jessejoydb. It needs custom animation because it had quite unique bolt hold open function. New sounds and DX9 textures included. The texture is really low-resolution so far.
CoD2 B2F Italian weapons Beretta M34 (preview)
Ingame demonstration of the prototype model for Beretta M34. SP map in the video is B2F version of Red Square Massacre by taintxs.
Mapping
Red Square Massacre SP map (by taintxs)
I already showed you this one some time ago. This is just additional info or some kind of commentary. I was cooperating with the author of the map - taintxs, and he gave me permission to use his map in Back2Fronts mod and so I decided to modify it for the mod's needs. Following modifications have been done:
map integration into Back2Fronts.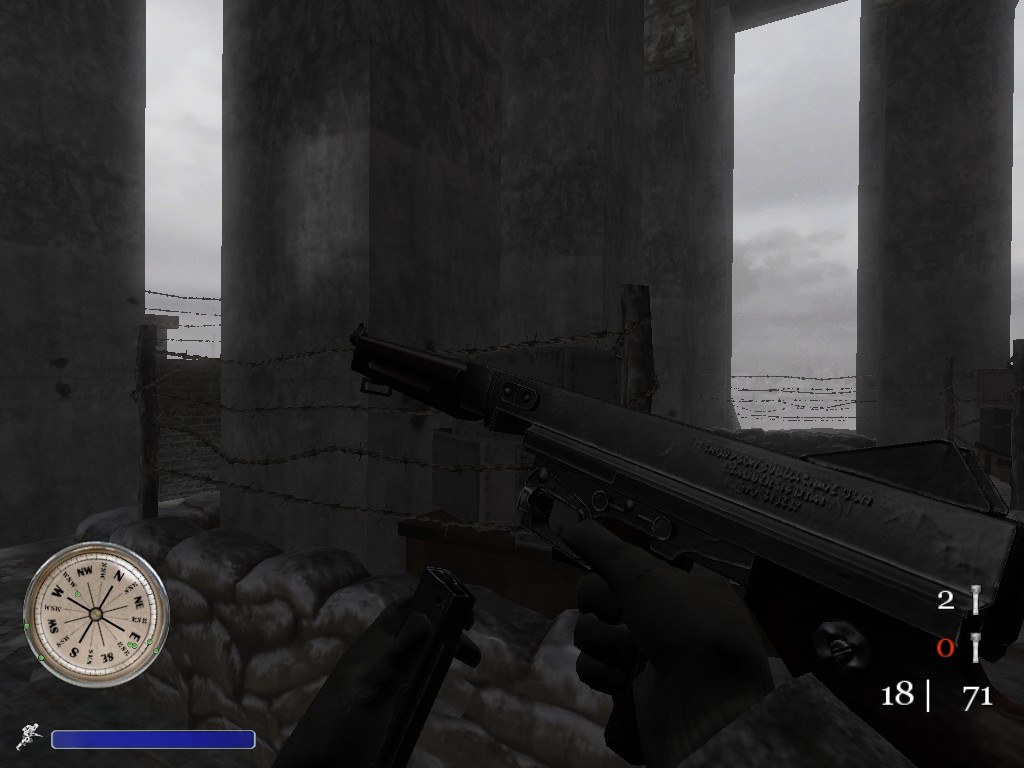 AI accuracy and health decrease to standard cod2 level (but still hard enough to be a challenge).
partial SFX removal due to performance/framerate and gameplay/free-view (mainly wide opened spaces - for example the Red Square location).
added pistols into secondary weapon slot for all AI (so you can pickup more TT-33 or Colt M1911A1).
correction of the German names (they are in common CoD2 standard - rank + surname).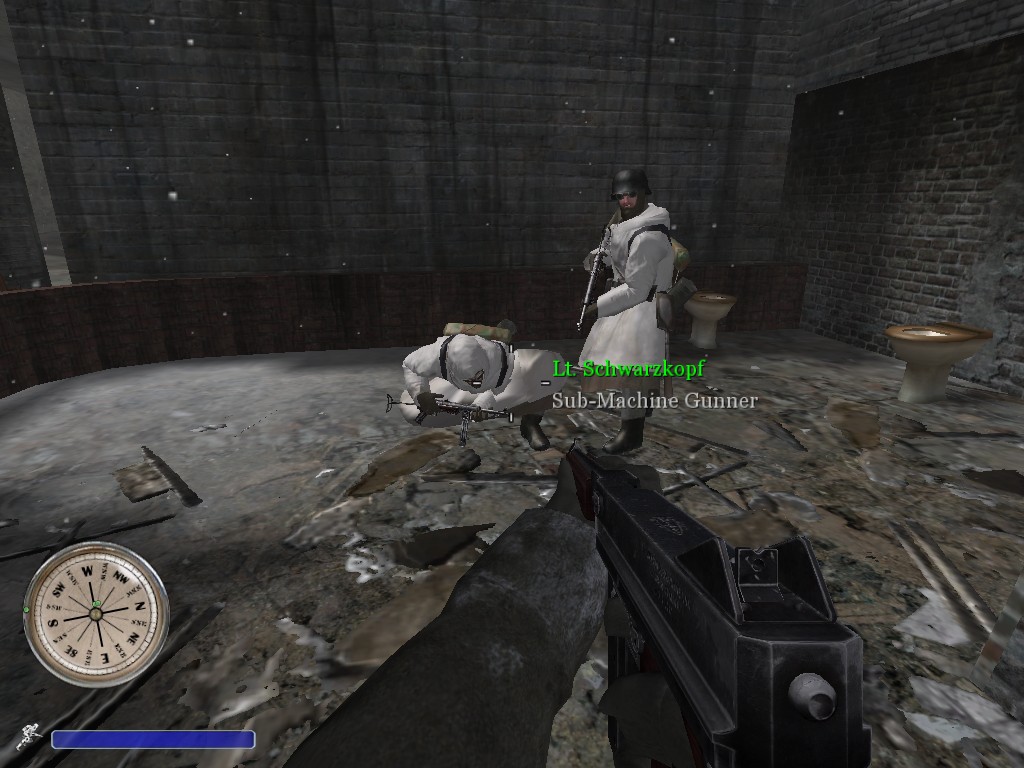 partial correction of the turret error (you can turn the turrets now, the fact that player is situated in reversed position is map's error - so far uncorrectable), replacement for the MG-42 machine guns - the DP-28 and Maxim PM-1910 (both models are work in progress, without DX9, new sound included, icons and SFX not made yet), DP-28 is planned to be also in hand-held version.
4 new plane models (reworked FW-200 Condor, reworked Ju-87 Stuka, Bf-109 and He-111).
true German and British smoke grenades included (the British one is temporarily used for Russians because Russian smoke model is not made yet, the German one is available from the start of the mission).
replacement models for useable artillery - the new 8,8cm FlaK-18 model, other new artillery models are planned.
CoD2 Red Square Massacre in B2F (preview)
Video capture of all changes described above.
That is quite all, MCh2207Cz