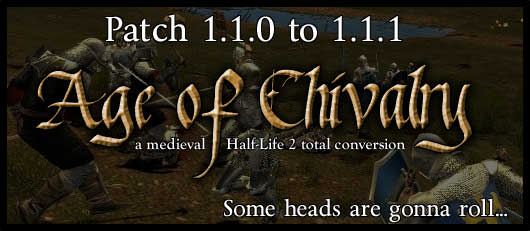 The success of 1.1 has been incredible; the game has taken off to never before experienced highs for the gamers and developers alike! Age of Chivalry is now one of the most populated MODs and often has in excess of 100 players online at any given time. The numbers continue to speak for themselves when you hear that AOC 1.1 sees 3 MILLION player minutes per month!
The game has taken off to a level where it stands above even commercial-made games as these numbers exceed both those listed for 'The Ship' and 'Dark Messiah of Might and Magic'. We couldn't be happier with the success of our MOD so far and can't wait to see it continue to grow. Age of Chivalry was also announced as the Staff Selection for May 2008 as the standout MOD of the month by moddb.com!
We have since the release of 1.1 been listening to the concerns voiced by players on our forums and have decided to release a 1.1.1 hotfix. This should indicate how dedicated Team Chivalry is to delivering a solid game and ensuring its fans are pleased. If you haven't tried Age of Chivalry yet, or recently, then jump on in and join us ingame after checking out our brand new 1.1.1 ingame video!
**Note** These files require that you have 1.1 installed already, if you do not have these files yet and are interested in playing the game, please head to our downloads page at www.age-of-chivalry.com/downloads.php
1.1.1 Hotfix PATCH - Client
1.1.1 Hotfix PATCH - Server
Enough talking from us, see what our reviewers have to say:
'Pick yourself up a copy of this fantastic and well-done mod' - PlanetHalflife.com
'Melee combat has taken a front seat in this mod and offers a healthy moveset to choose from while dueling opponents' - Moddb.com
'Everything achieves a consistent standard a couple notches above your average Half Life 2 mod' - Moddb.com
'Medieval fans can rejoice at the release of Age of Chivalry's Version 1.1' - PlanetHalflife.com
'The melee combat is the most satisfying, far beyond any other mod I've played that has attempted it'
'If you're craving some medieval combat, consider Age of Chivalry bandwidth well spent' - Moddb.com
Changelist:
Blocking Radius increased and bug issues resolved (blocking now works great)
Projectiles can no longer be shoot through shields
Stamina drain on shields now less demanding
The Siege, trebuchet can now be aimed sideways
New gibs for flesh prop deaths
Tournament has now been converted to a team vs. team roundbased style of combat
Various changes and bugfixes to all maps
The Siege, new objective. Destroy the drawbridge lever
Rebalance of weapons, now much more interesting fights
Improved "stab" decal on walls
Fixed specific resolution issues
Smoother shield animations and changed up/down times
Fixed sounds playing when hit was not correctly made
Fixed sounds playing repeatedly on striking
Flail Model Wooden Skin changed
Various other bugfixes and code cleanup to improve stability and optimization
For a full list of changes see this link!