Well it appears that Sergeant Mark IV has been banned from the Zdoom & Zandronum forums..
Apparently someone on the forums was complaining about the mod and he told the guy to go kill himself, well I suppose that could have gone over better. But if anyone took it that seriously I think thats a bit ridiculous how some other people took it seriously eventhough it wasn't directed at them.
Regardless I think that he should eventually be unbanned.
If you wanna find out the why and how,
Zandronum.com
For more info you can contact the admins. the link is here.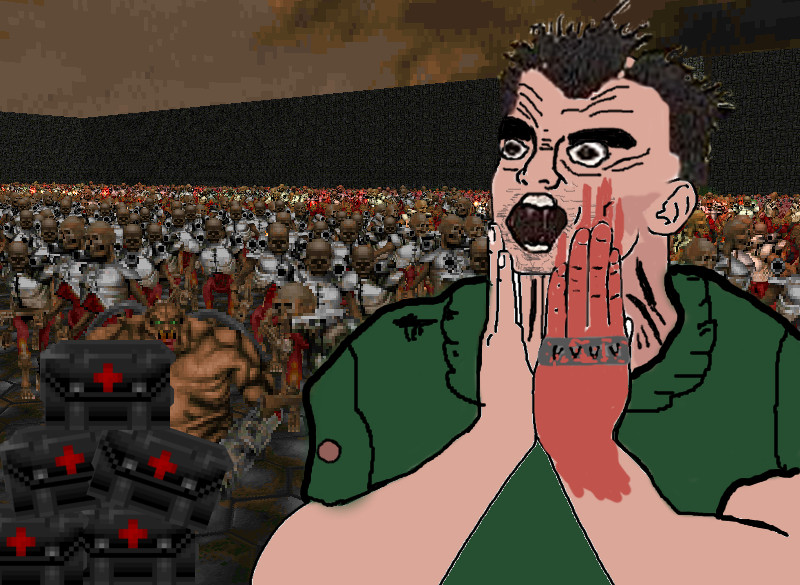 This may sound unapologetic to unban him just "because", but I think that no ban should be a permanent one just because he has a tendency to sound rather abrasive. Being blunt and callous does have a negative effect on the community on a smaller level.. but we're not really speaking about just one person here. Really what does that have to do with all the contributions hes made to the modding community? The wider benefit of having a big contributor to the community?
Because he wants to contribute, he wants to breath life into Doom, and hes been doing that for awhile now with little help.
Brutal Doom has been, largely, a spearhead to bring modders together. The huge rise in popularity of Doom, and Doom 2, and many other games on the engine has been tremendous. Hes changed our perspectives of what we thought was a "outdated" game, and showed that it's not only relevant to gaming but MORE FUN than the vast majority of titles we pay lots of money for.
I don't want to be the naysayer of doom, but if this means that we we will not be seeing much of Brutal Doom or the other of the various stuff Sergeant Mark IV is working on, that would be really disheartening.
Brutal Doom is pretty much synonymous with Doom now. We owe alot to something as "unlikely to become so popular" as a gore mod, to be pushing the boundaries of modding and our perspectives on Doom, its like a central hub for modders now.
The moderators giving infractions and warnings to anyone who wants to discuss his ban, just voicing our opinions.. under threat of being banned? Is that how we deal with issues? sweep it under the rug? Why not let the people decide his punishment and whether his presence is negative or not.
Everyone needs time to cool down, peoples get upset and then things die down.
I think downgrade his ban to a temporary one. I think that's fair.