Persecution Worldwide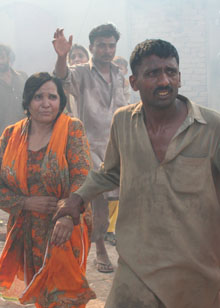 In more than 40 nations around the world today Christians are
being persecuted for their faith. In some of these nations it is illegal
to own a Bible, to share your faith Christ, change your faith or teach
your children about Jesus. Those who boldly follow Christ—in spite of
government edict or radical opposition—can face harassment, arrest,
torture and even death. Yet Christians continue to meet for worship and
to witness for Christ, and the church in restricted nations is growing.
Areas of the world where Christians face persecution include:
Afghanistan
Algeria
Azerbaijan
Bangladesh
Belarus
Bhutan
Brunei
Burma (Myanmar)
Chiapas, Mexico
China
Colombia
Comoros
Cuba
Egypt
Eritrea
Ethiopia
Gaza and the West Bank
India
Indonesia
Iran
Iraq
Jordan
Kuwait
Kyrgyzstan
Laos
Lebanon
Libya
Malaysia
Maldives
Mindanao, Philippines
Mauritania
Morocco
Nepal
Nigeria
North Korea
Oman
Pakistan
Qatar
Saudi Arabia
Somalia
Sri Lanka
Sudan
Syria
Tajikistan
Tibet (China)
Tunisia
Turkey
Turkmenistan
United Arab Emirates
Uzbekistan
Vietnam
Pray for them, pray that they do not suffer too much. But MOST importantly, pray they do not turn away from Christ even when they are faced with death. And that God can be with them.
Individuals - Pray that they:
remain strong in faith and trust despite physical and psychological abuse
will be able to forgive those who persecute them or who fail to support them
will experience and know love, joy and peace from God (Romans 8:28-39)
will walk humbly in their identification with Christ's sufferings
will be fruitful witnesses to others
will be able to balance standing up for their rights, yet responding in grace and love
Spouses - Pray that they:
cope with the sense of loss and isolation
cope with caring and providing for children alone
remain full of faith and hope
overcome any intimidation from police or other aggressors
Children - Pray that they:
are protected from long term psychological/emotional harm and bitterness
are protected from abduction or the "corrective teaching" some States try to impose
might know and experience the love of God
Converts - Pray that they:
receive help to grow spiritually
are protected and provided for should their family or community turn against them
will have the courage to lead others to know Christ
For there will be a time when ALL CHRISTIANS around the world will be massacred as prophesized, towards the Final Day. Hitler was just an example of what will happen globally when the Antichrist comes to power, and the increasing secular society we live in. Be strong.
The Triangulum