It's that time for the year again commanders, and we are honored to be Nominated for Mod of the year together with over 1000 other mods. Because of this we have a special MOTY update, first of all while we are working hard on Tiberian Sun Redux 0.75 we are also slightly updating Tiberian Dawn Redux. This do not mean we are working on the Campaign or version 1.5 or anything else ! If you are following Tiberian Sun Redux you have notice that we are upgrading the models and Texture's of the Tiberian Sun and Dawn units together with the structures, which we have not shown yet but we will, maybe sooner if we are listed in the top 100, and for that we need your help. The only thing you have to do is vote for us !
Enough talk here are the renders and see you guys hopefully in Phase 2 of Mod of the year 2013.
---
The MLRS is GDI's primary artillery in the game, but, unfortunately, is also a high tier vehicle, meaning that it only appears late in the game and campaign. Nevertheless, it has the longest range out of all GDI vehicles, meaning that it can safely fire from behind tanks or other damage soaking vehicles.
---
Using the successful MLRS frame, replacing the rocket pods with two large Honest John missiles, the SSM launcher is a rocket artillery vehicle supporting the M110 artillery that can deal massive damage to infantry and structures
---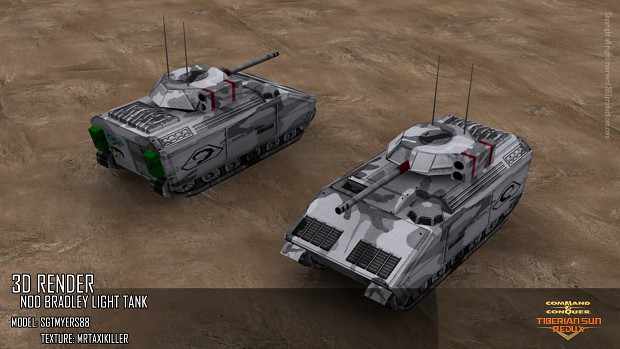 The M2 Bradley was originally an American Infantry Fighting Vehicle, developed to meet the growing need and proven effectiveness of IFVs. It was originally mounted with a 25mm chaingun and TOW missiles to engage tanks with. It was originally a complicated machine and had its disadvantages, but for all intents and purposes the vehicle ended up becoming successful with some of the mightiest armies on Earth, many of whom are sponsors of GDI. The newest member of the Bradley vehicle family is, however, a light tank used exclusively by the Brotherhood of Nod: it sacrificed the troop-carrying capacity for a 75mm tank gun that is marginally-effective against heavy armors while retaining speed and maneuverability.
---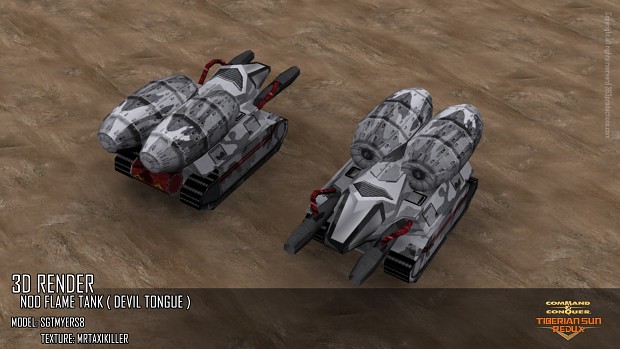 The Devil's Tongue carries twin fixed flame cannons joined to two large pressurized napalm tanks on its back. The driver's canopy is located between the giant flamethrowers. The whole vehicle rests on a light tracked chassis.
The resulting tank is a fast, versatile and nightmarish weapon, dangerous to infantry and buildings alike, as shown in the test footage recorded during the first Tiberium War and archived news articles below - but also lightly armoured and highly volatile, taking everything with it or horribly burn in the blast radius when destroyed, including friendlies. Results are hot indeed...
---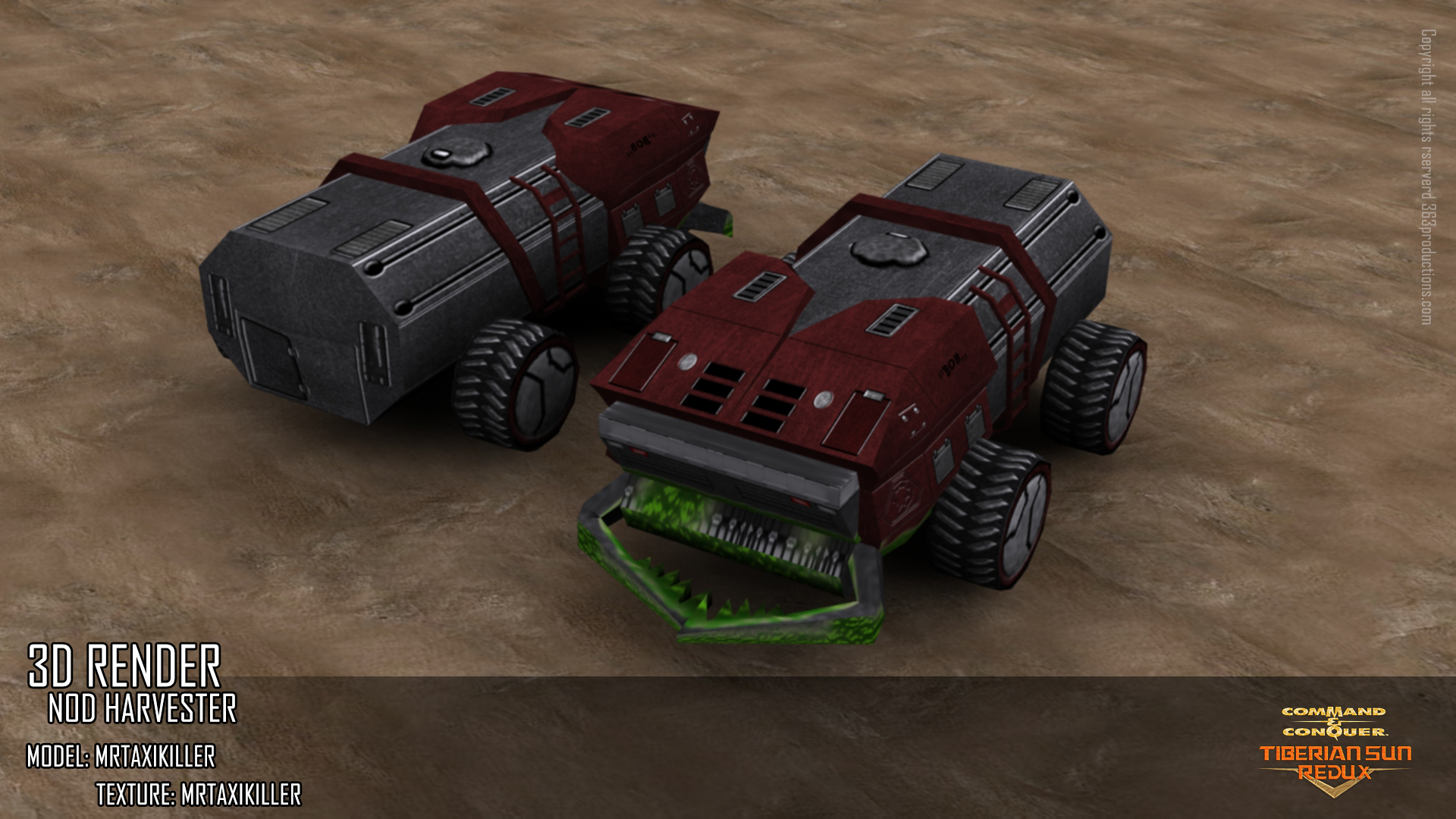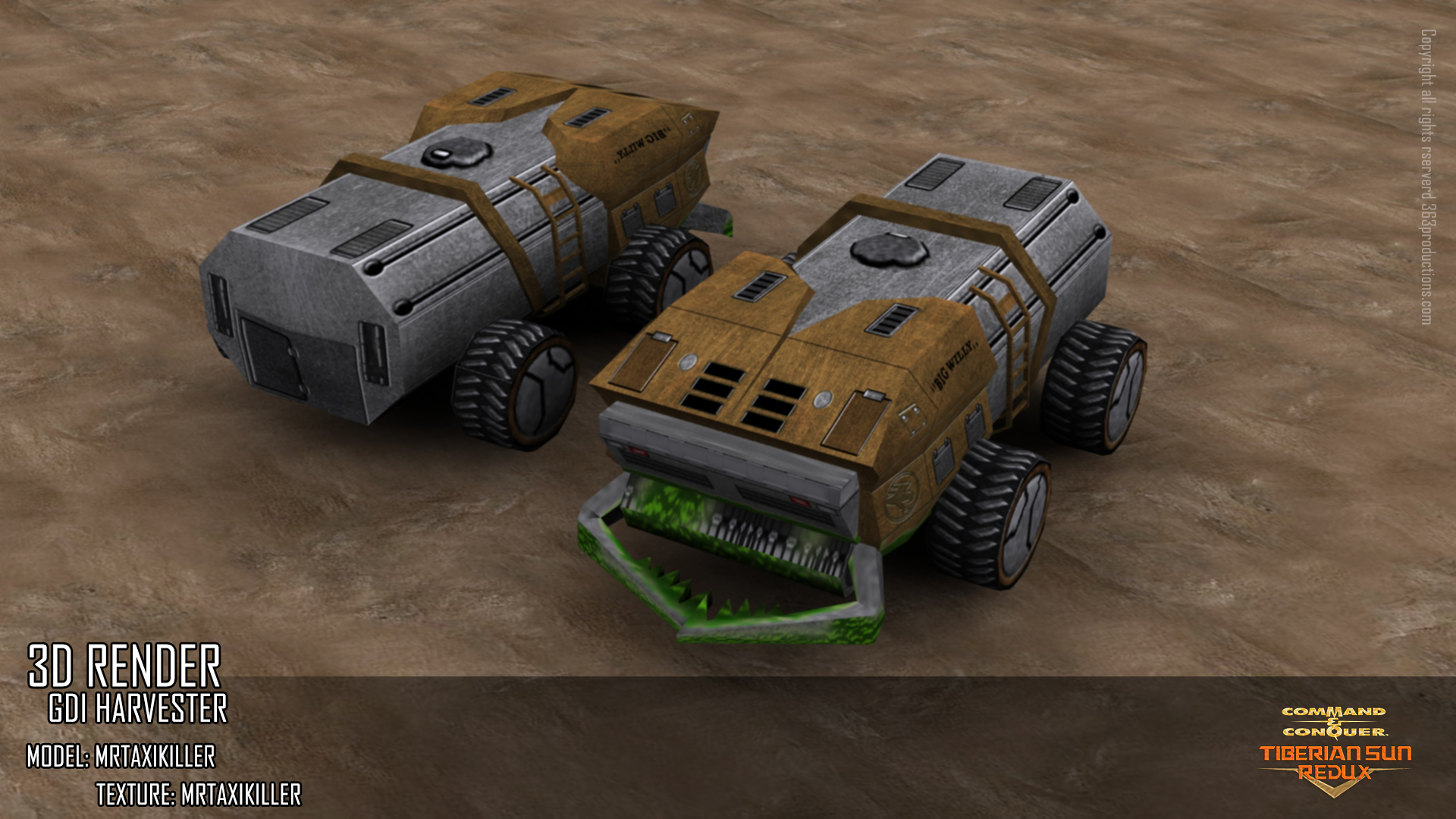 The harvester is a heavy duty workhorse. While completely defenseless, it can withstand a lot of damage and safely return to base even under fire. The AI is programmed to respond with extreme hostility if its harvesters are tampered with.

---
And with that we close our first MOTY news update.
This was the Tiberian Sun Redux Team thanking you for voting and hope to see you guys in Pase 2 of MOTY