Ahoy C&C Untitled fans! In this September 2012 update, we'll give you guys some awesome tidbits on the recent development status of the mod! Now to shed light on those unit renders posted a few days ago. Let's begin, shall we?

Feng Scout Jeep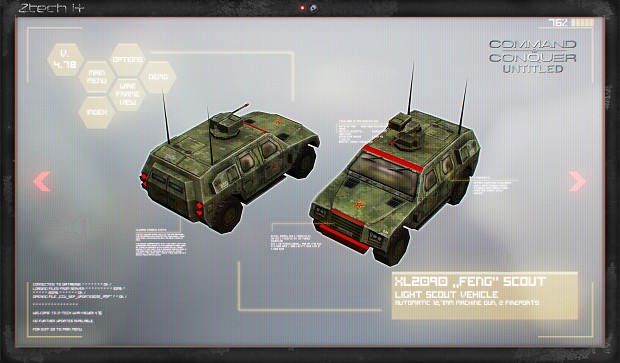 Description:
"Meep Meep!"
The new Feng scout jeep is a lightly armoured scout transport armed with the new PropagandaMaster IV 12,7mm Auto-cannon. For armour protection, the feng is protected only by 10 millimeters of armour to keep it lightweight; Meaning, this vehicle can't stand any direct attacks at all.Not only that, this vehicle can load two soldiers which can also fire out of the fireports.
Purpose:
Since china lacks any means of early scouting and harassment unit compared to the US and GLA. The Feng scout jeep was created to fill that role.

Falcon Heavy gunship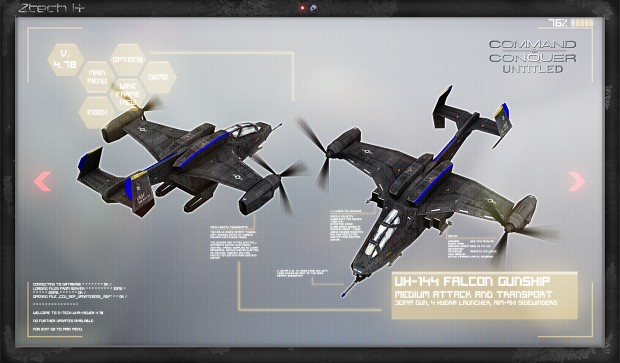 Description:
"Free fire!"
A tilt rotor gunship design carrying out huge firepower with its 30mm gun and 4 hydra launchers and additional as an upgrade AIM-9Xi sidewinder anti-air missiles giving it an allround attack role to fight off every kind of enemy. It is fast and packs quiet a punch.
Purpose:
The falcon's purpose is to fill the gap between the comanche and combat chinook while offering new tactical opportunities for players!
Valkyrie Support Truck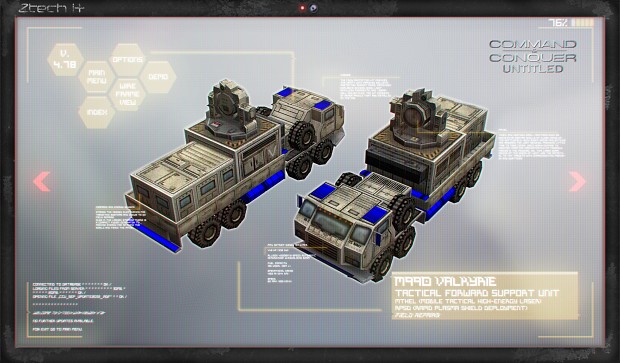 Description:
"Zap 'em!"
The M990 Valkyrie is a tactical forward support unit. A long name for a long list of possibities it offers. First the most visible detail on it is the MTHEL. A laser capable of shooting down any kind of missile or even artillery shells out of the sky. It is basically a huge version of the point-defense-laser.
The second ability is the RPSD. Rapid Plasma Shield Deployment. It can block any kind of projectile in a small area around itself.
Third ability is the field repair in a small radius around itself.
Purpose:It is a expensive late game unit designed to provide tactical aid on the battlefield and to further improve the concept of USA's strategy to value and save every mans life on the battlefield.
Spencer gunship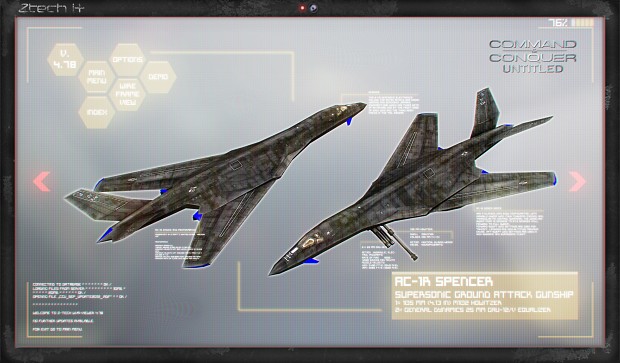 Description
"Bomb'n'go!"
The all new AC-1R Spencer is a supersonic ground attack gunship delivering huge firepower with it's dual 25mm gatling guns and it's 105mm howitzer bombardment leaving nothing but a smoking hole in the enemy base. It's swing wing design and scramjet enginges give it the huge advantage to the old AC-130 Spectre to quickly carry out bombardements anywhere on the battlefield.
Purpose:
Same purpose as in the old Zero Hour. It's just a model change.
Last but not least! We opened up a facebook page to give you guys some real time updates, small dev sneak peeks and much more! Head on now to the following address below and like our page!
Facebook.com
That's the september update for now, C&C Untitled team signing out!