Next public alpha release is coming soon, so I think it's a good time to take a preview to what has been done so far.
Callable platforms
I have made a quite significant change to way the platforms and elevators work. They no longer continuously move by themselves. Instead, player has to call the platform. This helps with the annoying waiting for a platform that is going to completely wrong direction and it also feels much more realistic. Due to changed platform behavior some of the existing levels had to be changed slightly as well.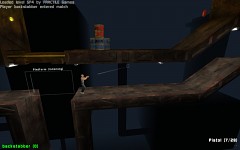 Sentry guns
Sentry guns have been added to enemy arsenal. As the name suggests, they are stationary automated guns that shoot at anything living in their line of sight. That means enemy guards too. There are two basic ways to get to area protected by a sentry gun: Either by destroying the sentry gun if player packs enough firepower or by finding a way around it and disabling the sentry gun from behind.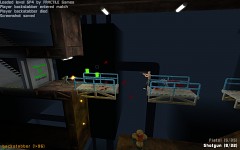 Improved mouse control
The previous release has a sort of mouse control, but it is really not very good and it's disabled by default. I have rewritten the mouse control code. Mouse now moves a visible cursor on screen and player always aims at that cursor. However, cursor movement is restricted to a certain range from the player, so it's still not identical the classic point-and-shoot mouse aiming. This might not be the final solution, but I will include in the next release to get some feedback on it.
And more..
In addition to the more visible changes, a lot of fine tuning and smaller improvements have been made for example to enemy AI and line of sight testing. Full change log will be included with the release. No new levels have been made yet, but I have designs ready on paper for two new single player levels. Those will be included in next release as well.