It's going to be interesting when everything comes together and I can start seeing how full games of Scraps actually play out. The current intended structure of the melee mode is like this: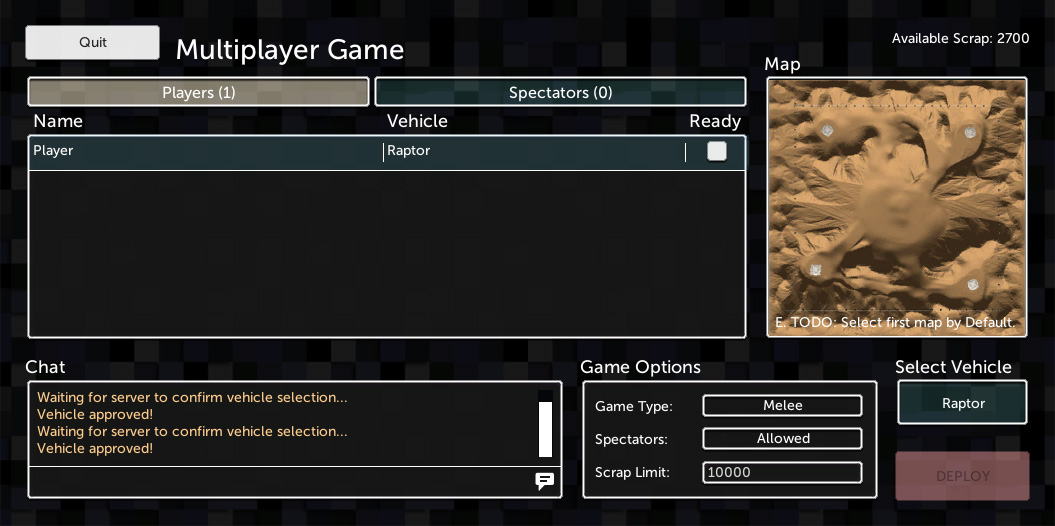 Pre-game Lobby: Starting scrap is set (plus the other game options) and everyone chooses a vehicle that fits within that price range. If they have scrap left over, they'll keep it banked for later.



Game starts and everyone is dropped off at spawn points on the map.



You can collect wreckage from destroyed parts if you've got a container on your vehicle.



If your vehicle is damaged, you can attempt to reach an Evac Pad. I'll make sure that all chassis provide a little bit of engine power and a little bit of generator power on their own, so you'll never be completely stranded.



After evac, you'll be safe back at the build screen. If you've got scrap to spend - either left over from your starting allowance or scavenged from wreckage on the map - you can repair your vehicle, add new parts, or remove existing ones. I also plan to add a system for collecting whole parts. Above on the right, you can see the new Repair Mode - more on that later.



Whenever you're done, you can get dropped off back in the game.
If your cockpit or chassis is destroyed, it's more like a traditional kill in an FPS game. You'll respawn with a new vehicle and your death will be recorded in the stats. Any scrap or parts you collected, or changes to your previous vehicle will be lost.
The remains of your previous vehicle will have dropped on the map as wreckage, but I think I need to ban your new vehicle from picking those up. Otherwise you could build up a stockpile by blowing up on purpose and quickly reclaiming your previous wreckage with your new vehicle! Suggestions for game behaviour here are welcome, because maybe there's a good way to handle things that I haven't thought of yet.
This fortnight I've mainly been working on the Game -> Evac -> Build screen and Build -> Game progression, and the stuff you can do on the Build screen while you're there.
Getting it all working required a bit of a shake up of the current code because the in-game build screen has to run alongside the game map with everything still going on in the background. The other option would be that when you returned to the game, you'd reload the map and re-synchronise with the server, picking up the changes to everyone's vehicles, wreckage on the map etc etc since you were last there, all at once. I decided that the better option was to just keep running the game map in the background. Looking at other multiplayer games I own, that seems to be the usual solution. Team Fortress 2 is clearly just loading the character select screens etc on top of the game itself, as is Battlefield: Bad Company 2.
That took a bit of refactoring but things are just about working nicely now, with a few bugs remaining. I also got vehicle modification on the build screen working in multiplayer, so parts can be added and removed and it'll sync over the network, and there's a new Repair Mode.
Damaged vehicle at the top, Repair Mode at the bottom. Repair mode makes it easier to see how damaged each part is with colour-coding,, and also changes interaction so clicking on parts repairs them (if you can afford it) instead of picking them up. There's now also a Repair All button (not shown).
I've still got some things to fix up in this area, then I'll be getting respawning working. You should probably be able to select a different vehicle to spawn with as well, as long as it fits within the game's starting scrap amount.
Bonus screenshot: