Listen up Marines!
Space is a dangerous place.
Alien planets? I don't need to mention the fact you might at any given point of time be ambushed, sniped, minced, turned into crispy bacon, and spat out by whatever hostile native life's out there. No complaining there, you VOLUNTEERED for this gig!
Look there's even DINOSAURS out there (I am not kidding). So look sharp, remember the key commands in them quick reference guides below, and stay alive to see your first paycheck. You'll find a handy quickstart guide for Freeman: Star Edge Alpha gameplay after the break.
If you haven't downloaded our free Alpha Release, what are you waiting for?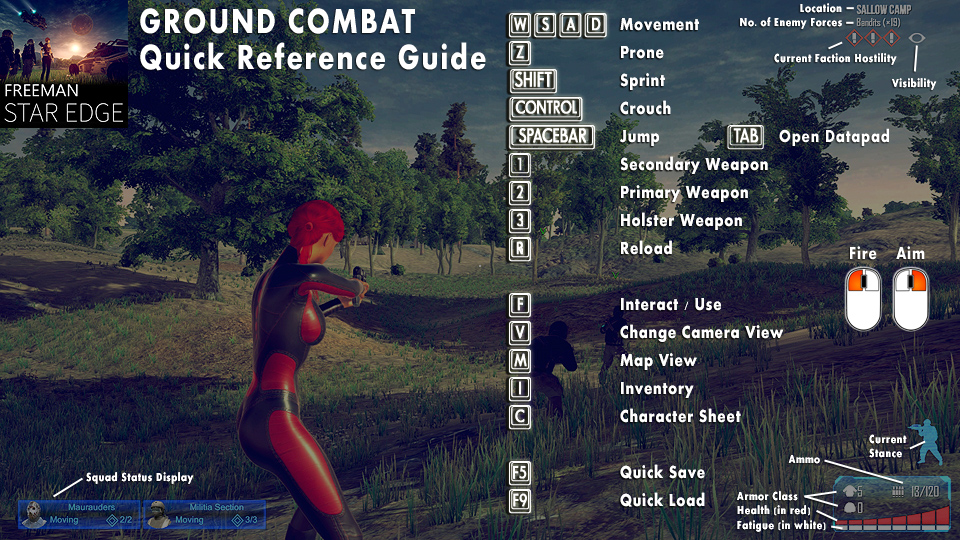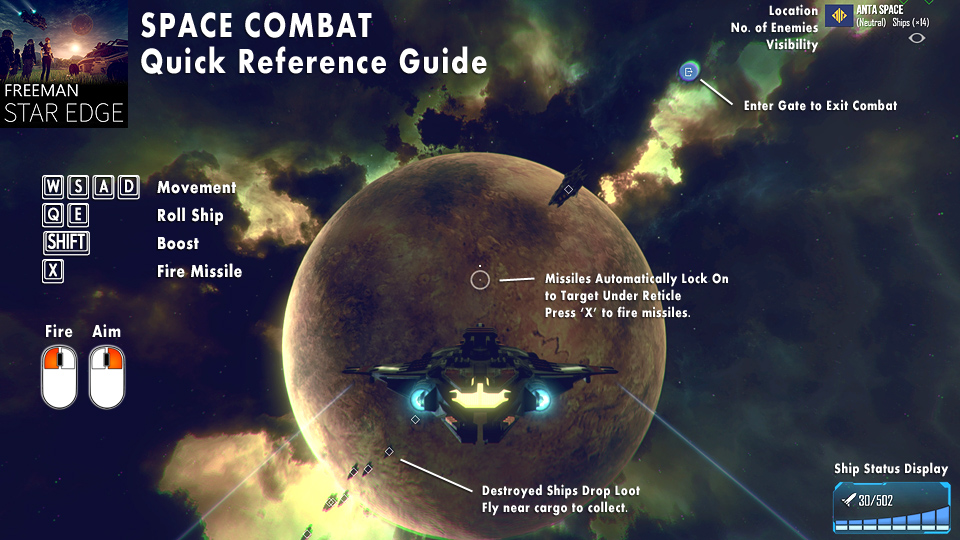 Installing the Game
Installation is simple. Download the latest Alpha Release package, unzip it, run the executable.
If it doesn't work, try turning it off and on again...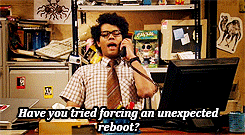 Drop by our Discord if it still refuses to work. No, really, do drop by our Discord and tell us any bugs, issues, mysterious sheep sightings, etc. We want to know.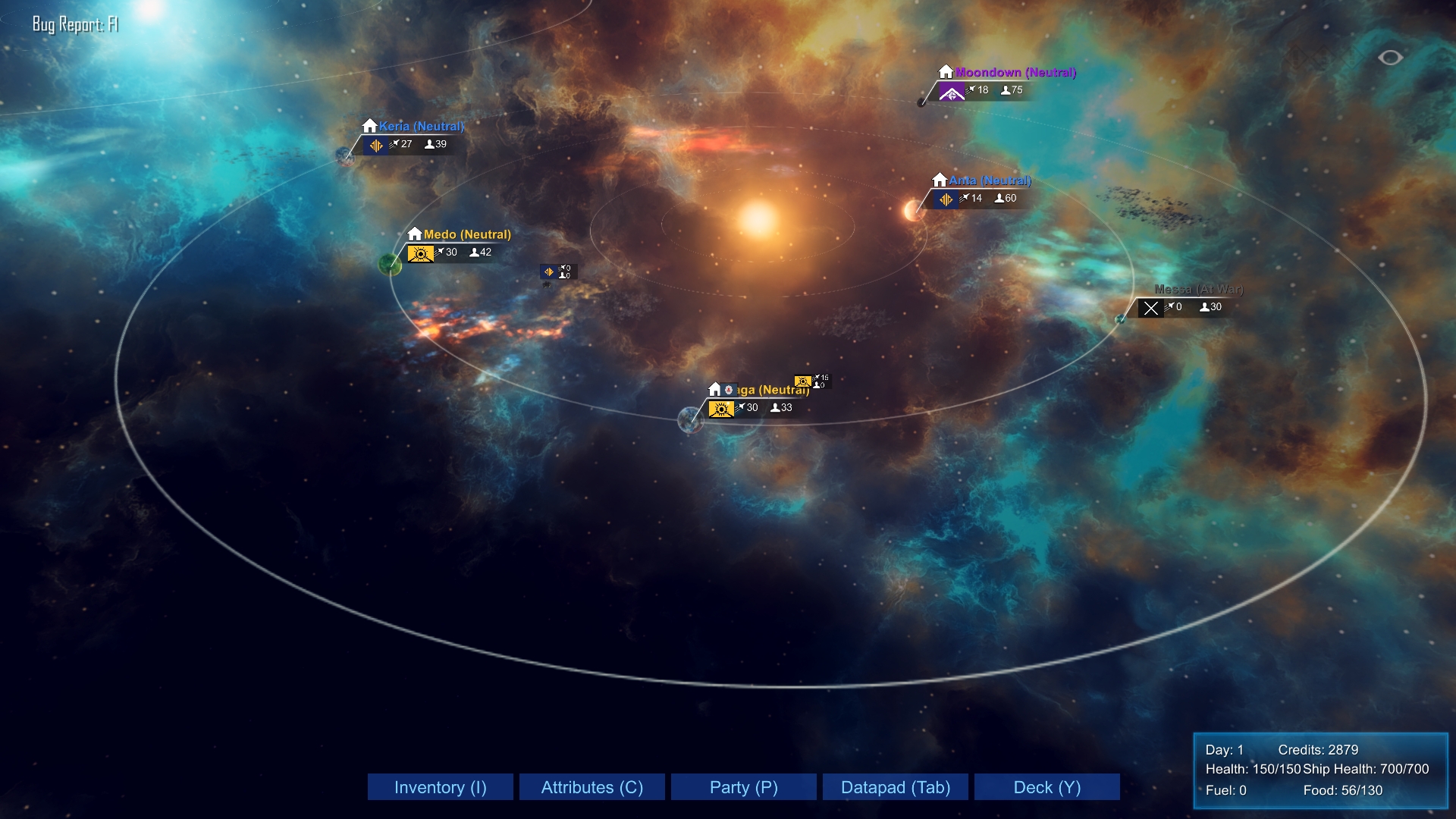 Playing the Game
Select Start New Game on the main menu! You'll be presented with a simple character creation screen and will soon be placed on the Solar System map. There's just one unnamed star system with planets orbiting it. Simply left click anywhere on the map to fly there.
Click on targets of interest like ships and planets to engage them. For the present Alpha gameplay the scenario is setup to be a "conquer everything" campaign with no other objectives but you need to build up some experience and wealth before attempting to conquer entire planets.
The best way to do this is either steal stuff (and not get caught) - I'd recommend Anta to start your trade as a charming rogue, or use your starting squad to hunt down small bandit encampments on each populated world.
Once you make planetfall, hit the M key, click on the merc portraits on the left and deploy the squads by double clicking on the destination. As weapon ranges are fairly long, concentrate on advancing to high ground and flanking bandit camps from multiple directions - this allows you to find and slay them much quicker than pushing in one direction only to see the AI actually does seek cover and harrass you from some well hidden position.
Refrain from charging up in a blaze of glory. Stay behind cover, watch the visibility icon on the top right hand side of the screen, duck and go prone by hitting the CTRL and Z keys respectively. Note in the present version prone is not an available stance for third-person mode (toggle with V key).
Once you've slain some bandits, take loot from corpses and encampments and return to town to sell them. Focus on collecting high value items and leave the dinner plates and mugs behind. They're not worth the inventory space. Speaking of which, hit the C key, upgrade your Strength stat and Inventory skill so you don't need to keep running back to town every 5 minutes to sell loot.
Buy better armor once you have the money to do so, and upgrade to the Armored Mercenaries (that come in 3 or 5 man squads) as soon as possible so you can steamroller the lightly equipped insurgents skulking about the wilderness.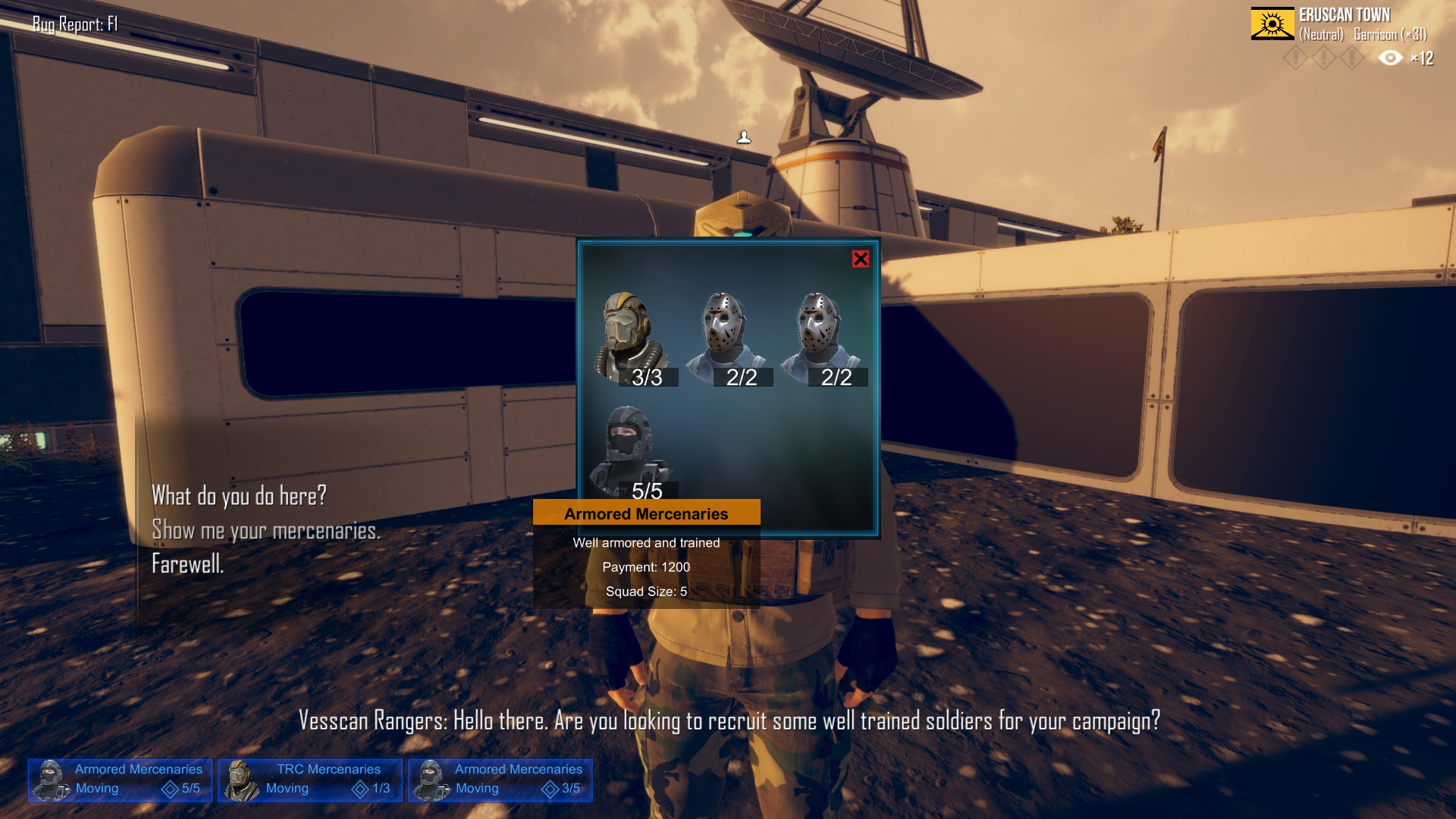 By this stage, you should be well acquainted with the gameplay format – please feel free to let us know your feedback, share the game, stream it, post it up on YouTube – you know where to find us on Discord and we'd love to keep in touch while we work hard on making the game ready for crowdfunding in October 2017!
If you want to share screenshots, take note you can hold down the CTRL key and use the mouse to rotate the camera. We are aware this overlaps with the current binding for "crouch" in v1.02.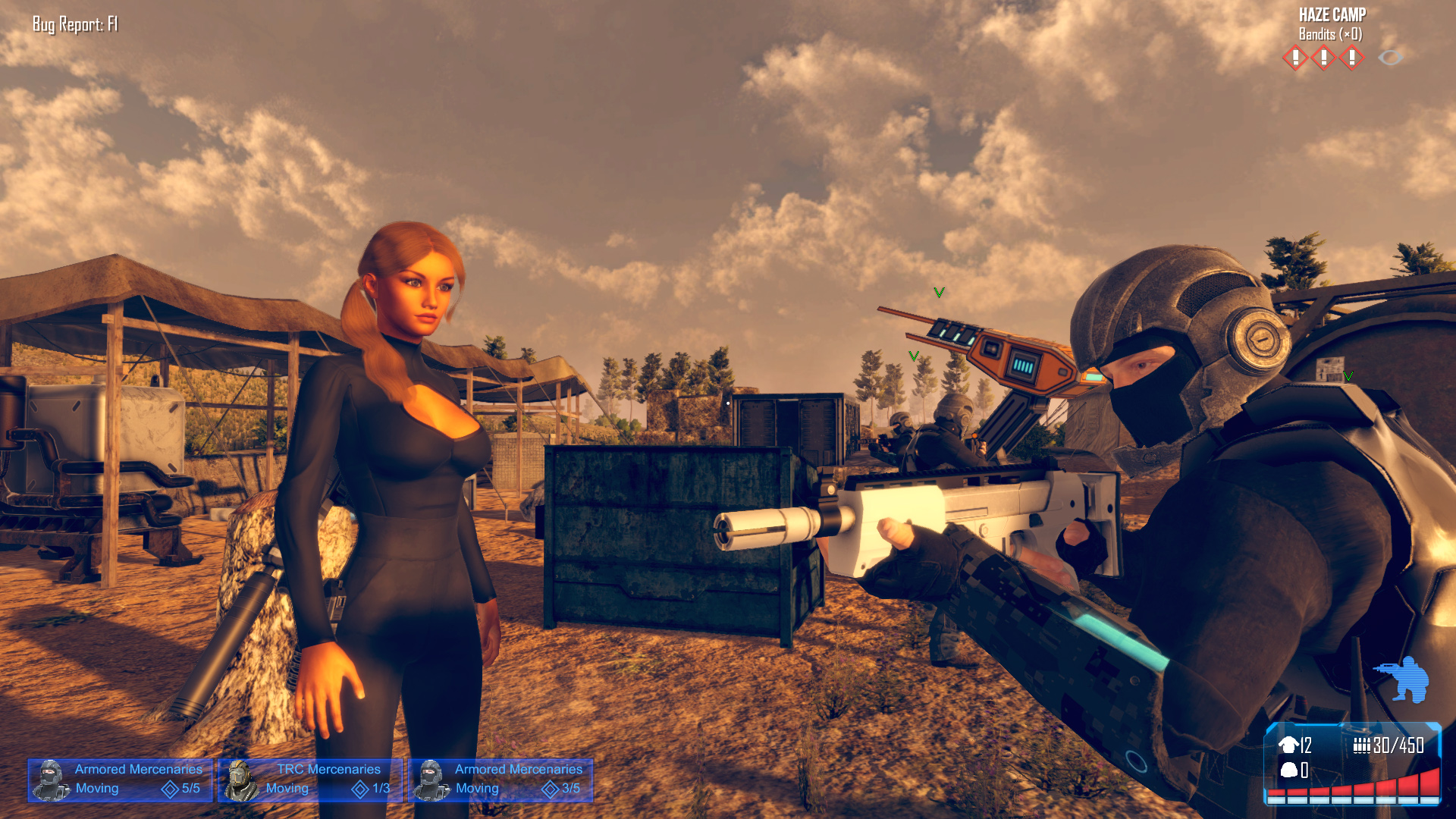 We'll really appreciate all the support we can get!
Thank you kindly for trying this game and we hope you enjoyed seeing what our team and community can offer.