This is going to be a short newspost -- we apologize in advance.
In Dungeon Deities, players are divided into two teams, led by King Red and Queen Blue. Naturally, those two kingdoms are in a permanent war (or something remotely similar to it, in which battles are fought by wandering through dungeons -- but hey, we don't question it). Last time, there was little consequence to it - we only quickly dabbled with it in our forums. There, a new, enthusiastic character - Violet - shared the news: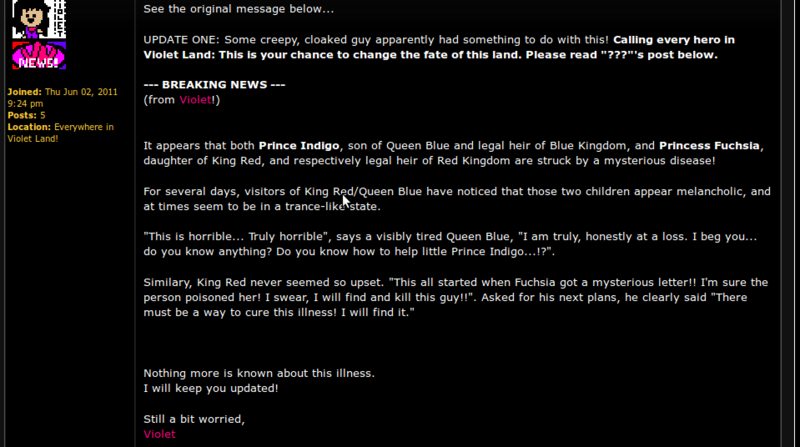 This didn't quite work out. The forum wasn't much of a platform, and really, Violet was destined for greater things. So, what better way for her than to get her own TV show?
So, thats what happened. We've planned out a story for the next alpha, and Violet is the one who's going to present "all the news from Violet Land"! The big events that everyone needs to know about, and perhaps little quirky interviews of other characters. Just to flesh out our characters a bit more -- all optional, of course, but give it a chance: Violet worked hard on it!
(Also, we did work hard on it - it has its own scripting language!).
Here, then, is a very early preview of Violet's studio. We may change the look of it, but as you can see, it works just fine!
CREDITS:
Hero Sprite by Antifarea via OpenGameArt.org
Music: "Chibi Ninja", by Eric Skiff (glitchnyc.com)
A quick note: We're sometimes posting in our forums about news that we don't deem noteworthy enough for IndieDB. As per usual, we'd love to hear your comments!