Hello everyone!
Gather round the fireplace as we tell you more stories about the ancient, dark and sinister demons we summoned in order to get our game made...
Though, as per usual, we failed in summoning (we never get the 'chr-kath-rha' pronounced), and had to work on it ourselves. On the bright side, no innocent souls were consumed as payment.
Speaking of innocent souls, we've already talked about our characters before on this very website. Those characters are, as you've probably noticed, pixeled by hand with great love and care. But it wasn't quite right. Those characters weren't flexible enough to be used in the game, and so, we've developed a new system for animating these characters.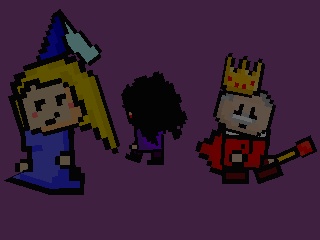 Click to see animated version!
As diplomacy failed, hate overtook their hearts. Then, the dancing began.
They are now created out of several layers that can then be animated and moved via script. This not only allows reuse of animation with only very little tweaking (they all walk by using their legs, so they can share that aspect of animation), but it will make further creation and adaption of actors much easier, so that we can add new ones (or create variations on existing ones) without too much hassle. In fact, the animation system turned out to be so useful and practical that we've decided to use it for the main hero as well. So, his animations are now a lot more smooth (it used to be two frames per animation). Additionally, they consume less memory, and we'll be able to add more equipment to the game (that shows up on the hero) much more easily.
Of course, we took great care not to overdo it. The pixels are part of the charm, so we made sure to keep a "pixelated" look to it all, but it's always been more of a playful take on it, rather than a rigorous use of their rules.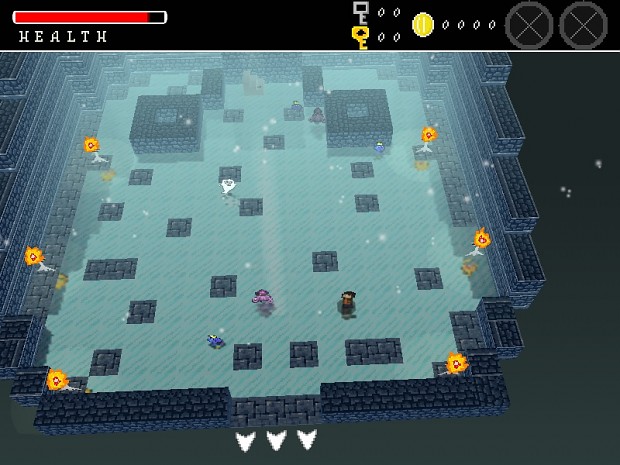 Your dungeons now feature ambient effects - such as snow in this shot.
Of course, other effects are avaible!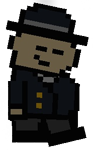 And what do all those characters do? Take the noble Sr. Cosca (pictured left), for instance. He is a bit of an odd acquaintance (not friend, listen to us. He is not your friend, despite what he says to you), offering to help you out. But his "help" entails stealing equipment from friends, enemies, or people who last beat your dungeon and stole from you. Take revenge by paying him a visit, then paying him during the visit, and then his men paying your rival a visit to get some nice stuff.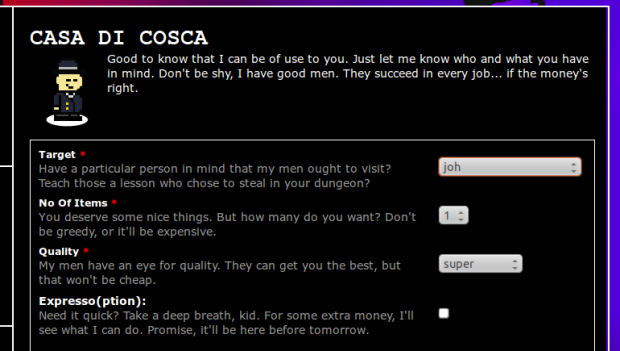 Sr. Cosca offers some very interesting services. Of course we don't advocate
stealing your friends' items. UNLESS they deserve it. Then go for it.
Of course, we're aware that this mechanic should be used with care. We're still debating whether or not this will be avaible at all times, but know this, it is expensive. Equipment isn't that difficult to come by, so you won't be without your favorite sword for too long if yours gets stolen (of course, a default sword is always avaible, and cannot be stolen), but hey, it was your sword. You may have nicknamed it, perhaps (this is not a feature in the game, but you may nickname it outside of it).

... Oh, wow. Poor joh. :(
What else is there to say? We've added some much-needed polish to the game. The Registration screen works, double-checks your input, and gives friendly advice whenever something doesn't match up. Other stuff that has been there before - like the message system - are also being refined and made more useful and better. We also have a new menu screen: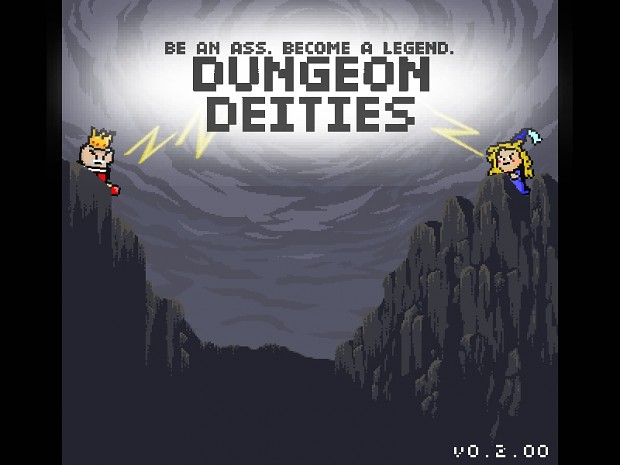 And our resident, lovely "ConnectiBot 2000" will take care and help you communicate with the server. He also does other things, from connection tests to reassigning joypad-buttons, so you will see him a lot. Better not offend him, for his robot claws can do what rumors refer to as "coldest death grip". But don't worry! He assured us he'd never do that to our users!
And speaking of coldest death grip... are those demonic, horror shadow hands that pull enemies into the walls down there?!

Music by James Flamestar.
As always, we'd love to hear your thoughts, and feedback is much appreciated.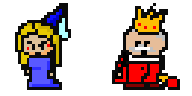 Want us to notify you once we start the next alpha test?
Subscribe to our one-time-newsletter at www.dungeondeities.com - or watch us on IndieDB or Twitter for the news!