Writing about a failed product is hard; an unreleased one even harder. An important aspect of modding and game development is learning from the mistakes of others so you don't make them yourself. That's why after being approached by ModCenter and Mod DB, I decided to write a post mortem on NightFall, in the hope that the knowledge and experience I can impart helps others with their game development project. After all it's no secret most mods (even games) don't make it, and despite all of the discussion about abandoned projects, no one has taken the time to understand what went right and what went wrong from the eyes of the developers involved.
The following chronicles the development of NightFall, from its humble beginnings as a single map to a full blown total conversion which was inevitably abandoned. I would like to take this opportunity to share as much as I can about NightFall - from early days, to major decisions and incidents that affected the mod, things we would have done differently and what we feel went right for the mod. I've also included some exclusive unseen content here - old concept art, maps, design information - that can show you, the reader, the evolution of NightFall. Bear with me if reading gets tough, I've tried to keep this story as raw and uncut as possible.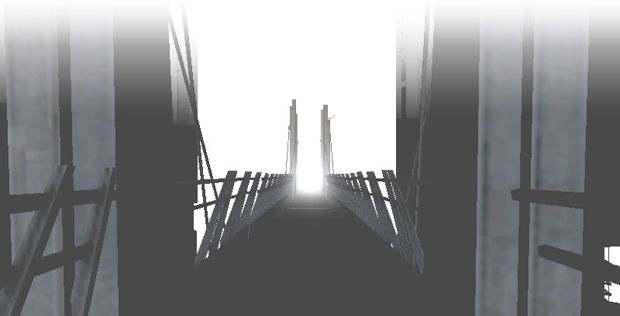 The original Dream map
NightFall was originally designed to be 'a small, humble HL2 SP mod' - a simple one man project. The mod first appeared on Interlopers in February of 2005, with a post by Taychin 'Kremator' Dunnvatanachit of some early map screenshots. Not long after this was posted, Craig Sutherland partnered with Tay to turn NightFall into a serious yet small project. At this time, NightFall was never planned to be a large-scale project. A small design doc was soon written up, and with the back-story that was developed, Taychin saw the potential for a large modification. As such, NightFall became a single player total conversion, totaling 54 maps - a mammoth and ambitious task.
It was around April of 2005 that I joined NightFall. Game development was never a dream of mine, and modding was never something I was seriously considering. In fact, I joined the mod mainly as a challenge and out of sheer boredom. I'd never really worked with any other language aside from Visual Basic and a little bit of C, so for me I was jumping into the deep end and trying as hard as I can to float. While ultimately I don't regret that decision for my own personal development, my inexperience to judge the work that was needed to implement a number of features for NightFall, forced us to invite a second programmer and later a third and forth. This shot our productivity for a long period of time, because assigning features to multiple programmers requires clear leadership, communication and collaboration along with an easy way to share code, all areas which we were not yet proficient in. Combine this with our large planned feature list (drawing on ideas from games such as Silent Hill and Thief/Splinter Cell) which employed a full inventory system, a stealth system (with player visibility dependent on how much light they were in) we certainly had a challenge on our hands. These features never ended up being prototyped due to programmer inactivity - and likely for the best. It wasn't until the start of 2006 when we had about half a dozen functional maps that we realized we really hadn't designed with these features in mind, and they were promptly cut - along with 2 of the programmers.
---
Lesson
Learned: Despite how much you might think you need it, don't hire excessive amounts of people for what should be small tasks. Most big mods have made it with a few mappers, a few modelers/animators and one or two core programmers. You don't need a commercial size team in order to make something commercial quality - be smart about who you hire, and make sure you are thorough.
---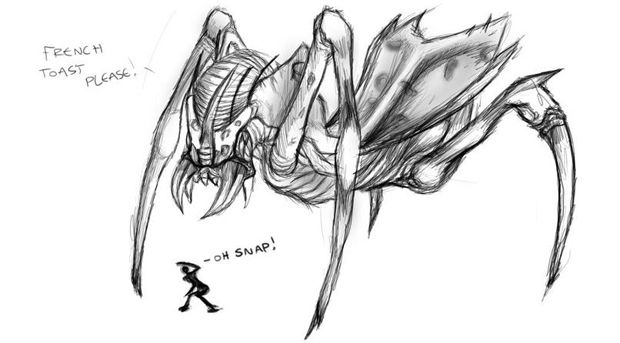 A piece of concept art for the Antlion King
When I joined the team, we had 4 or 5 mappers and a couple of modelers. The design doc was simply a few threads in the forum with a story devised by Craig and Taychin and a list of weapons and features they wanted implemented. It felt very much like 'their mod' with a fairly inflexible design in a format that wasn't very modification friendly. The weapon list was large and probably unrealistic, given the style of the mod. There was a large list of NPCs with a distinct lack of background information, personality and exactly how the character would fit into the world. Map events, dialog, and general gameplay flow wasn't fleshed out. We didn't have guidelines in place for how maps should be prototyped and never had regular 'team meeting' sessions or playtests. Mappers tended to be left to do their own thing, only constrained by the overall design objectives rather than descriptions and concept art to lead and influence their design. Without a doubt we were suffering from mis-management from the word go, something that tends to be pretty common with mods run by people fairly new to the scene. The team was also fairly excited and nearly flooded the forums with what now seem fairly minor things. Our internal forum layout wasn't anything to write home about, and minor content additions always got their own threads. Things such as 'Rustle sounds uploaded' or 'new truck model' overshadowed and buried the more important discussions of 'Plot' and 'Gameplay issues'. At this stage our method of distribution was via FTP, which is why we were listing every file update - to prevent people from downloading things multiple times. No one was given the job of organizing and packaging the latest mod content which turned out to be a mistake, but only because of the inexperience we all shared and the fact that none of us knew any better. Later on we moved to subversion for updating and distributing the mod - but that was too little too late.
The idea of posting everything that was being done did have a positive side, however. It was constant communication between all team members - in fact we would have around 30 posts a day on the internal forums from all members, giving each other opinions and suggestions, discussing minor features etc. This level of communication was one of our strongest points early on in development, but I believe it was done in the wrong way. Communication is always good, but rather than flooding a forum, team meetings or development logs, progress reports from each member would have been a better strategy for us to follow.
---
Lesson
Learned: Before you do anything, write a VERY thorough design doc. Make sure your team is clear with what needs to be done, and keep in constant contact with everyone to get updates. If a developer has to ask you things about the mod other than your opinion of work, you haven't done your job as a designer. A design doc should outline EVERYTHING a person needs to know when joining the team. Don't constantly be on everyone's backs - we all have real lives too. But don't slack off enough that someone can be lazy for a month and get away with it. It's a delicate balance, and one that you can learn through experience and getting feedback from your team. Prototype your gameplay in simple blocked-out maps until its fun to play. If it's not fun with no detail, then it won't be any more fun with it. Don't waste your time making stuff that looks great but plays badly.
---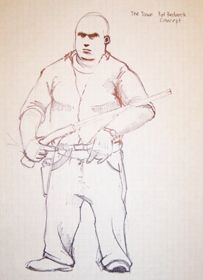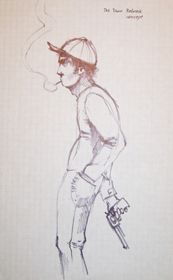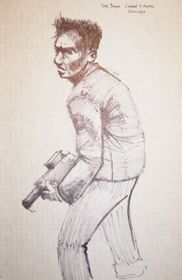 Redneck concepts to populate the town
---
The mod was planned to be around the same length as Half Life 2 - a game which took a commercial team 5 years to develop. We gave ourselves 2 years. Every piece of promo material - posters, wallpapers - had the slogan 'The Night Falls 2006'. So we had ourselves not so much a deadline, but a goal for release. Despite that goal, we didn't do anything internally to ensure that we'd try to meet that to the best of our ability. We decided against setting deadlines, preferring to give the mappers freedom to work of their own pace. The rationale was that if you didn't pressure someone, they would likely produce something better. While this is a good idea in theory, in practice it didn't work at all. We had mappers come and go as they pleased and not keeping their work up to date on the central server. Because of this there was also a lack of communication both ways. Mappers failed to tell us if they were going to be inactive, and the changes in design or critical feedback failed to make it down to them properly, or in a timely manner.
---
Lesson
Learned: It's alright to be ambitious, but be realistic in your timeframe. Set deadlines or milestones, and work towards them as best you can. Most games/mods are played in a linear fashion; therefore, you should develop your mod in the same way. Prototype and implement the important features, make sure they work and they are fun.
---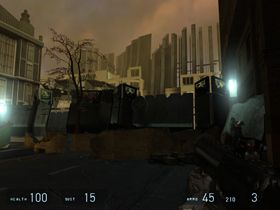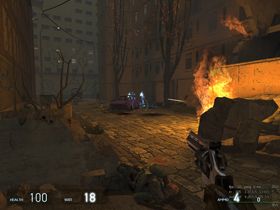 Old screenshots from the Surface maps
Around 6 months into development we had a fair bit of positive momentum, and had a lot of things to look forward to. I demonstrated the mod at the Independent Game Developers Conference in Melbourne, Victoria - an exercise that generated a fair bit of interest from a few companies who were flirting with the idea of publishing us. Public opinion was very positive, but watching them play the game revealed a lot of issues that we needed to look at. Players could not find crucial items or the exit to a level without our direction. This was due to our 'make everything look pretty and add functionality later approach', and in turn this did reflect a bit badly on us. It didn't help that the build we took there was rushed and missing a few textures and models.
---
Lesson
Learned: If you're ever going to show your mod somewhere, be prepared a lot earlier than the day before. This might seem obvious, but when you're in a position where you're trying to keep the visual fidelity up, you'll want to wait until it's the best you can make it before showing it.
---
Despite all this we had what a lot of mod teams wanted - a decent sized team with a lot of talented people and a core team of dedicated developers who had produced some great media. Given that we had a long term project planned and we all wished to work together in the future, we decided to work under a studio name as many other teams do. Thus, Nigredo Studios was formed. Unfortunately, it was also around this time that our co-leader, Craig, disappeared. With him went the website hosting information, the leadership, the public relations and the organization of a vast majority of the mod. I personally feel that this was the first big blow to the development of NightFall. His departure left us in a bit of a limbo at first. Development continued, but lacking direction. We started to slow and waited around a month until we made a decision to continue without him. In hindsight, it was a few weeks too long, and all the great momentum we had built up died fairly quickly. Given that Craig was the 'go to' man for the mod, it was fairly hard for us to adjust to the new circumstances. Leadership was juggled around a bit between several people, and no one really knew what was going on. No one knew the entire back-story of the mod, or the development plans. We can attribute this to a serious lack of a design doc - if we had something far better at this stage of development, a lot of problems we had as a result of Craig's disappearance could have been easily avoided.
Our next blow to development was allegations that one of the team members was using the team's assets for his own project. Not only that, but he was requesting that the artists make models that were for his personal use. Talking to other people, this happens more often than one would expect. It did shatter a few of us, especially the people that hired him. What we once felt was an honest, open and close knit team became that bit more distant and protective.
---
Lesson
Learned: This issue is actually a lot more common than people think. I've heard several other cases where coders joined teams to simply get access to the source code and use it for their own purposes. While there is no easy way to protect yourself against that - it's easy to lie about your identity on the internet, so known scammers can get away with things - you should do whatever you can to protect yourself in the situation that a copyright dispute can arise. It may sound silly, but regularly mail yourself copies of the mod, your assets and code. Seal them in an envelope, mail it to yourself - postmarks contain dates - and don't open them. Archive them in a filing cabinet, so if a situation ever arises where you need proof of ownership, you'll have dated proof.
---
In the back of all of our minds was the idea of formalizing Nigredo Studios. We had a logo and people knew the mod as being developed under that studio. Our plans included a Nigredo Studios website, where we could list our projects - both as a team and individuals - and really form a portfolio for ourselves. For the team members who planned on going into the industry, they would be able to say that they had been a part of a successful studio, with a high profile in the mod industry. At least, that was the plan. Delusions of grandeur, as they say. So it wasn't too unexpected when JohnX (name censored), decided to do exactly that. His plan included registering Nigredo Studios as an Australian business - a move which the founders of Nigredo (being myself, Taychin and a few other core team members) weren't too sure about at first. But after some discussion between us, we informally agreed to have equal control over the direction of studio, and any profits made in the future would be split. We weren't expecting this for a long time though, so it wasn't an issue we were thinking too much about. NightFall would operate under the 'Mod Department' of Nigredo, while JohnX began development of a commercial title. It turned out to be another decision we regretted, but in the short term it was a solution that suited us, so we rolled with it.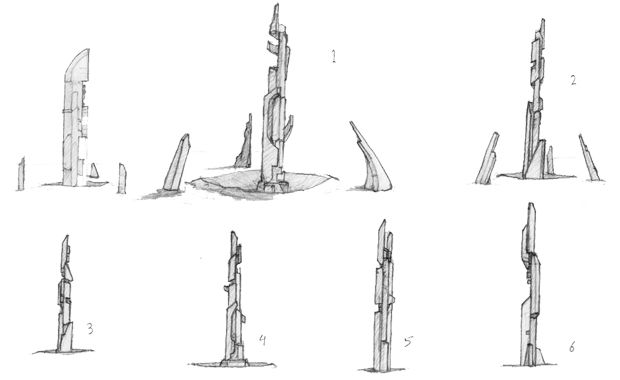 Concepts for the Silhouette, another Combine Citadel.
Despite these issues, we went from strength to strength. We had hundreds of people watching us on Mod DB, and many members on our forum. Already, after just 10 months of development, NightFall had exceeded the expectations of all of the team members. That Christmas, Valve made a Steam update with a list of mods they were looking forward to. We were surprised to see NightFall on the list, among high profile mods such as Dystopia and Garrys Mod. We had a lot of momentum going into the new year. An updated website was revealed and soon after Christmas, our first major NPC was complete. AS-189 was showcased in our Anniversary update - an update that received a very positive reception.
And then came the 'Sangster Incident'. Looking back, this was a pretty immature argument for the team to have, and something that was blown way out of proportion. One of our NPCs, David Sangster, had been modeled and skinned - except for the head. We had recently brought a new team member on board who was a fantastic artist and a great coder. Some of the great small features we had in store for NightFall - such as rats and cockroaches running around - were his ideas. Unfortunately, it got to a point where his work was too good. He was responsible for the face map for Sangster - done at a resolution of 2048x2048 with a body texture of 512x512. It looked out of place - too detailed for the rest of the world - and stuck out like a sore thumb. Rather than accept the scaling back of his texture to a lower res - 1024x1024 would have been appropriate - he wanted us to scale all of our work up to his quality. This was a fairly unrealistic request - we had a lot of custom textures and models that fitted perfectly with the Half Life style and quality, and we weren't willing to sacrifice development time to upscale to the quality of a face map. We'd set a bar to accommodate both the skill level of the artists, and reasonable a reasonable level of quality that would make us stand out amongst other mods.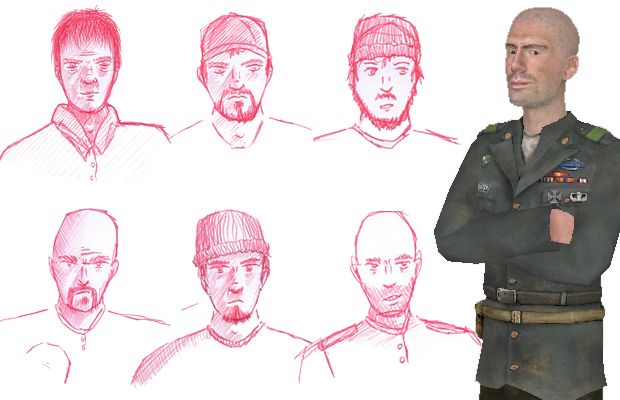 Rough sketches for David Sangster
Three quarters of the team agreed. The other quarter wanted the high quality face texture. Having the team split over a decision like this isn't the worst thing in the world - not by any stretch of the imagination. But what was bad for us is that the two leaders -Taychin and I - were on opposite sides. It was the first and only time in our entire development that we didn't see eye to eye, and because of our frustration with different people disagreeing with us, we were unable to look at the issue with a level head and come to a reasonable conclusion that would satisfy all of us.
---
Lesson
Learned: Despite how hard it is, you need to be level headed and reasonable as a leader. If something can't be dealt with democratically, then despite how much you might not want to, put your foot down. Some of your team may not like the decision, but in the long run, it's better to have a few disgruntled people than a team argument. The latter can be far more devastating.
---
Once again, our activity level plummeted, despite a largely successful few months. Due to the low activity level, we were really thinking about the amount of work we had to do. With so few active team members - and so few team members who were talented enough to match the quality we wanted - we started looking at alternative ways to release. Half Life 2 Episode 1 has just been announced, and we started seriously looking at an episodic development model. An internal poll amongst all team members showed a 50/50 split towards the idea. Some very good points were raised in this thread, including the topic of our development vs. the public playing the mod. Episodic is great for development because it gives us far more flexibility and allows us to focus far more on making one part of the mod the best we can before moving onto the next part, rather than spreading ourselves very thin across the whole thing. On the other hand, we couldn't decide whether previous episodes should be updated with our better work - after all, if people had already played it, what was the point in spending time to do it? And how would the players feel about only being fed small portions of the story and having to wait a long time to get the next part? We would also have to modify our design and story to ensure that all the episodes were left on a cliffhanger moment, and that each episode was roughly the same length. This discussion was held at length between several team members over the course of a few weeks, and in March of 2006 we took the plunge and starting episodic development. When we made the announcement to the team, they were 100% behind it. The team was trimmed to a manageable level, a few internal changes to the build were made... but unfortunately this did little to spur on activity. It wasn't too long until the domain name expired and the team was left with no major method of communication.
---
Lesson
Learned: Really think about the best way to get critical feedback on your mod from a large audience. The important things are always gameplay mechanics and story. Playing the same game over and over warps your view on what is good and what it bad - so get your mod to a releasable state, and release it to get public opinion. Take the feedback, improve, and release again. The great strength of mods is an incremental release model. Utilize it to make sure your product is the best that it can be.
---
I think that the move to episodic was very important for us as a mod, even if perhaps the move wasn't done very well. It was a new way of thinking and a way to better focus our efforts on writing and development smaller portions of the mod to be fantastic, rather than have a large mod that's only good. Quality over quantity was what we were looking for with this change, and it opened our eyes to a new way of thinking for development and distribution.
We ended up getting the website back up in May 2006 later using the host that JohnX had registered for Nigredo Studios. We came back online with a large, but lackluster, media update. Taychin and I - two of the main players in the mod from that point on had lost contact with a lot of the team during this one month downtime. But we got ourselves afloat again and continued development. However, a few things had changed. I was officially the second leader for the mod, and with that appointment came another way of thinking and a second point of contact. We still didn't really have a design doc - however we went one more step towards solving this problem with a Design forum, where we had individual threads for maps and NPCs and the overall story. This worked for a while, as it gave us a place to discuss more in-depth details, post concept art and be far more descriptive for each element of the mod rather than having it all lumped into one big thread. It wasn't the ideal solution, but at the time it was good enough for us.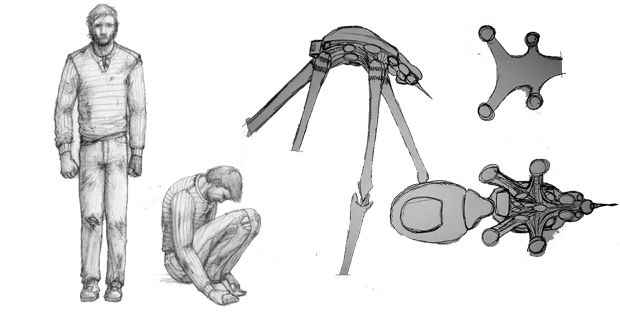 Concept art - the prototype strider and crazed citizen
Our old leader Craig suddenly arrived back on the scene, informing us that we need to change forum software after a formal letter from the vBulletin staff informing us that our license for their software was invalid. He then disappeared again. This really didn't help us, as it showed the entire team that the leader was there, and was still able to be in contact with us, but that he didn't seem to care about the mod. It wasn't the most positive thing in the world for us to see, but unfortunately we had to live with it. We ignored the letter, tried to forget the fact that Craig was still around and continued with development.
It was around this time, as well, that we decided to get serious with our design. We overhauled everything and turned it into a wiki, giving all team members the freedom to contribute to the mods design and story. This was the best move we made, as it allowed us to unify everything in a simple yet continually evolving design document.
Late 2006 and early 2007 really saw NightFall take shape. We had decided to scrap a lot of earlier maps in favor of some more friendly designs we had thought out, and the story had evolved a fair bit. We started to get new weapons in-game, some custom voiceovers and sounds. Minor things like visual effects were tweaked, and 'Operation De-HL2ization' began - the process of creating our own generic content to replace HL2s's (artifacts such as debris, crates, barrels etc to give NightFall its own feel). These were all modeled, skinned and in-game fairly quickly with great results. Again, things were looking very good for us.
We made the decision to introduce another map into NightFall, conveying the story to the player. We realized that, up to this point, we didn't really have a map in place to convey to the player exactly why they were in this position, something to set the rest of the mod up, or even identify who the character that they were playing was. Map1a continued our surreal style of development, with a series of scripted events the player can observe at their own leisure with an accompanying voiceover. Where HL2 had characters like the G-Man to advance the story, we had nothing, so this was the best plan we could muster up at the time. However, it was a pretty untried style of storytelling, so we were unsure about how it would pan out.
Then for whatever reason, the Nigredo Studios hosting went down. This was right in the middle of a 4-part media update for us, so it was very inconvenient. We decided to split with Nigredo Studios, and develop independently with our own host. Within a week we had a new host, a proper domain name and were back in business, but like the other times where we had downtime, business was slow.
It was around this time that I was getting into university. One of my lecturers, Damian Scott (a developer with over 10 years modding experience) and I had a long chat about the development of NightFall, and imparted with me great insight, a lot of which has made its way into this post mortem. Two such points which I wanted to share are:
Stop pretending we were a commercial developer, because the expectation was killing us. What we had built and the way we promoted the mod - posters and wallpapers, high quality media releases and magazine previews - were all ways that commercial developers would, and it simply wasn't needed.
Package up a small release for the public. We were already pursuing this idea, with the hope that a private community would help us perfect the game. What we didn't take into consideration is that the people we would disclose the mod to were what are known in the industry as 'fanboys'. As Damian said, you can't trust constructive criticism from people you know - you need cold, hard negativity from the most anonymous naysayers imaginable. Often decisions it's these people that confirm design decisions that you made. I went away from this conversation with a bit more confidence, and the knowledge that the mistakes I'd made were very common.
After this discussion, I went back to the team with the proposition that the private 3 map demo would form our first release. It was met with mixed reactions, but we decided that it would be the best thing for the team in the long run. It would give us every opportunity to get some feedback from sycophant and troll alike; give us the energy to finish later what we had started, and refine NightFall until our hearts content. We set a target to have this demo out by the middle of 2007.
But again, real life got in the way. Taychin, who was responsible for prettying up our maps, became inactive for personal reasons. This struck us down a fair bit, as it left us with no one to bring our maps up to the quality we needed and wanted them to be. Other mappers tried to chip in, but generally to no avail. Multiple mappers with vastly different styles working on the same map simply did not work - lighting was inconsistent, quality of scripting varied, texture work was different and the entire feel of the map changed from area to area. It wasn't what we wanted or needed.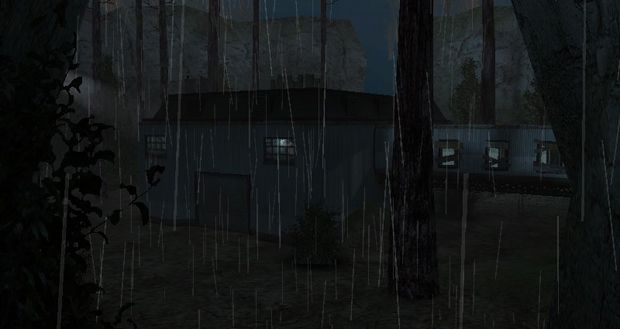 A map after a makeover
Our design for these three maps fluctuated a bit over the next few months. We really wanted to hammer the narrative home, so more lines were written, scenes added, lines re-written and scenes changed. It's the nature of game design that such things are iteratively developed, but the difficulty was in our habit of not prototyping before detailing. We were constantly waiting on someone to make sure that the next area of the map 'worked', bouncing between the mapper, the voice actor and the scripter. We also constantly changed the order of three maps - Asylum, the Rebel Compounds and Map1a - because we couldn't decide which one would be able to capture the player the best. Our decision was eventually Asylum-Rebel Compounds-Map1a, but it meant that a few modifications had to be made to a map we thought was finished. Asylum was revised, which again took more manpower that we couldn't afford at the time. These are the sorts of changes that you can't afford to make at this stage in development - yet another mistake.
It was during all this turmoil that Nigredo Studios - which was still recognized as being the parent company that NightFall was being developed under - received an offer from a company to publish NightFall as a part of an agreement for publishing its commercial title. JohnX, our ex-coder, approached me with this information and strongly urged the team to consider it. A post I made on the forum with the information was met with a resounding 'no' from the rest of the team. With the team so adamantly against it, I relayed this back to JohnX, who felt it was his place to try and convince the rest of the team this was the right direction to go. While we had unofficially parted ways months ago, Nigredo Studios management - for reasons that I may never know - tried to pull NightFall from under the teams feet and accept the offer on behalf of us. This didn't impress myself and the rest of the team, to say the least. We ensured that the build was secure and prohibited any further communication with any member of Nigredo Studios while the issue was sorted out. After several days of discussion with Nigredo Management, I negotiated an agreement that JohnX would be properly credited for his work on the mod, and we would release a joint statement regarding the split, so all knowledge was in the public domain. Before we reached this agreement, Nigredo management wished for the mod to be released under their name - something we simply did not want to do given how this issue had transpired and how we were treated by them.
---
Lesson
Learned: The lesson here is easy. I'll be honest - it was scary, don't get yourself in this position. If you decide to register a company, make sure that you see paperwork with a name on it. Seek legal advice to see exactly what is required, and as stated earlier, make sure you can prove ownership.
---
Eventually, activity waned enough that most of the team was inactive. Working on the mod for most of us felt like a drag, work wasn't getting done in a timely manner, and simply visiting the forums felt like a task. Call it fatigue, call it bad management. But it wasn't long until we decided the inevitable: NightFall was no longer to continue development. The fact that the decision was as simple as a 5 minute conversation between Taychin and I, and the rest of the team agreed is a testament to the bad shape the mod was in.
I've often been asked to single out a reason as to why NightFall failed. As you can see from our history of development, we had a lot of ups and downs - some was just sheer bad timing, many were as a result of mismanagement. It's hard to pick out a single reason. Fatigue, lack of communication, bad management - all these things contributed to our demise. Let this be a lesson to all modders. It's a tough business, and you should do everything in your power to make sure you can succeed. Aim high; try something new - that's what modding is about. But be realistic. Try to avoid common pitfalls, like the ones I have mentioned in this article. It's disappointing to see great mods fade away to nothing because they were plagued by problems that a little bit of experience would overcome. It's even worse to be in a position where you feel responsible for what happened. Despite the fact that NightFall was unsuccessful, the team can walk away happy with their heads held high knowing that we've formed new friendships and learned new skills. Developing NightFall has been a rewarding experience for us all and provided fantastic insight into the challenging but rewarding world of game development. I hope our story helps you prepare for the challenges that face all developers, and I look forward to playing your mod/game in the not too distant future.