MMH55 AUTOMATIC INSTALLATION INSTRUCTIONS:
Go to download section get and install the NCF Utility and configure your game with just a few clicks.
MMH55 MANUAL INSTALLATION INSTRUCTIONS:
Install Heroes V: Tribes of the east with 3.01 patch.
Install the MMH5.5 RC9b mod.
Install the NCF addon for Might and Magic Heroes 5.5 RC9b by extracting the file and placing:
- files from /bin folder to /bin



Here is how Bin folder should look like:


- files from \Data folder to \data


Install new creatures from NCF custom creatures Mega Pack (or other place). Extract the file and do as follows:
- put NCF_MegaPack.pak in \data;
- Run and install NCFMegaPackInstaller.exe and point to MMH55 game folder.




Here is how Data folder should look like:

So far so good. The game is ready but you need to make the map.

Open MMH5.5 Editor (ARMG) -> Tools -> Avanced RMG and make a map of your choice. It is going to be saved in Maps folder.

Open MMH5.5 Mapmixer, select the map. In "creatures" tab select Swap and NCF and leave the rest as is.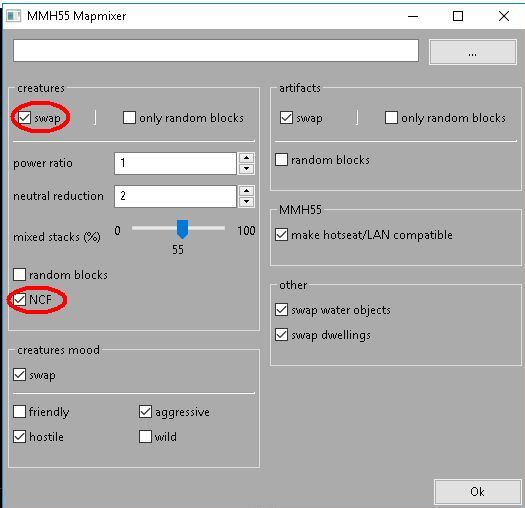 The mixer modifies the map and makes a backup of the original map.

7. Open the game through \bin\MMH55_64_NCF.exe if you want to use Quantomas advanced AI or \bin\MMH55_Utility_NCF if you want to use default heroes V ToTe AI.
Now you can start playing!