Modding Lionheart: Legacy of the Crusader
Lionheart is quite moddable. To start meddling with it you just need to use WinRAR or WinZIP (or any suitable archive tool) and unpack data.dat file in your Lionheart directory.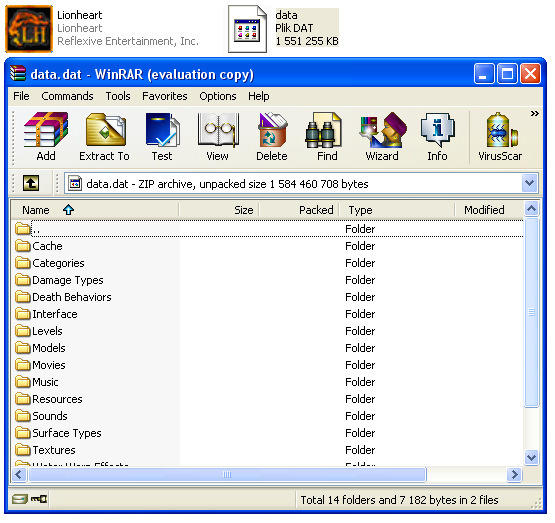 To test your mod, you need to unpack contents of data.dat to your main game directory so it looks like:
Lionheart\data\Resources\Rules
Lionheart\data\Resources\Perks*
etc. (Lionheart = your main game folder where you have Lionheart.exe)
you can move data.dat file elsewhere so the game loads /data folder not data.dat file
You can look at files of one of Lionheart mods to see how it's done.
You can rename "Rules" folder (in Resources directory) to whatever you wish, the game should load it anyway. Just keep it a 5-letter name, so you can name it RLZmd or RLSmd, ModRL etc.
Scion of Lionheart has "NRles" folder as a replacement of "Rules" folder. Note: having two Rules folders under different names in Lionheart\data\Resources folder causes the game to crash.
And now for the Perks folder.
*Perks folder is a little tricky. It isn't loaded by the game if you just put it in Lionheart\data\Resources.
Here's how the Scion of Lionheart solves this problem:
1) create a copy of Lionheart.exe
2) edit Lionheart.exe with Notepad or other text editor
3) find "Resources|Perks" fragment and replace it with e.g. "Resources|NwPrk"
<- any directory name and any text you modify in the EXE file must have the same amount of letters (otherwise you may break the exe file)
"Perks" folder must be renamed to "NwPrk" or anything else that has 5 letters in order to make it work. The game doesn't load "Perks" folder normally, it seems your only option is to modify/hack Lionheart .exe file to have it work with data.dat file.
Because you can have only
1) entire /data folder instead of data.dat file <- but it makes impossible to diffuse such a big folder (as a mod) to players (alternatively you would make installation process more complex and you would have to ask players to unpack data.dat file each time they'd like to install a mod):
data.dat unpacked to /data folder
data.dat file removed
2) data.dat file and /data folder with for example Rules folder (works) and e.g. renamed Perks folder described above, it's small & can be easily distributed to the community:
data.dat file left
data\Resources\Rules & Perks renamed folders (and other folders if you get them to work)
Velocity Engine
Lionheart runs on Velocity Engine, little additional info about this engine is available on the web, but there's still something:
Rpgplanet.com