The RA3 Control Centre is needed to access the Game Browser, which is the Replay/Mod launch centre.
There are 2 ways how to open the Control Centre.
1: By going via the Start menu.
The Control Centre should be easily accessible via Start if you used the default install. For those who customized there installation:
Try to find out in which Start-folder you made the Start Shortcut. Then just follow the steps below, and shown on the image.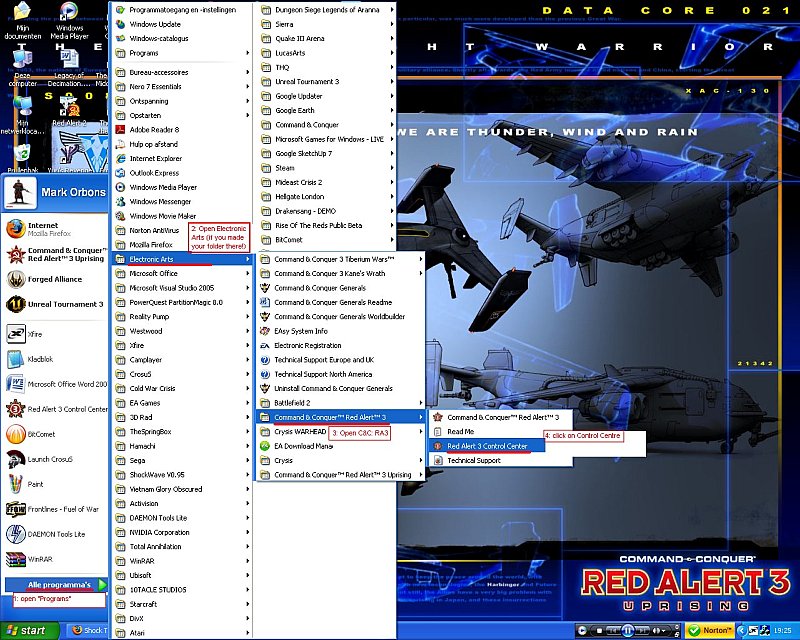 Start -> (all) Programs -> Electronic Arts (default!) -> Command & Conquer Red Alert 3 -> Control Centre note: this is the DEFAULT!!! the map "Electronic Arts" will be created at install, but if you selected another map, search there!
---
2: Via the DESKTOP shortcut.
If you can't find the Control Centre, you can always try to edit your DESKTOP SHORTCUT (the shortcut you double-click to start RA3, located on your desktop).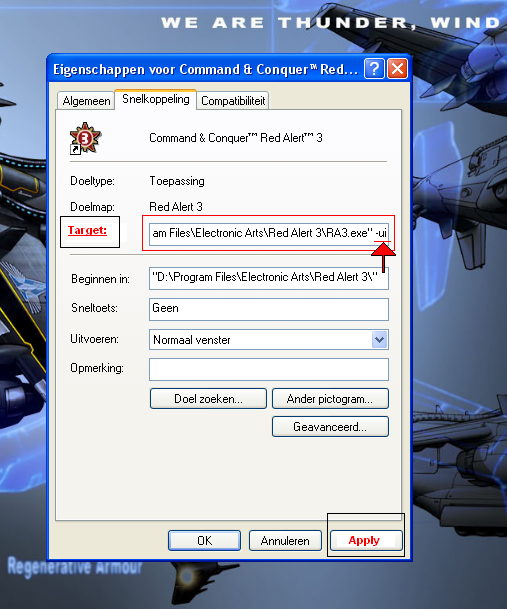 How this works:
1: Right-click on the shortcut.
2: Select "Properties"
3: Recognize the TARGET LINE
DEFAULT EXAMPLE: "C:\Program Files\Electronic Arts\Red Alert 3\RA3.exe"
4: Add " -ui" behind it.
Example: "D:\Program Files\Electronic Arts\Red Alert 3\RA3.exe" -ui
NOTE: There needs to be a single space between the (...).exe" and the -ui!!!
If you just put " -ui" behind it and press "Apply", you'll be alerted that you entered a wrong target. With the space, it will work!
5: Press "Apply". If you DON'T receive any warnings, and the Properties screen just closes, it should be okay...
6: Double-click your shortcut. You should see the RA3 Control Centre popping up.
-----------------------------------
-----------------------------------
Now, go to Game Browser, and then switch to the "Mod" tab.
Then select the mod you want to play, and Have fun!