(Explanation at bottom)
CHARTS BECAME COMPLETELY UNREADABLE, SO I REMOVED THEM, THEY ARE POSTED AS REPLIES.
The lists are a bit messy I tried my best to make them even but there's just to many x.x...
"Place Nuke for players 181, 217, 253, for player one to increase the actual limit.
For player 2, 182, 218, and 254. That should be enough to remind myself ;)
Other players in this list will also increase the current supply and the used supply."
-This is what I put down in a notepad along with the charts.
explanation:
The unit chart is a full list of every !!!Useable!!! unit in starcraft and what they add to the current supply, the used
supply, and the supply limit, while the player chart tells you what player to set them as to increase those.
An example is placeing a Marine on the map owned by Player 157 to increase the available supply (lets say, 25 is used, so
then you would have 25/25 if you don't have any command centers or supply depots) For player 1.
My guess is that (although I havn't tested yet) buildings that are placed that will give a certain amount of used, available,
or increase the limit of the supply, require the player number listed under the Buildings for the players 1 through 8.
The charts were originally done by SomeIdiotNerd on GhoztCraft. At least that is as far as I can trace back.
Note: This requires having a 3rd party map editor like SCMDraft 2.
Now that explanation I put is because he did not describe it clearly so I had to do a bit of experimenting and I was able to easily figure it out. This is what he originally said,
"""Â 1. Make sure you have a 3rd party Map editor. (preferably SCMDraft 2)
2. Decide your values.
(example: Player 1 is Terran and Player 2 is Zerg. I want Player 1's unit limit to be 1000, but i want him to have 100 supply available at the start of the game. I also want Player 2 to have 400 limit, with 200 available)
3. Subtract 200 from your limits.
(Example:
Player 1, 1000-200=800, remember 800;
Player 2, 400-200 remember 200.)
4. Use the Supply Modifier Unit List (which i will provide) to find values that add up to what you want. Be sure to take note of whether or not what you are using is a building or unit as we will use this later! note: it doesn't matter what race it is for this list.
(Example:
Player 1: "Nuclear Missile 400 Unit" Two will add up for my 800 Max.
"Citadel of Adun 100 Building" 100 for my initial available.
Player 2: "Protoss Nexus 200 Building" 1 adds up to my 200 Max.
"Protoss Nexus 200 Building" 1 adds up to my 200 available
5. Use the Player look-up list (which i will provide) for the players you want to give these values to. (example:
Player 1: Terran Available for Building: 109,
Terran Limit for Unit: 217;
Player 2: Zerg Available for Building: 74
Zerg Limit for building: 98Â """
Here is a couple of pictures: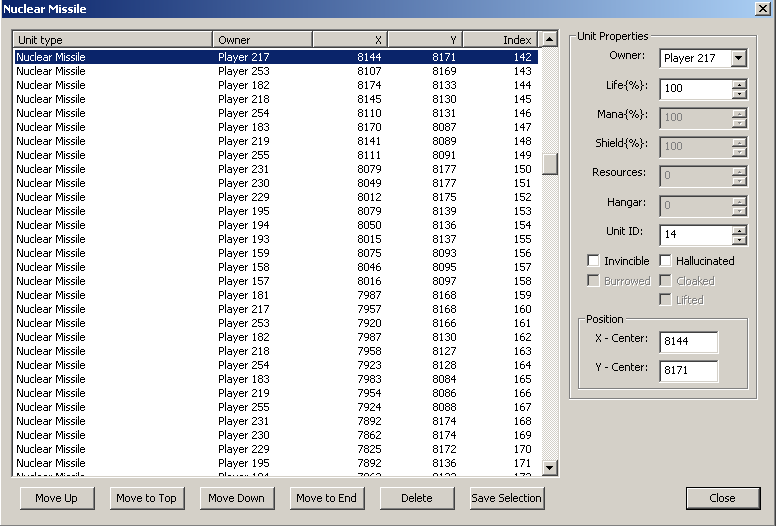 That particular nuclear missile is adding 400 to the maximum supply limit for player one. The rest are adding to the limit of supply or the current supply for players 1 through 4.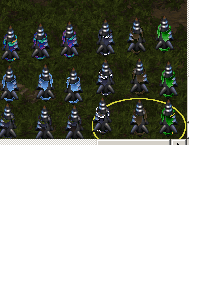 SomeIdiotNerd said "Credits goes to LegacyWeapon, he wrote the original tutorial, I paraphrased it and added more examples.
Original Tutorial" For the credits but I am troubled by what O)FaRTy1billion said later down the thread,
 "Place a Player 217 nuclear missile anywhere on the map. It will add 400 to the supply limit for Player 1.
The reason I am here is that I am deeply bothered by this topic... Not because it exists or what is in it, but that it is miscredited to LegacyWeapon. SIN, where did you even come up with LegacyWeapon?
Original Source. You could have at least put that, SomeIdiotNerd.
I also have made this that may help you find which player IDs to use more easily. "
So, I am highly confused to where credits for the chart or the tutorial that SomeIdiotNerd put...
Fixed Links:
Maplantis.org This is the correct and working link, it's just that I think Maplantis shutdown or something.... Panschk.de This may be who they "merged' with...