Hello, today we will be changing audio files in Half-Life.
What we need: Audacity
So, if you're developing a mod of your own, or just want to change the sounds, here's how you do it.
Step 1.
Go to (For mod): C:\Program Files (x86)\Steam\SteamApps\common\Half-Life\(MOD)\sound
Go to (For Half-Life): C:\Program Files (x86)\Steam\SteamApps\common\Half-Life\valve\sound
Now you should see a big list with folders in it.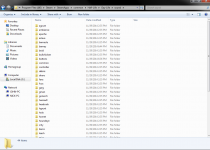 We'll be selecting the "barney" folder.
Now find the sound file "c1a0_ba_desk.wav" and copy the name.
Step 2.
Open "Audacity" (Download link is above)
You can do two things: 1.) Voice act, or 2.) Replace it with another audio file. But one thing is key in this, the bit-rate MUST be 88 for the audio file to be played in Half-Life. So let's just say you took a audio file of "Do you suck dicks?" (From FMJ) and you want to put it in there. First open it with Audacity and change the "Project Rate (Hz)" to "5500". It will sound ALOT different, may even be muted depending on how quite your sudio file was. You can fix this by moving that little slider on the left to the right. After you do that you need to click "Track>Stereo to Mono". This will make it have one audio channel instead of two, this is how they have it in Half-Life and this may or may not effect the outcome. Now export the file as a ".wav" or else it will not work. Make sure to name it "c1ao_ba_desk"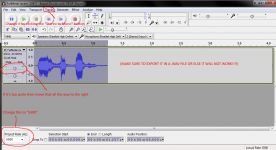 *picture explaining
Now after you've done that just drag it in and replace it. To check if it's 88 we need to check it's properties. If the "Bit Rate: 88" is there then you did it right!



Now let's test it in-game!
Video
Well, that's all! if you have any questions you can reach me by commenting on this tutorial or commenting on the video! Thanks!


____________________________________________________________________________
Notes: For some reason lips will not move with the edited audio files. If anyone knows please comment on this post the solution.