Step 1: Build the stuff
Place out any tanks, vehicles, infantry, buildings etc. that you wish to start with. Everything you place out, will automaticly belong to the civilian house and are colored gray. When you are done click on "Edit" and then "Trigger editor".
Step 2: Make the trigger

Optionally you can give your trigger a name
Select "Civilian" in the House box
Click on "Events"
Choose event #8 (Any Event). This means the trigger will be triggered instantly when the game begins
Move on to "Actions"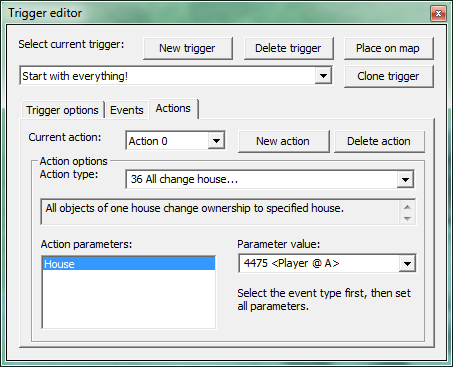 Choose a new action and select action #36 (All change house...)
Pick the parameter value "4475 ". This means that player 1 will get everything that's supposed to be belonging to the civilians
Now everything is set so player one will start with everything that belongs to the civilian team! Enjoy!