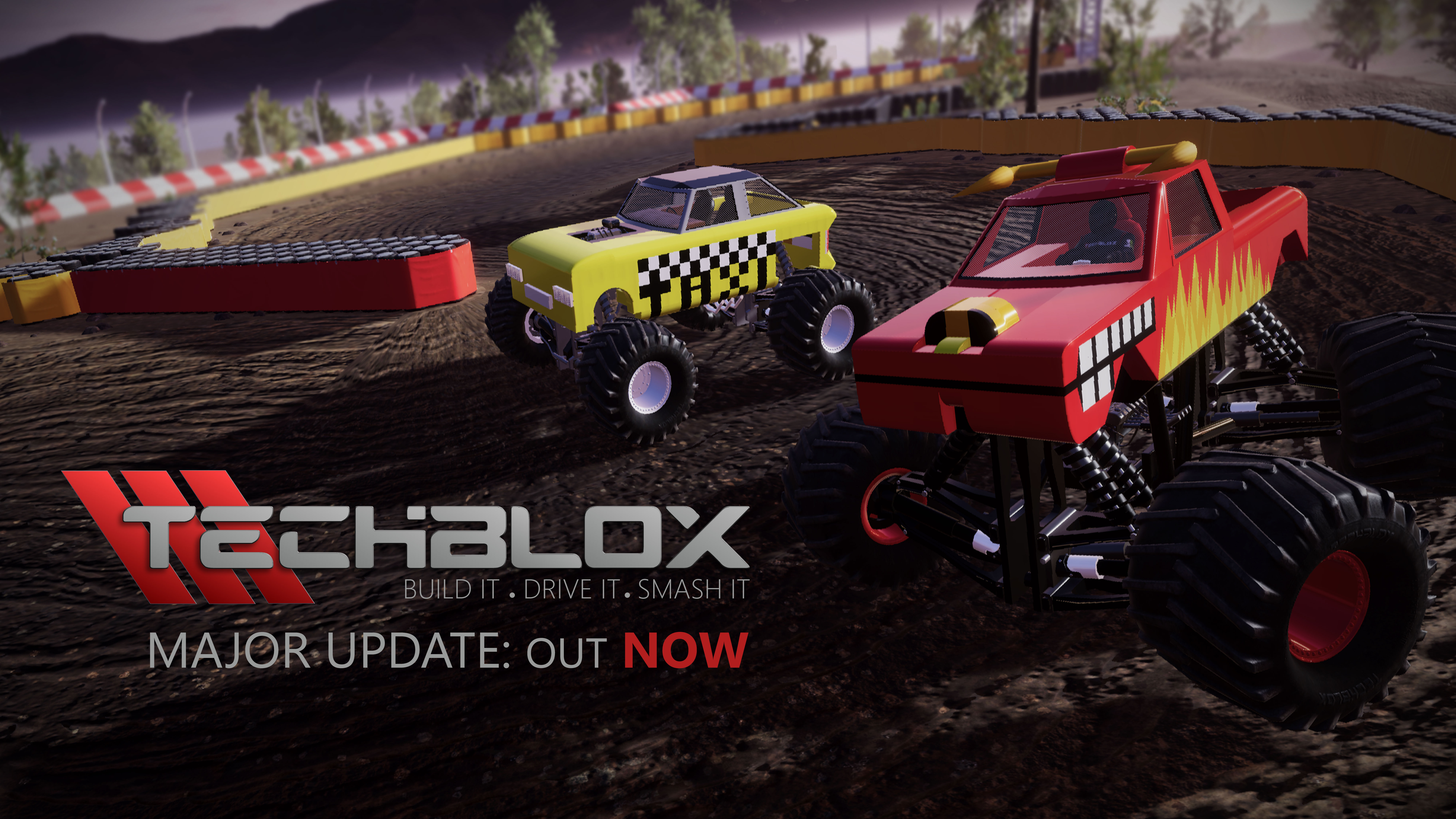 A massive update for Techblox that introduces the World Editor is OUT NOW!
You can download the latest update by opening up the launcher and clicking the update button. If you have not downloaded the launcher yet, go to Techblox.com to download it for free!
As many of you may know a number of new jammers joined us over the last few months and this update marks the very first time a number of them have had their work included as part of a release. A big thank you to all of our new jammers who have worked incredibly hard to get the world editor update out!
Let's dive into the new features and changes.
World Editor
The world Editor is a brand new mode, accessible from the Game Portal. This mode shares a lot of similarities with the building mode you're used to, but has a few key changes, which we'll go over shortly.
Before that, we've got some changes to the launch flow, main menu and how you access your saves to cover!
Menu and Game Flow Changes
The main menu now has 3 separate "Game Modes", which we'll be able to add to over time. Race Track and Dirt Track will send you into a workshop where you can build vehicles as normal. The build volume has the same dimensions as the previous workshop.
When you start simulation in either of these modes, you'll load into the corresponding track where you can walk and drive around. These new tracks were built entirely in the World Editor game mode and come with more twists, turns, elevation and ramps than before!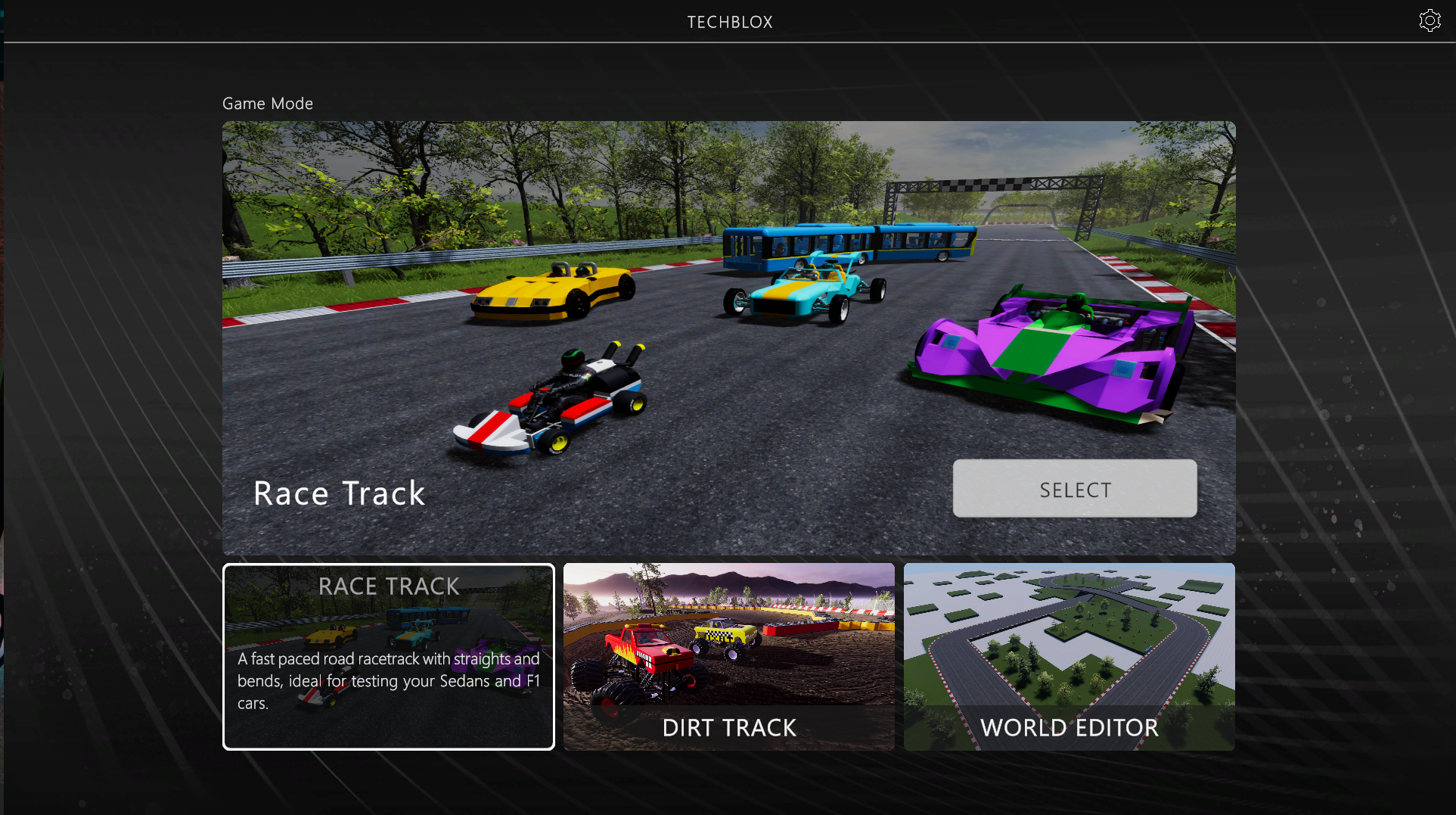 Machines, vehicles and other save files that were made before this update will only be accessible in these two modes, but you can still create blueprints of these creations to place in the World Editor. New 'worlds' that you create will only appear in the World Editor game mode. You can't really bring an entire map into a garage after all.
We've moved the options menu and quit button into a new navbar at the top of the screen in preparation for all the extra 'Front End' screens which we'll be working on in the coming weeks. We've also overhauled the look of the settings/options screens and made a few changes to the launch flow, including a trailer that we'll continue to update as Techblox develops further!
Workshop Changes
With the introduction of the World Editor we're moving towards all games, tracks, workshops etc. being built completely out of blocks. The workshops available in these two tracks have been built out of a mix of existing blocks, available in both modes, along with a number of special parts only available in the World Editor game mode. The Dirt track workshop is based on the previous workshop while the Road track is a little different.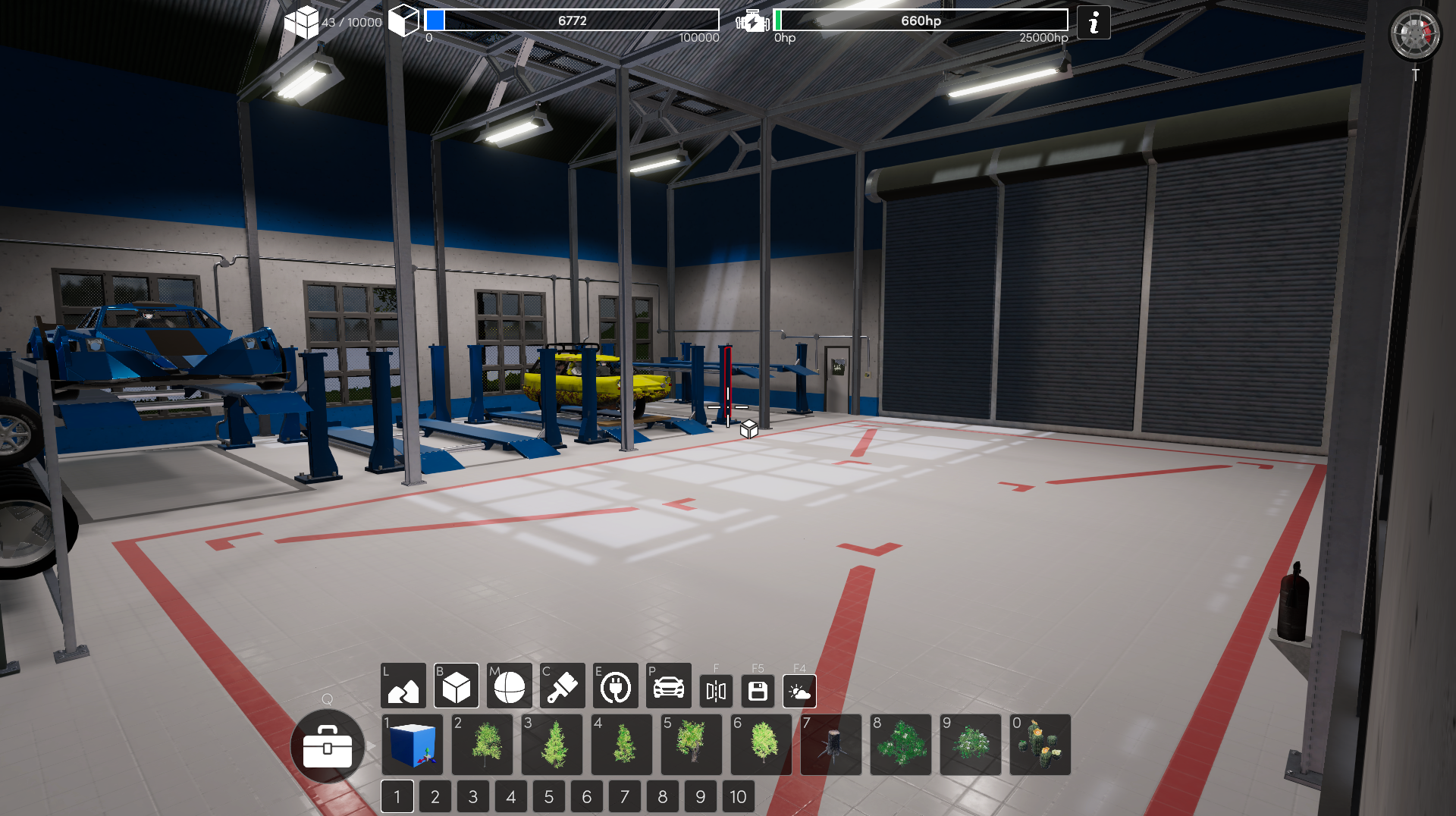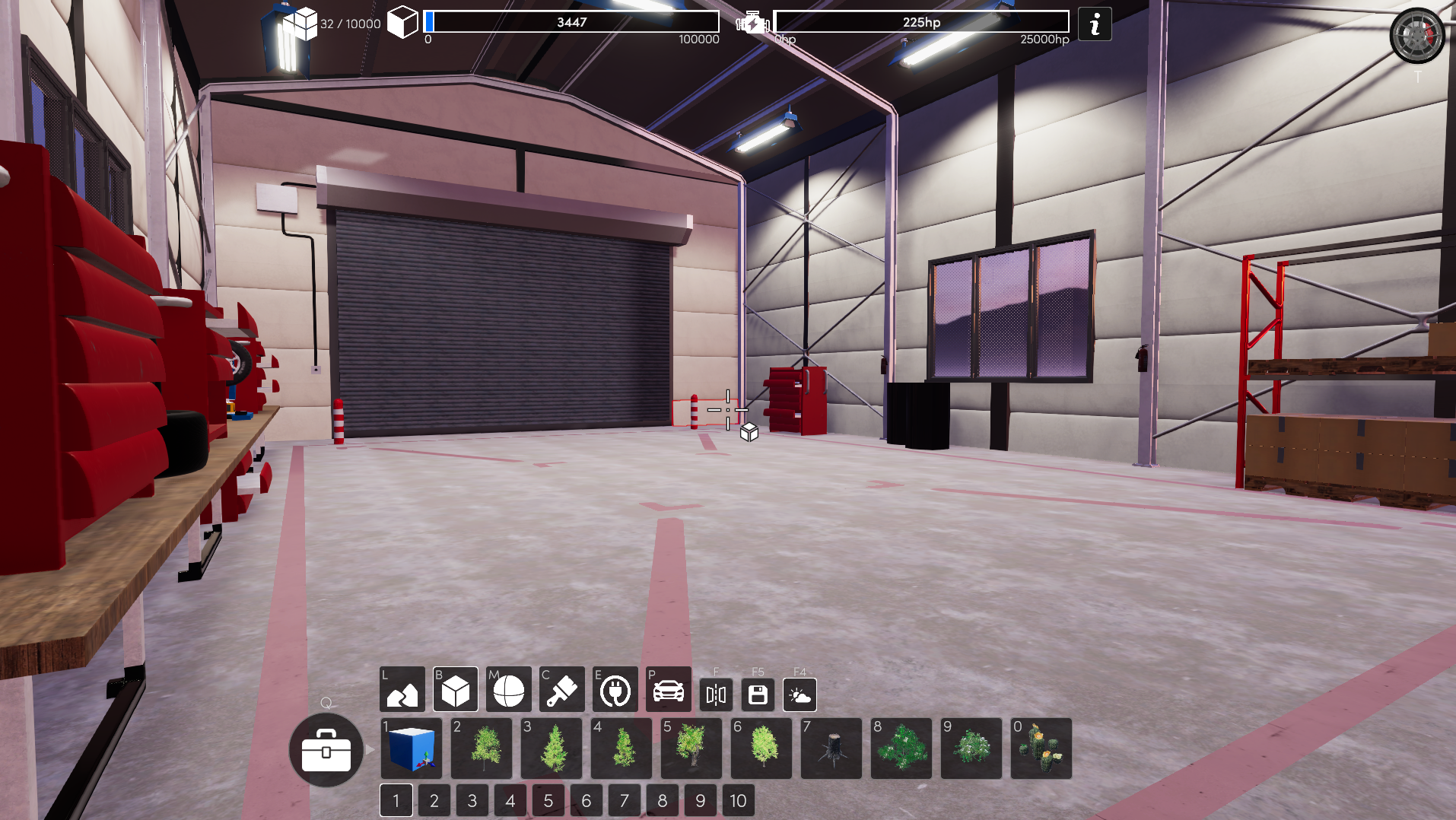 In time game creators will be able to set up and use their own workshops for their game modes. So players will be given a space to build based on the rules of that game. Massive mech battles can have a tall silo, Go-kart races can have a smaller house garage and airplanes can be built in spacious hangars.
N.B: Of course you're able to start building your own workshops and garages now. If you create something spectacular we may even put it in the game as one of the official game mode workshops! We could even turn it into a competition, let us know what you think.
World Editor Game Mode
The world editor mode places you in a massive empty map with a grid. While in this mode you can move around and place any of the parts available in the other game modes. You'll also have access to blueprints, materials, colours and a wide range of new landscape tiles.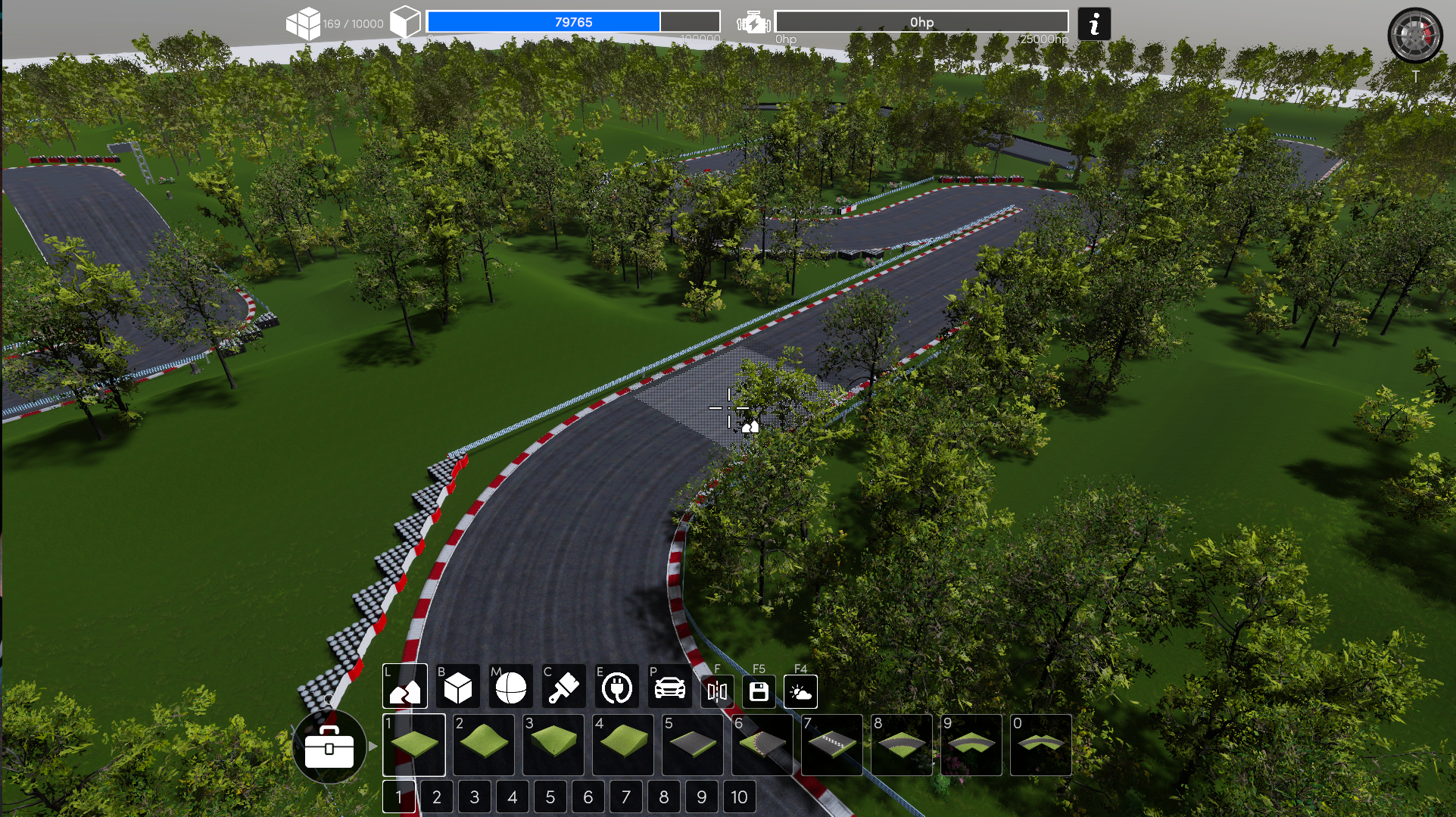 By using these tiles you can create huge racetracks, open hilly countryside and so much more in no time at all, then fill them out with lush foliage and wall off areas you want to keep players out of.
N.B: We're anticipating a lot of amazing tracks being created so we'll be keeping an eye on everything that gets shared. We can look into adding some of these to the game as well!
Landscape Mode
Landscape Mode is similar to Block Mode, with a focus on landscape tiles. While in this mode you'll snap to a special 'landscape grid'. This grid allows you to quickly and easily place all sizes of tiles so that they line up perfectly. You can also snap to the top or side of placed tiles to create elevation.
The current tile set contains a number of grass and dirt themed tiles, with roads, hills, ramps and jumps and this will only expand over time.
Block Mode
While in block mode you'll operate on the standard 1x1x1 grid and can scale most parts and props. We've added a number of new parts with this update as well, from trees and rocks to girders, barriers and window frames, but we'll let you discover the rest!
Other Changes and Additions
Atmosphere & Visual Changes
We've overhauled the skybox and lighting from previous versions to make things look far nicer. We've also added some new blocks called the "Atmosphere" blocks. When one of these is present, the sky, lighting and fog will change. There are currently 4 atmospheres, from an overcast afternoon to a desert dusk. If no Atmosphere block is present then the atmosphere will be a standard blue sky.
Alongside these changes we've also improved the grass and foliage to perform better as well as look better visually.
Lights
We've also introduced the first functional light block to Techblox. The ceiling light allows you to add some extra external or indoor lighting to your worlds. With this tech in place we'll be able to make the vehicle headlamps functional soon as well.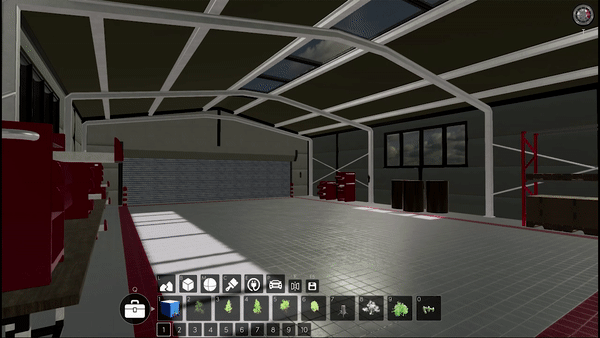 You can set the intensity and the way these lights cast shadows in the world. With Realtime shadows every block that is placed, removed or moves during simulation will update their shadows constantly, in the same way the global sunlight does. These can be a bit resource heavy so there's also an option to disable shadows cast by this light altogether, as well as setting 'static' shadows which will be generated when you place the light, enter or stop simulation and remain fixed. These could be used for stationary parts of your world where things won't often move.
On the lowest quality setting shadows are completely disabled still, so there won't be any impact on performance.
New Materials
There's a bunch of new materials coming with this update too! Some more variations of plastic, steel and wood along with some new environmental materials like ceramic tiles, chain link fences and concrete.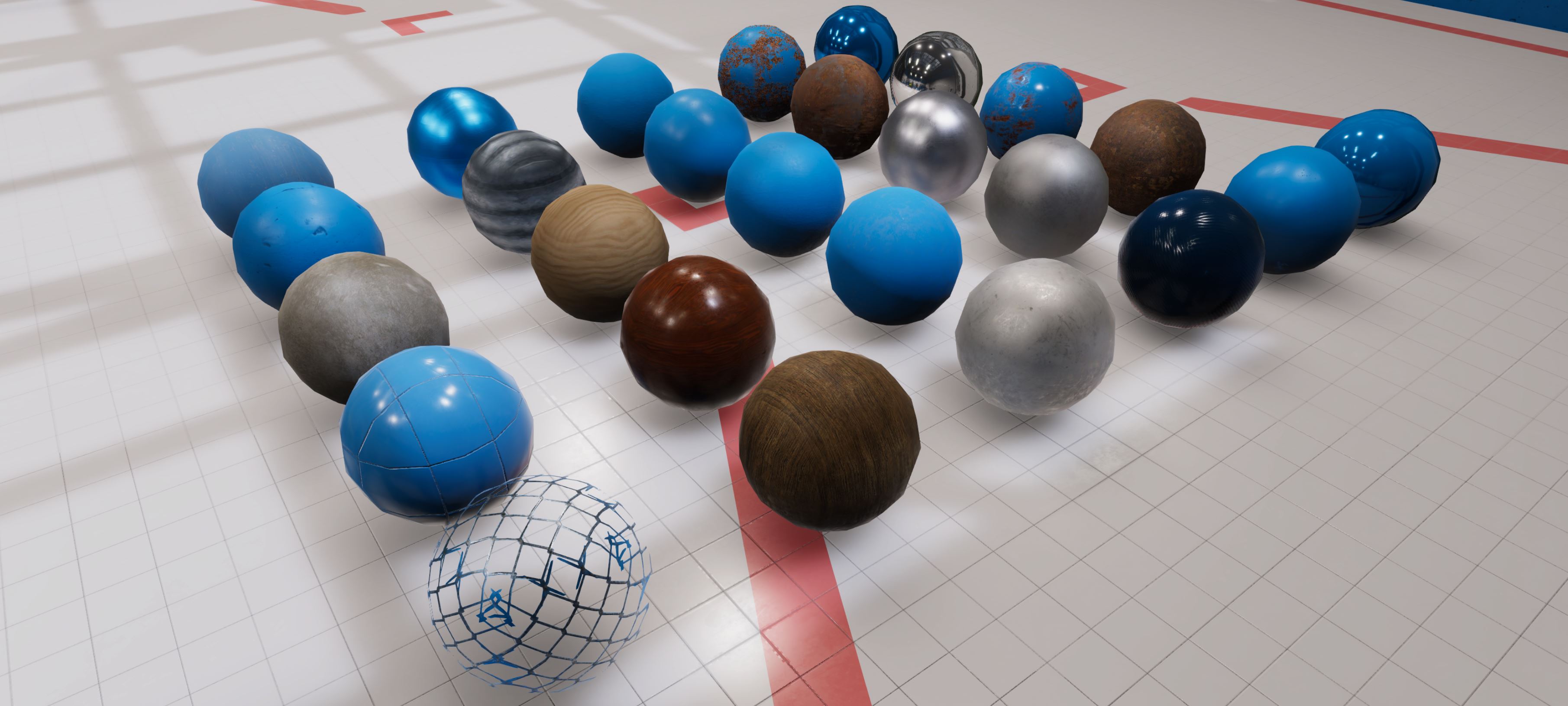 Bug Fixes
Fixed a bug that could cause the save button to remain disabled after closing the dialogue

Made some improvements to blueprint placement collision which should stop detecting incorrect invalid placements - Please let us know if you still have issues

Fixed an error that could occur when removing seats that had previously been used

Fixed a bug that could cause blocks outside the build volume to appear on the track

Fixed a bug that caused blueprint cancellation to delete parts under the crosshair

Fixed the expired Discord link on the menu

Improved shadow and block render distance

Tweaked engine audio volumes and limiter audio

Improved collision audio between metals and grass/road

Tweaked audio for stretching cubes

Fixed visual and collision issues with the Road bridge (now a tile)
Known Issues
Thumbnails generated by blueprints are not appearing correctly
Another huge thank you for your continued support, please share your thoughts on this update, along with any amazing creations you make on any of the social channels below.