After some introductory videos, today's chapter shows you the real thing. Well, not at all, this is still a level intended for PR purposes, but it was designed to be played like a real puzzle.
There's an initial stage (planning) where both dimensions are frozen. Combine soldiers must end inside the shack before tornado destroys it and antlion guardian is the only thing which will force them to escape from labyrinth. Player intervention is important to avoid casualties, before the shack does its job of course... There's however a time restriction, you only can spend 60 seconds in the tornado's dimension so that's the time it takes to reach the shack. Pure puzzle levels shouldn't include this urgency element, DR will feature pure and not so pure puzzles. The end is quite gratifying; this is probably an exemplary mission in that aspect. The tornado is also quite active in gameplay terms, isn't just a mere visual trick.
Freezing time.
This is another major feature, Dual Reality makes extensive use of it. Here you can see the level designer freezing, it's triggered and player cannot control it in any way except to finish the effect when dimension switching happens. As you may guessed, player also can control time freezing sometimes ;) It favors a quiet environment so player can focus in puzzles, other times it'll be part of the puzzle solving mechanisms. There are levels where focus is placed on time freezing, dimension switching may be secondary.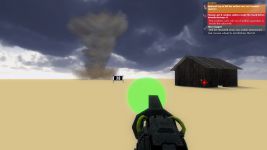 The alerts panel.
I'm quite proud of this feature. It allows you to display from small hints to multiple tasks using long text, objective signaling (target or glowing) and even sound reproduction associated to each element. There's no restriction for the item amount, player can set how many are visible at a time and scroll through them.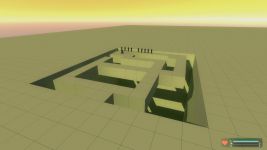 Contest.
The video shows a way of solving the puzzle (getting combine soldiers into shack), but that's not the only way. There's another approach, simpler and faster. Taking in mind the indispensable condition to solve the problem is antlion must be somewhere in the labyrinth (alive) , what you would do to simplify the process considerably? First correct answer will receive early access to DR alpha, around February most probably.
Edit: contest closed, solution was found.