We Could've Had Dragons!
I wanted to add another mode of travel into the game. Something a step up from horses and ships. I thought at first 'fire mares', after watching Krull. Maybe 'fire stallions'. However, the game is not good at distinguishing between tiles that look the same (surprise!). So, I looked at all the other creatures and wondered, are any of them ride-able? Bingo. Yes. Dragons!
So I set about making a ride-able dragon.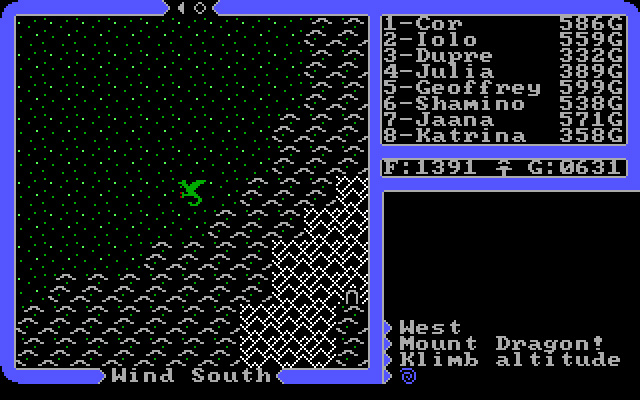 I feel just like the Dragonriders of...um...Pern...?
Getting it in game, and mountable, was a cinch. But how was it to move? Like a horse? Like a ship, affected by wind direction? Should it be able to 'hover', or should it move constantly, like a balloon? Still not sure on these counts, but I opted for a combination of constant flight, mixed with determinable direction.
I must say it was fun. I want to ride a dragon right to the mouth of the Abyss, after passing through the bay of Pirates and annihilating them with fireballs. I think dismounting from the back of a dragon, then descending into the odyssey of the Abyss, would be a suitable finale.
Unfortunately I have run out of space for coding. Dragons have to be cut to finish the mod. Alas!