Version 0.93 has been released, grab it at:

Changelog
Companions now have completely new dialogue.
Some lords no longer hold the wrong fief.
Rain House and Claw Isle prison scenes have been fixed.
Bridge positions have been tweaked.
Volantis now have bridges connecting the various islands.
The Eyrie is no longer impregnable.
Lords should no longer receive reinforcements at an alarming rate.
Swords have been made a bit better.
Damage/armor modifiers have been tweaked.
Couple of items have been removed, they where superflous.
Tournaments have been fixed, should now show the correct score/timer.
Essosi lords have been given new faces, to make them more Essosi like.
Some Essosi lords have received new names, based on the dothraki and valyrian languages. Read more about those at www.dothraki.com
Tournament rewards have once again received an overhaul.
Companions have received new gear.
Ladies have been given proper clothes.
Did various tweaks to the world map textures.
Due to popular demand, the Starks have been given a new banner.
Stannis Baratheon has been given a new banner.
Added Caractacus' custom scenes for Stonehelm, White Harbor, Erenford and Oldtown.
Added Dragonstone scene.
Added Sharp Point scene.
Added new facial hair options.
Added new hair options.
Fixed world map crash.
Cattle now follows the player.
The Essosi names have been overhauled.
Added new system of water travel. Travel where the heck you want.
Did various map tweaks.
Re-did some facecodes.
The invading faction no longer looses all its units when they spawn.
Fixed various village scenes.
Improved map performance.
Re-did bandit parties.
Added new "elite" bandit parties. Rare.
You can now recruit lords to join your faction.
Fixed various dialogue options.
Fixed some flora hitboxes.
Small changes to the flora_kinds.
Made font slightly smaller.
Various music changes.
Various interface changes.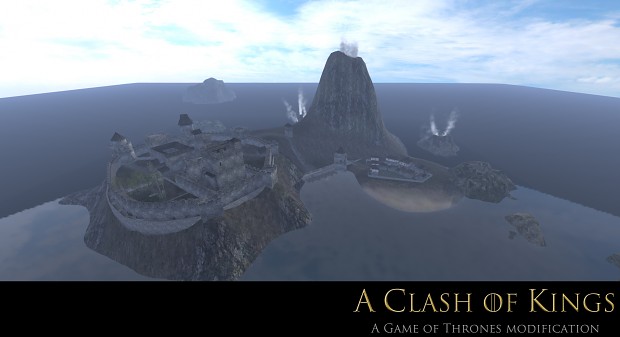 Future plans
With 0.93 released, we're moving ever so much closer to 1.0.
The plans for 0.94 are as follows:
New, improved, world map.
Various bugfixes, as always.
Various troop changes.
After that, hopefully, we can move on to 1.0.