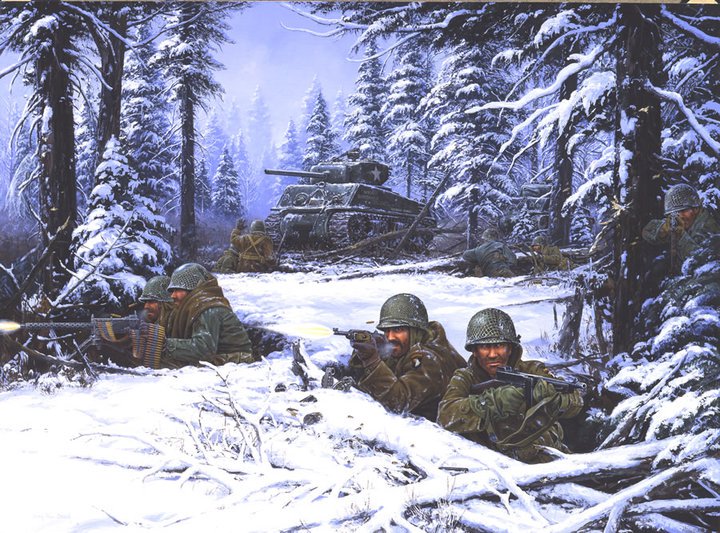 On December 16, 1944, the largest battle the US Army had ever fought in history began among the snow-covered evergreens of the Ardennes forest in Belgium. US intelligence had determined that the Ardennes sector was ideal for the rest and reorganization of American combat infantry units, since, by their research, it was defended by limited-service veterans, severely wounded soldiers missing an arm or an eye, too young or too old to pose a serious threat. As a result, the Army used this area for the training of newly arrived, untested infantry divisions fresh from the States.
In reality, 30 of Germany's crack divisions were forming up for a counter offensive designed to cut the Allied army in two, and ultimately capture the port of Antwerp. It was the first time in the war that the US Army faced such a well equipped German attack of this magnitude. In combination with a spell of poor weather, German tanks rolled unhindered by Allied air attacks and caught most GIs at the front completely by surprise. The US 106th Infantry division was encircled in the opening hours of the attack, leaving two out of three soldiers killed or captured. GIs up and down the line were in full retreat, with the exception of isolated, scattered groups of tenacious soldiers, fighting to delay the German onslaught.
What the Allied command first thought to be a German counter attack was now confirmed as a major offensive. Units from all over France were rushed to reinforce the "bulge" in the line. Confronted with a manpower shortage, local commanders on the scene began forming provisional infantry units. Soldiers serving in support roles, such as cooks, mechanics, etc., were sent to the front as riflemen.
The Germans had pushed 60 miles beyond American lines before their advance was checked, which finally happened after Patton's Third Army arrived toward the end of December, and the weather broke, allowing US flight operations to resume. By January 28, 1945, the Americans had pushed the Germans back to their initial positions of December 16, 1944. Nearly one million soldiers were engaged during the six-week battle, resulting in 67,000 American and more than 100,000 German casualties.
Finally, EaW incorporates the Ardennes front: More than 30 new historical maps, uniforms and winter camouflage, new commander trees adapted to the historical period, winter climates...and a Single palyer campaign!
Four armies available to recreate one of the great battles of the Second World War.
Gather warm clothes soldiers!
Winter maps, snow textures and winter skins courtesy of "Battle of the Bulge Mod".
Moddb.com Many thanks to Halftrack for sharing.