A Clash of Kings 0.8 for Mount and Blade: Warband is well underway.
I'm currently working on various graphical updates and tweaks to the troop trees. Once that's done, I'm going to start working on adding back snow scenes for the northern part of the map, to add a bit more variety.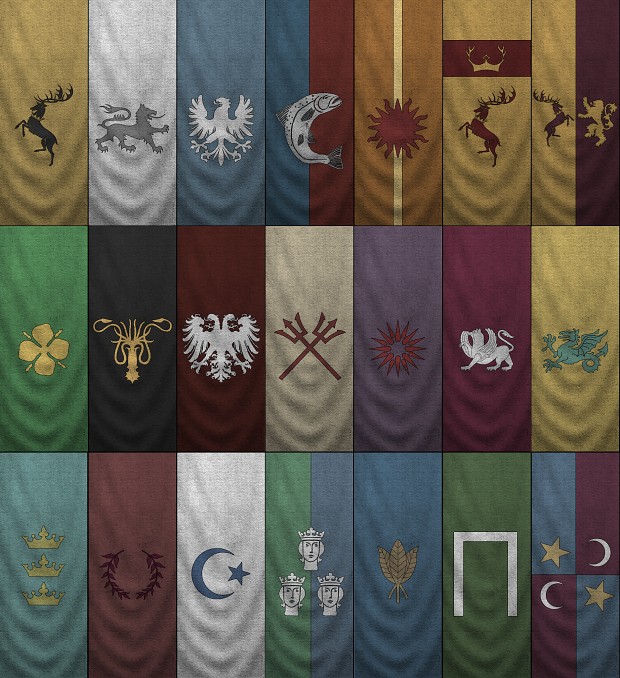 What follows is a list of new features in 0.8, that has been finished:
Completely redone banners. Increased their resolution to 2048x2048, and they now look much better.
Tournament rewards have been tweaked, with many unique rewards for the higher tier rewards.
The Unsullied have been fixed.
Included a temporary diplomacy fix.
Fixed the fief bug. Lords now assign fiefs correctly.
Fixed the Marshall bug. Kings now assign Marshalls.
Fixed the player kingdom bug. You can now start your own kingdom, set realm policies and all the other kingdom features from 0.5.
Added more than 500 new items. Mostly civilian items for lords and ladies to increase feast immersion. Also added many new weapons, such as various new bows, arrows and crossbows.
Added valyrian swords. They can be obtained by defeating their holders in battle or, very rarely, be awarded to the winner of tournaments.
Added many new mounts.
Added many new shields.
Added scene for Pyke.
Added various indoor scenes for iconic locations, such as King's Landing, Pentos, The Eyrie and Casterly Rock.
Fixed the seneschal bug.
Fixed all tournament scenes.
Added 3 new, random, village scenes.
Completely re-did Braavos troops. They're now much more "italian" like.
Decreased the size of bandits, they should no longer form "super" bandits.
Fixed various map problems.
Updated various facecodes.
Added bump maps to various scene props.
Added various new scene props, such as wall paintings, coin stacks and carpets.
Updated various bump maps.
Did various graphical updates to many items, scene props, terrain and faces.
Removed some mercenaries, added some new ones.
Assigned custom items to every lord and lady, to make them more unique.
Tweaked the floras to make random scenes look better.
Still not finished:
Finish tweaking troops and items.
Assign clothes to all merchants, guildmasters, weaponsmiths etc.
Fixed naked Tywin Lannister.
Add snow scenes to the map and tweak the snow flora to make it look better than vanilla.
Do internal testing before releasing to the public.
Plans for 0.9:
Add more custom player banners.
Add scenes for Sunspear, Volantis, Myr, Lys, Norvos, Dragonstone and Lorath.
Add a proper diplomacy script.
Fix family relations.
Fix whatever bugs might turn up.