Konnichiwa!
A new update for Setting Sun is ready to be played on Itch.io.
This update brings PVP for co-op players, a new zone in town, dungeon changes, new visual effects, UI changes and bug fixes.
Thanks for trying out the demo, I hope you enjoy it and please let me know your thoughts in the comments!
Also my Steam page is live now so please Wishlist if you like what you see!

So without further ado
Patch notes
- The zen garden has opened up behind the Dojo
Experience tranquility after a long day of slaying enemies in this preview of the Zen Garden.
- Players can now PVP when playing Co-op
The first version of PVP has been added to the game.
Players can now spar in the Zen Garden.
Info: When players enter "the sand" they get flagged for PVP and they can battle each other.
Currently the PVP is just vanilla (meaning without any blessings) but I will probably add an object in a future patch where you can manually gain blessings for PVP.
You can optionally start a co-op dungeon run and look for dragon shrines and then return back to town through seppuku.
The blessings you found stay active in town until you start a new dungeon run.
Aside from that PVP also has some different rules then PVE:
- When an attack is parried, the attacking player gets a slight knockback. This allows the defending player to have a chance to counter attack.
- If you get hit during your attacks you get a hit reaction.
PVP with blessings - Indie DB
- A sacrificial room can now spawn in the dungeon
This optional room functions differently depending if you play solo or co-op.
Solo: You can sacrifice health to gain a reward.
Co-op: The Kami demand a sacrifice and PVP gets enabled.
Once one of the players dies, the room gets unlocked and you gain a reward.
Sacrificial Room - Indie DB

- The healing room is no longer guaranteed to spawn each dungeon
- Enemies now have a higher chance to drop sushi to heal yourself
- Basic abilities now auto Lock-on if an enemy is available
- Dashing Strike now has a visual effect on impact
Dashing Strike FX - Indie DB

- The riposte blessing now has a visual effect when it procs

- The Patch notes window is now a single scrollable frame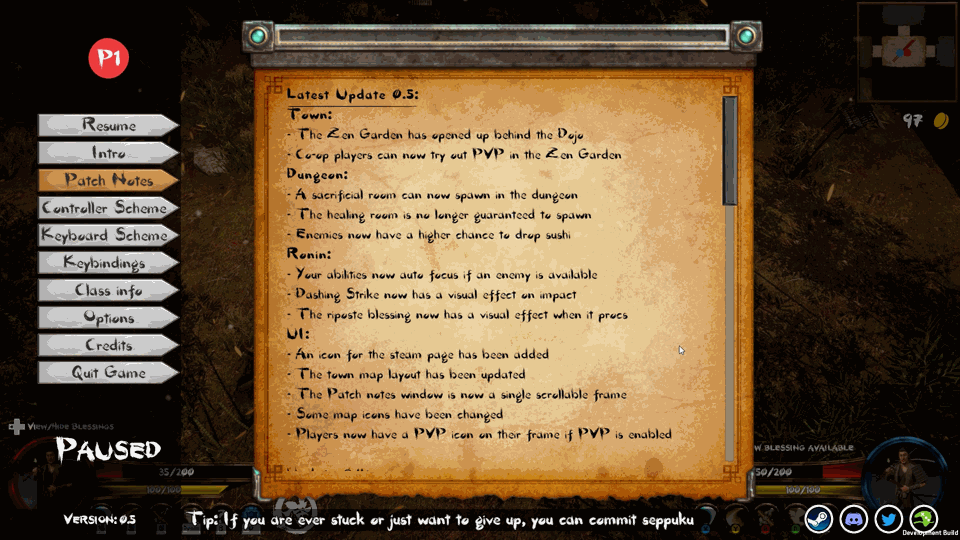 - Some map icons have been changed
- The town map layout has been updated
- An icon to link to the steam page has been added to the pause screen
- Players now have a PVP icon on their frame if PVP is enabled (top right)

What's next
Now that the steam page is live I will be preparing the next update to prepare for the upcoming SteamNext fest.
So I'll be integrating the Steamworks system and some other planned content but I wanted to push out this update first for testing.
So stayed tuned for that!
Thanks a lot for reading, try out the new build and let me know what you think in the comments or on the social medias (Discord, twitter)
Don't forget to wishlist on Steam if you like what you see.
Sayonara!