Howdy
There is not much to say this time around, other than the fact that the game is being worked on as usual, has made progress since the last update but mainly intrinsic progress, programming or gameplay related, the kind of thing I don't show off much even if it is worth showing, but thats a little problem of mine, I rather work on it than show it off, the time will come eventually.
I have one major thing to talk about, I gave it some thinking, and seeing as a lot of games nowadays have their own launcher applications, where you can usually customize the more advanced game options without having to start the game first, I decided to develop a launcher for HLEP2 as well. You can view it by browsing the images tab.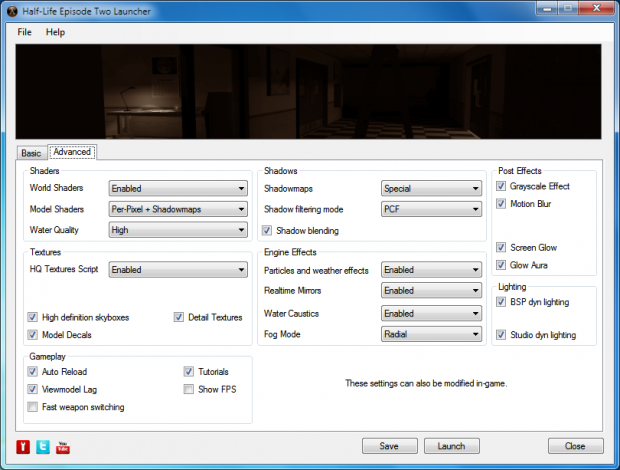 It is my first C# project and I am quite proud of the final result.
It is possible to customize just about any of the relevant game options, and the game will read those as a custom .cfg file the hl engine execs at startup. Other than that, the launcher saves any control properties to the windows user appdata directory.
There are also a couple of new visual effects added, such as water caustics that I haven't bothered showing, screen glow effects or bloom (for a more commercial expression), object legacy glowshells were replaced by a aura shader for a prettier look and full per-pixel lighting was added.
Another thing that is being worked on but is still under conceptive research is extending the H.E.V suit system, new warnings and new functions, such as light augmentation and actual health care. Basically complete what Valve didn't.
Naturally, the game design will allow you to explore these functions as great as possible.