---
Ultimate Apocalypse Mod
News - October
---
Here we be, here we be so very close to a great and polished product! Inquisition Daemonhunters and Chaos Daemons are done and in very, very good condition. The mod is functional, much better than 1.73.4's condition at least, and new content is everywhere in the mod making me happy. At this stage, at the month of October, every single "long and boring" critical part of the UA mod is done. All the mod needs now is bug fixing, and >>>>>> polish.
So before we release our finalized product, keep in mind, even if we are 90% done with the mod (which I really think we are at right now), if we release this baby now, we could be expecting many many complaints, hehe. Things are just totally not polished, pink icons, not finished models and units, textures and icons missing, new ideas and etc. are not implemented yet, but after all of this is done, we will be ready for release!!! --- At least finalizing product stage, which requires every single team member to play the mod.
Percentages you see are an estimate and made up by developer to share how close to completion x item is...
1.74 core design - 100%
Polish - 65%
Coding/bug fixes/balance - 65%
Scenarios/maps - 90%
Winconditions - 50%
Balance - 81%
AI - 85%
Testing - 90%
Inquisition - 94.4445%
Daemons - 99%
Necrons - 99%
Sisters - 95%
Tau - 80%
Space Marines - 30%
Chaos - 2%
Tyranids - 70%
Orks - 90%
Imperial Guard - 85%
Eldar - 90%
Dark Eldar - 95%
Overall feel of release right now this very second - 40%
Here is what you missed throughout September:
SPOILER ALERT Directly Below!!!
Titan and superweapon showcase, by liron99 on MOD DB:
To Liron99: Thank you for these videos, they were at the same time entertaining and helpful for seeing what to fix or add in version 1.74! :)
Most importantly!!!! Click on this image below: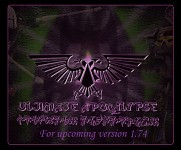 If you did not get this yet, it is required for 1.74 if you want Chaos Daemons. ;) Inquisition Daemonhunters and Chaos Daemons are coming to the Ultimate Apocalypse mod, 100% revamped and different, and better than ever!
So what will you see this month in October?
Because I feel the audience needs an update real badly from the last patch (1.73.4), you all can expect a possible 1.73.5 release. 1.73.6 release? 1.73.7 release? etc... inspired by Space Engineers update curriculum. Along with that, an addon "revamp" where I will re-introduce every single fan made addon uploaded into one pack. Including, but not limited to UA mod team addons.
As far as donations go, it'll be up sooner or later so everybody can donate to the mod again. Everybody who donated; their names will be put back up online, and during this time, it is strongly insisted, that, if you want to donate, donate with Amazon. The donations will once again inspire the UA mod team to make the mod in critical speeds!
Some screenies and updates will be available soon also. :) The month of October for the mod was an extreme hit, and the mod progress was greatly sped up, due to free time. :) The next alpha version will be released to the team as-soon-as the Dreadknight for IDH gets put into game. :)
So you can expect a 1.73.5 rollback from 1.74 --- we can't and will not release 1.74. 1.73.5 will be fixing game breaking bugs, and it will update 1.73.4 completely as a patch so you don't need to download the full version. :)
That's it for now! Toodles!
---
Ultimate Apocalypse Trailer:
---
Ultimate Apocalypse Downloads: