Good welcome citizens, it's finally here: Twisted Insurrection Version 0.7 is available for download.
It has certainly been an interesting journey from 0.6.5 to 0.7. We've seen the retirement of TI's founder and long running project leader Aro, who went off to pursue a music career with his band Tankard Haus. Don't worry though, he still checks in from time to time to make sure we're not adding the Scrin.
We've also gained a new mapper TrainStation who is off to a great start, having contributed two maps to this release.
0.7 has undergone a massive 400 lines of changes, but despite myriad improvements, the most exciting addition to us is the implementation of a new Tech Faction: the Forsaken, a darker take on the Forgotten from TS.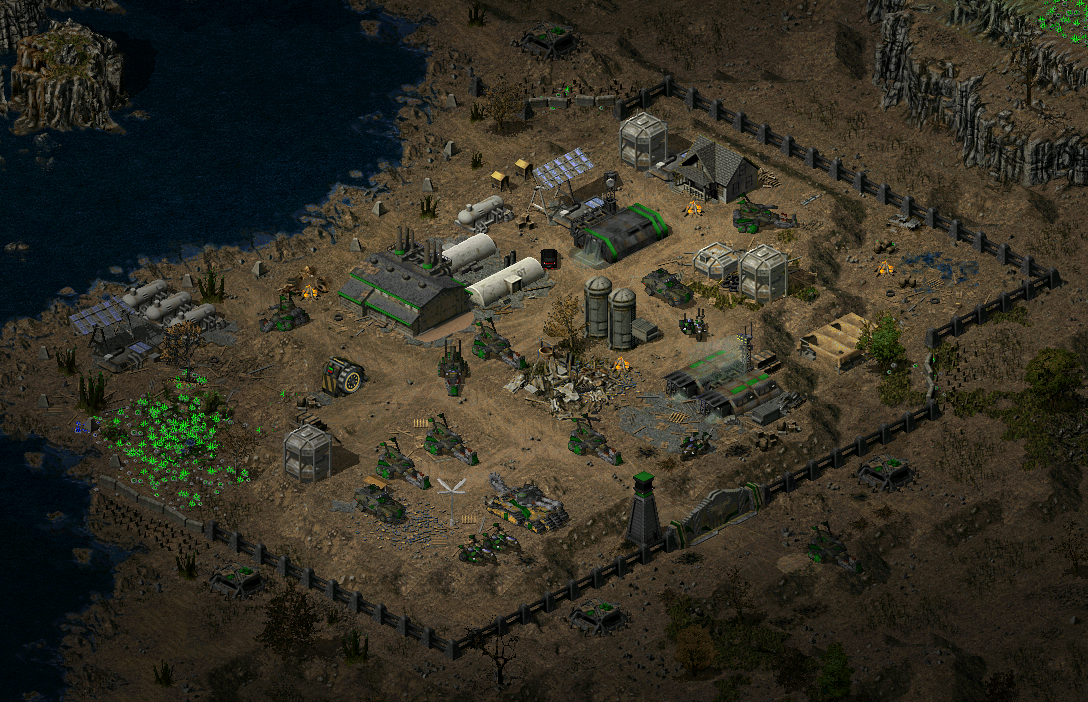 Image of a Forsaken outpost on the map Forsaken Night by ErastusMercy.
A Forsaken armour column on the map Heart of Darkness by Crimsonum.
Here's a summary of the changelog. The complete changelog can be found here, be sure to check it out!
Version 0.7
Key Additions & Changes
14 New Music Tracks
Tibby & Noddy
In Flames
Arming to Win
Veins
Radioactivity
Tungsten Souls
W.I.R.E.S
The Surveyors
The Theme
Milestone
Nod Crush Remix
Cold Rain
Obsession Software
Killing Fields [Frank Klepacki Remix]
11 New Multiplayer Maps
[2] Big Little Lake
[2] Industrial Strength
[2] Siege Rush
[2] Tournament City
[4] Mental Malice
[4] Offense Defense
[4] Escalation
[5] D-Day
[6] Close Quarters
[6] Forsaken Night
[6] Island City
New Tech Faction: The Forsaken
8 Forsaken Tech Units
3 Forsaken Tech Buildings
1 Forsaken Superweapon
2 Forsaken Defenses
Other Additions
Over a dozen hacks that significantly enhance gameplay
New and improved unit & building graphics
New & improved terrain graphics
New Voiceovers
Balance changes & bugfixes including

Tech units (GloboTech & Forsaken units can now be built from, and only from, their respective factories)
GDI Marauders can now fly with jetpacks
Nod Cyborgs now have more specific roles
Tiberium lifeforms are now a more serious threat
All this and more in the latest build.


Download the latest volume of our official soundtrack.
We thank you for your continued support and hope you enjoy the latest release. We're also looking forward to hearing your thoughts on Version 0.7, so please feel free to ask us any questions or report any bugs you encounter, now go forth and have fun!