Hello and welcome back to another Forgotten Hope 2 update.
Today we have a render of the Finnish Suomi KP/-31 submachinegun, as well as a quick announcement from the World at War tournament.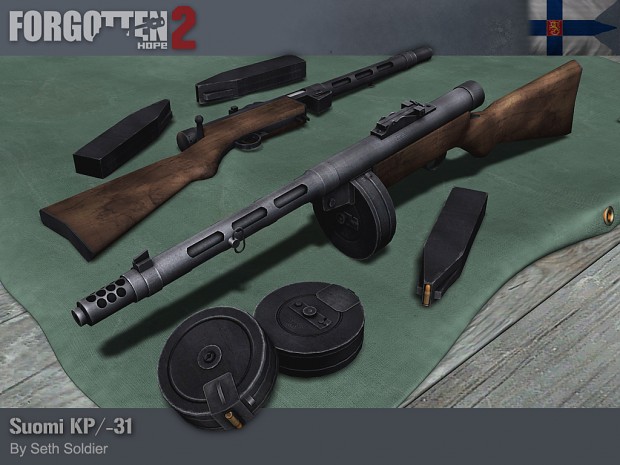 In 1921 Aimo Lahti had taken it upon himself to design a cheaper alternative to the Bergmann M/20. The Army showed some interest in the designs and placed orders for a small number. What would later be called the KP/-26 had several problems, and the KP/-31 was Lahti's answer to these faults.
The KP/-31 was a reliable and accurate, if somewhat heavy weapon. The long barrel and low recoil gave it a longer effective range than other submachineguns of the time. Somewhat unusually, the barrel and shroud were easy to remove and switch with a spare, useful for a weapon with such a high rate of fire. The original magazines were somewhat problematic: the 20 round box was too small and the 40 round drum was heavy and hard to fill. These were gradually replaced by a larger capacity 70 round drum and the rarer 50 round "coffin" box magazines.
After February 1943, the KP/-31 was fitted with a large muzzle brake to counteract muzzle climb, and this can be seen on our model. Approximately 50,000 KP/-31s were manufactured for Finland, of which about half had the SJR muzzle brake. There were also 2 variants: 500 weapons modified for use in bunkers, and 40 for use as hull guns in Vickers 6-ton tanks. Our KP/-31 was made by Seth Soldier.
---
---
Our winners for this week's screenshot competition is =Capten=Cymro=. You can view the winning submission here.
We are now accepting entries for the week of April 22nd. If you think you have the best FH2 screenshot, post them href="http://fhpubforum.warumdarum.de/index.php?topic=16835.0">here.
---
That's all for this week, but be sure to come back next time for another update. Until then, feel free to visit our IRC channel, our public forums, and/or our Twitter and Facebook pages to discuss this update and other news.