Thank you so much for your continued support we are certainly very grateful and inspired by your continued support and your votes put us among the Top 100 Mods of 2020. While I know it was disappointing to hear that Tiberian Sun Rising would not be arriving in 2020. We are working hard to make 2021 an incredible year for Tiberian Sun Rising with a lot to look forward to with our upcoming Beta.

So truly thank you from the bottom of our hearts Commanders both old and new supporters your support is what continues to drive us to keep producing the high-quality Tiberian Sun era experience for you. We hope you are pleased with these developments we have some new additions to the Tiberium Flora, an updated appearance for our Tiberium Algae and a look at Nod's Mobile Stealth Generator as well as a close look at Nod's Subterranean MCV (which has previously only appeared in an older trailer) we added the new screenshot of the Nod MCV at the request of some Commanders on our Discord wanting to see more of it.

We'd appreciate your continued support and voting for the next stage but also encourage you to look carefully through the Top 100 list and vote for amazing mods you deem worthy! Whether you vote for us or not please do make sure to spend some time voting for incredible mods lets make the 2020 list incredible!

From myself and the team here at Tiberian Sun Rising we wish all of you a Merry Christmas and a Happy New Year in 2021!
Commander, we've seen new Tiberium plant life before particularly when we had an explosion of the initial wave of Tiberium flora beyond the usual Blossom Tree's we'd seen since the First Tiberium War. We're now seeing newer varieties of Tiberium Flora emerging that we haven't observed before in the wild. This new variety of Flora is emerging when plantlife is interacting with Blue Tiberium.
It at first appears to look somewhat like coral formations but then the distinctly alien glowing orbs are unlike any terrestrial plant life in the ocean or on land. Truly Tiberium continues to amaze us with its beauty. But also the increased dangers emerging to terrestrial life continue to concern the scientific community.
We're seeing an increase in the amount of Ion Storms occurring we're seeing some variety in the way Ion Storms emerge and affect an area. Some Ion Storms are smaller roaming storms that affect only part of an area but then there are much larger ion storms affecting an entire battlefield area but are only periodic in nature. This is the variety we captured here lighting up the battlefield as it kicked into action.
Note this type of Ion Storm does dissipate after a period of time but does often return in regular time intervals. The Ion Storm we documented in one of our earlier research notes was a permanent storm affecting a heavily tiberium infected area where the Ion Storm's appear to rage so strongly they do not appear to end.

Tiberium Algae continues to spread into new area's as Tiberium comes into contact with water supplies. Stronger measures will need to be taken to keep drinking water purified from any Tiberium contamination. Not to be confused with regular Algae it has a telltale subtle glow that distinguishes it from regular Algae.

Visceroids
Visceroids have been around since the first Tiberium War but were a rare sight. With Tiberium having spread far and wide over the years since the Tiberium Meteor landed in the Tiber River in Italy. We've seen a marked increase in Visceroid sightings which have long since confirmed to be the result of humans with high levels of exposure to Tiberium. With less-lethal levels of exposure humans still commonly ether die or become a mutant but when the levels are this high the result is ether death of the worst kind or the unlucky souls that mutate at this stage become Visceroids.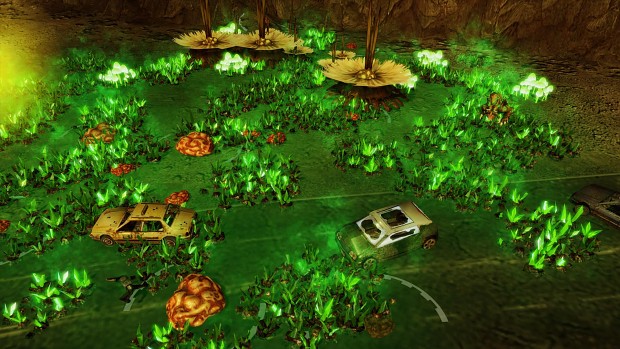 At first they turn into what we call Baby Visceroids a smaller kind that seems rather docile and harmless. They wander and seem harmless that is until two of these Baby Visceroids combine joining their biomass together to become a larger Visceroid which we call the Adult Visceroid. The Adult Visceroid is very aggressive and with larger biomass, it uses this biomass as a weapon slamming its body mass into targets at high levels of force able to do high levels of damage to vehicles and infantry and can even threaten structures if not defended. Keep your troops away from Tiberium exposure Commander to avoid accidentally creating these nuisances.

Mobile Stealth Generator
The Stealth Generator provides larger Nod bases with a strategic advantage concealing them from sight and keeping their location hidden from enemy forces in the region. This gives Nod a tactical edge, particularly when deploying hit & run attacks and keeping a zero presence profile as much as possible to conduct stealth and covert operations. Even with the development of the Subterranean MCV and Fist of Nod both developed to help counter GDI's air advantages with their Carry-All and Dropship capabilities. There was still an unacceptably long window where new Nod operations could be discovered in a region before the resources and base power could be collected to establish a Stealth Generator.
This problem has now been solved for you Commander, the Brotherhood has managed to develop a smaller portable version of the stealth generator. It doesn't generate a stealth field as large as the Stealth Generator. But the Mobile Stealth Generator is perfect for concealing a new base set up by a Subterranean MCV or a new front established by a Fist of Nod. Can even be used to conceal a Tiberium Harvesting operation at a secondary base or to conceal an army. Whatever you choose Commander I'm sure you'll find this latest development in the Technology of Peace useful. Peace through Power!