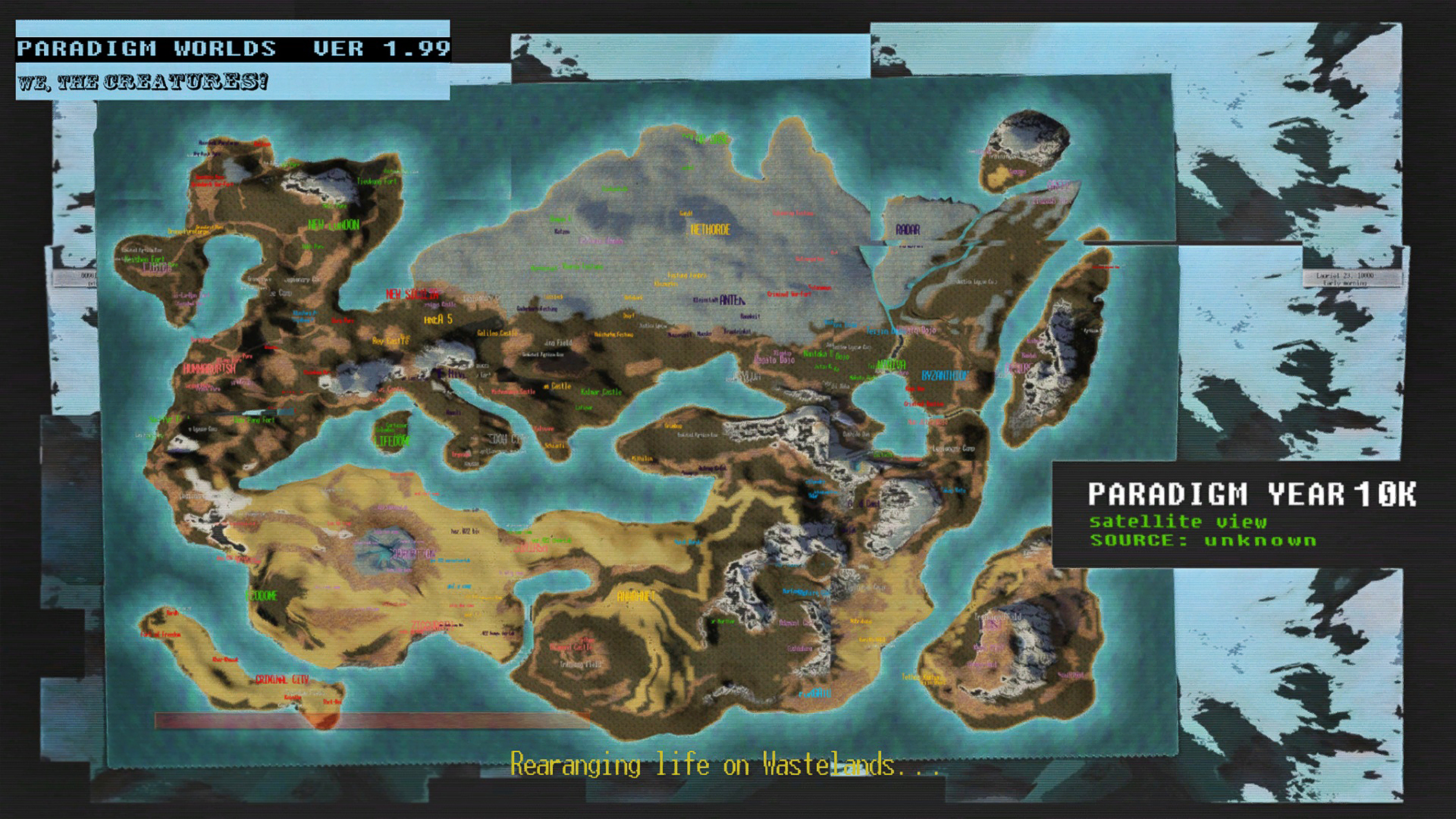 Believe me or not, all this time gone, I was doing only one thing, preparing awakening Creatures of the realm. Now, I bring life.

I was aware of general inconsistency of many various aspects of the Paradigm's World. Like combination of fantasy and sci-fi themes in the same 'world/map'. There were elements of mod, that were fun, but combined together - it could be too much, for some of players.
So this is the idea of PARADIGM WORLD 1.99: I give you even more interaction with the world, but also more coherent world itself.
Time for a detailed 'change-log' will come soon, now I just want to show you general new ideas in the mod I've been working so hard for the last year.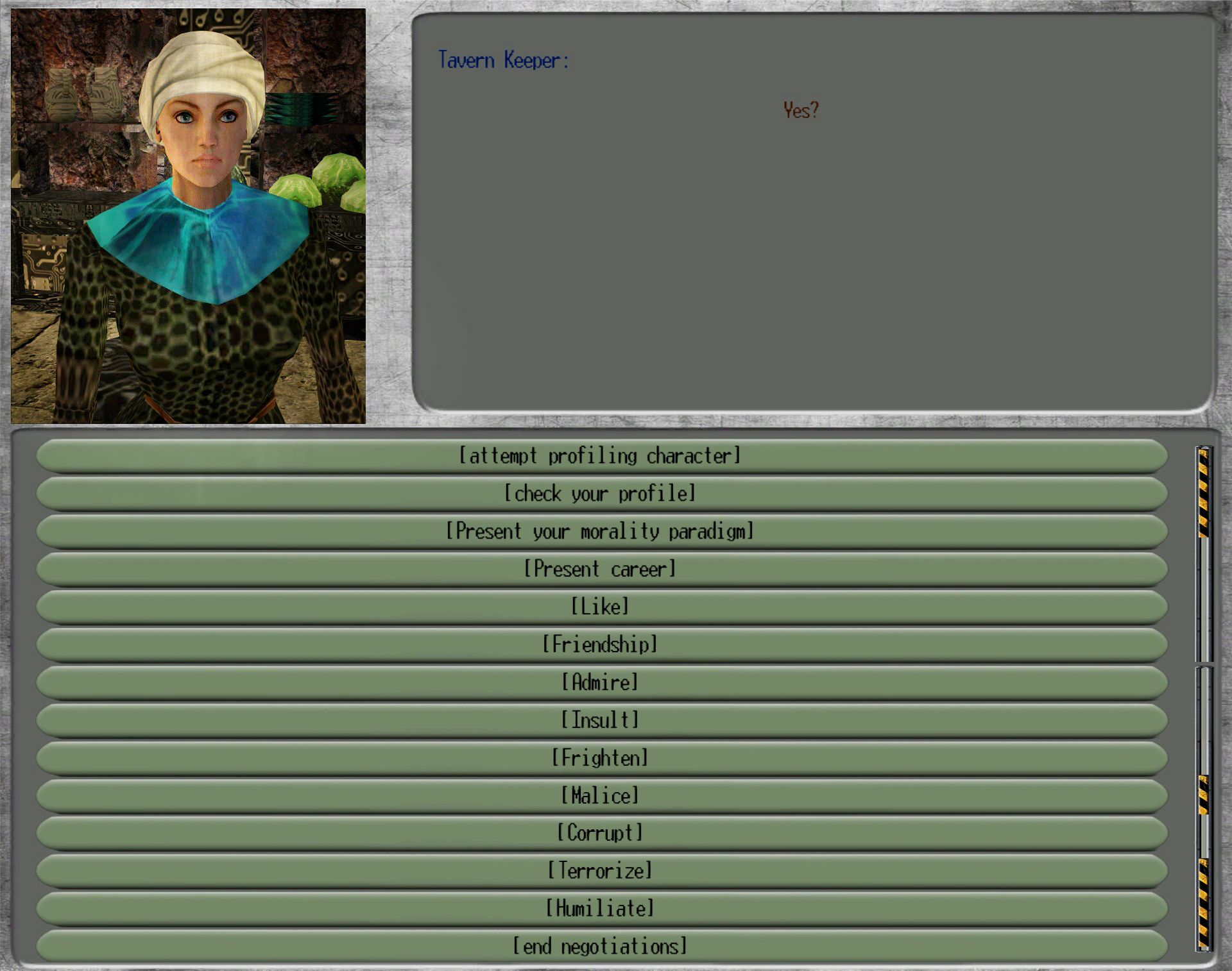 I. Individuality
First impact goes to 'humanizing'. Everyone. All NPC's in the game have their own, special character. Actually, each creature has a Primary character, Secondary character and a Reputation. Reputations may be war-like, trade-like, corrupted, and this is very general description of what it really is. Both, primary and secondary character, is equally important element of any creature. It represents philosophy of life of a given creature. For example it may be nihilist, or humanitarian (obviously opposite sides of a same coin), egalitarian or aristocratic, and so on. Creatures also decide how much are they confident in such a view. Strength of statement ranges from 0 to 5, or from doubt to a fanatic confidence. Each creature has a background, the same one, you, player choose at the beginning of your game. So it has a history of what it was doing when was baby, young, teenager. Call it a primitive version of memories.
Like in a clockwork, even smallest element may have huge impact. Example here: each part of character has impact of each creature attributes and skills. Another example is creature's relation. Whole net of links between you, lords, merchants and other creatures is determined by characters, philosophies.
Of course, I did everything to ensure, that this - I mean character and individuality of any creature - has big as possible impact in Paradigm Worlds' life. You will communicate, and negotiate with - maybe not sentient - but still, in a way, alive NPCs.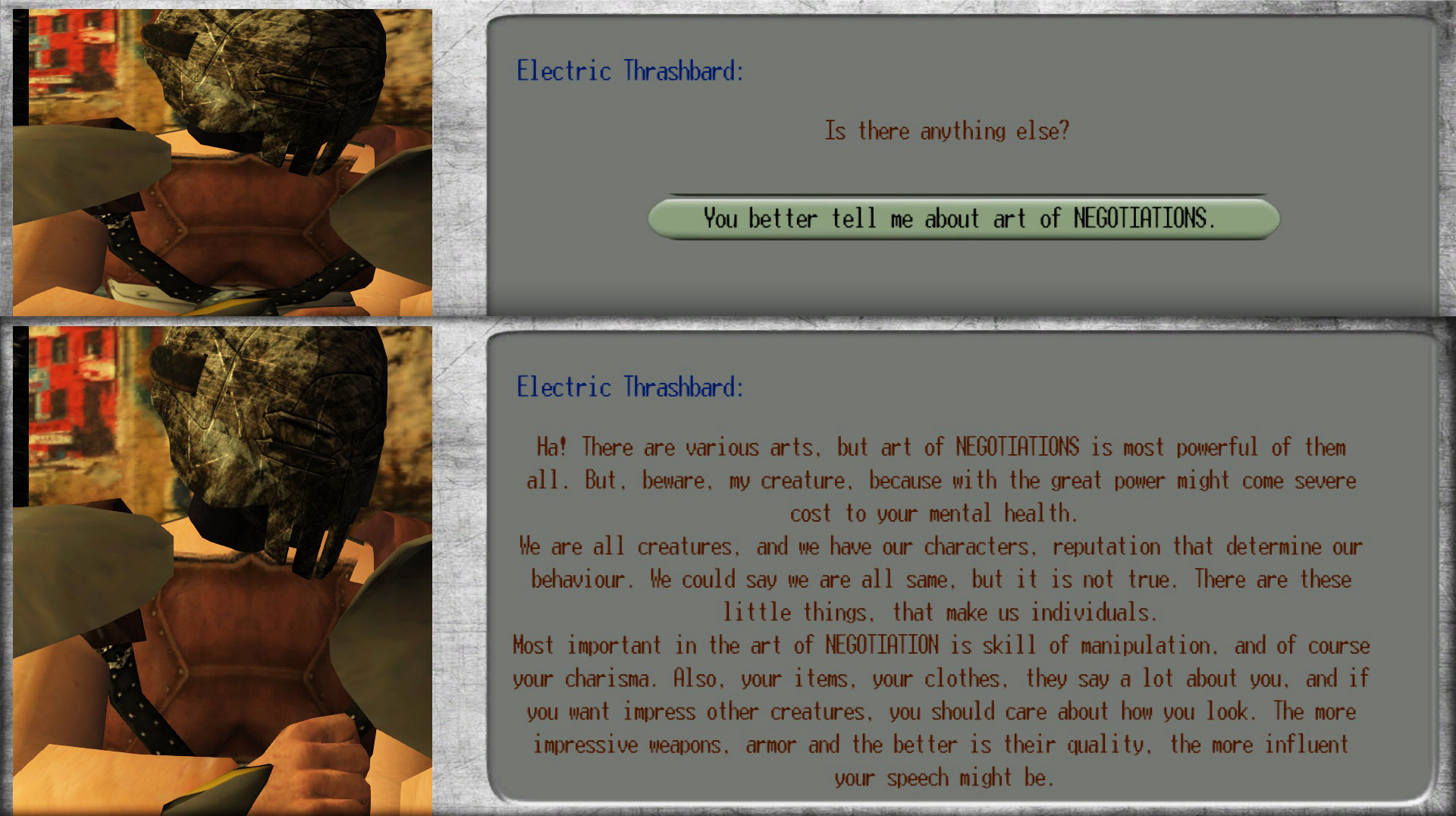 II. Coherence
There is a lot more sense around the mod. Whole idea of a world, it's history, it takes shape. You will see, that lots of puzzles has founded their last, perfect place. I don't want to kill you with all the details, I've been working on for HUNDREDS of hours.
I have reprogrammed minor factions so I could put right ones in right time, scenario. There is less clash of themes that are distant from each other like fantasy and sci-fi. Thanks to scenarios all factions and minor factions have founded their place in time, and events of PARADIGM WORLDS.
There is scenario that presents early stages of a new world, and there is one simulating its final hours in the year 10K. Let us take Primal Stage as an example. One of Major factions are Crusaders, from Heaven Kingdom, (I understand that source of inspiration is obvious). Another one, Tribal Confederation of Uruks and Orcs. Also minor factions like various sort of bandits and their hunters are equipped to fit better 'epoque', era. I hope I don't have to remind you, that all majors are editable from top to down thanks to faction editor in Paradigm Mod, so you can suit yourself and create any world you want, after all.
There is a lot more descriptions, some quick tutorials, hints given by characters in the world. The world itself is described better, there is more information about yours and others factions, their relations, and so on. You will need those in time, because and some point you will start conducting your diplomatic play.
Yes it is possible, to affects factions and create diplomatic events.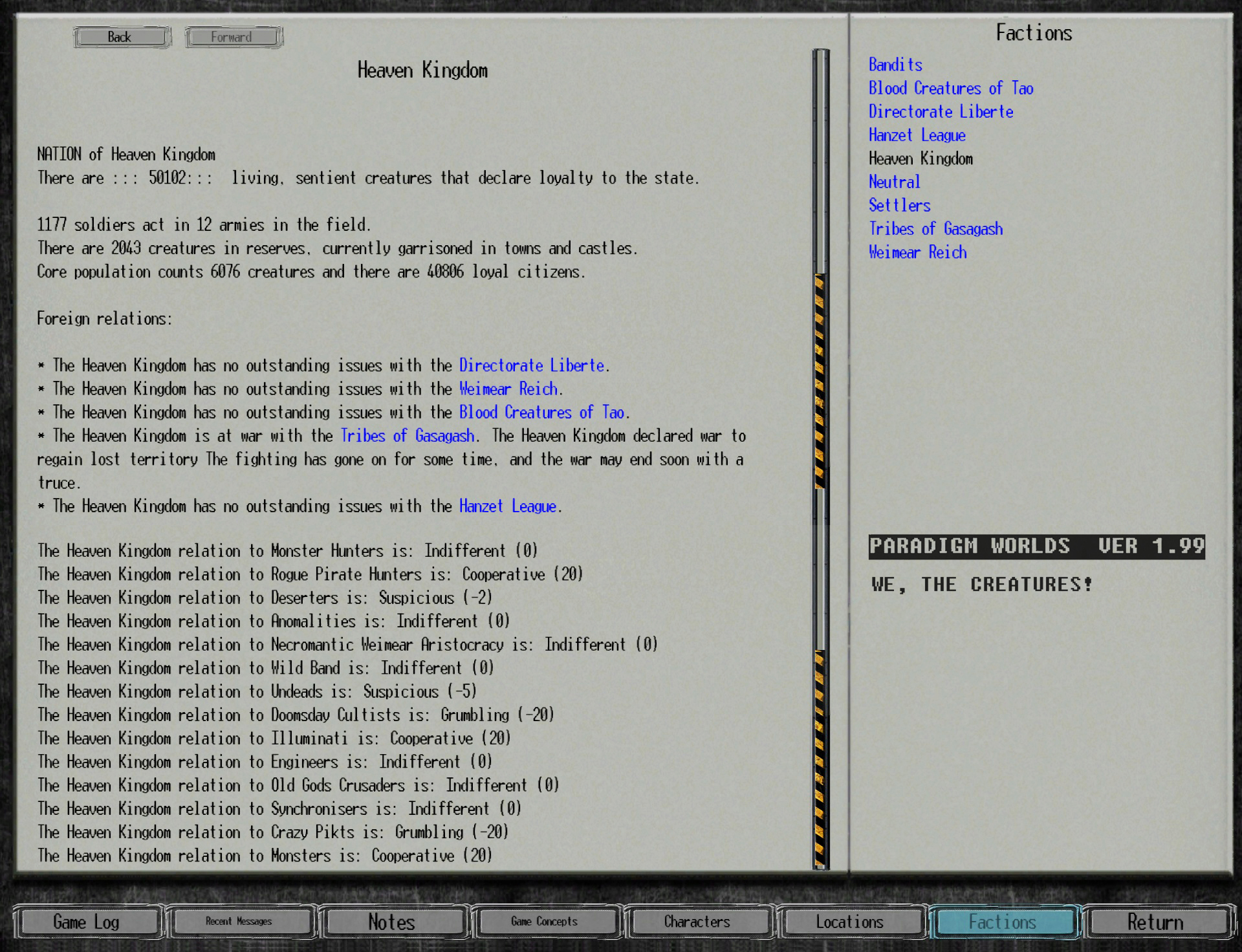 III. Interaction and life in the Paradigm
Everything is more alive. Towns, castles, minor and major factions. Even Orders are more active than ever. You can corrupt, terrorize single parties or even whole factions. Using renown or 'minus' honor you can force your will on the weaker (creatures or armies). You can negotiate - with creatures too - to enforce various states from intimidation, to humiliation, from an insult to the state of total admiration. All this happens in time, it is not all instant. For example if you insult some creature, its grudge will resolve for a few days. If you frighten merchant, it will remain frightened for a few days. Little bit more like in a real life.
You will find 'POINTS OF INTEREST', special places where you will be able to find treasure, or goods, but at the risk of infection, mutation or similar. There are separate events for land-marks, and water-marks, to make it even more interesting.
You can send your COMPANIONS on missions or even quests. MISSIONS can take days, but profit is great. Better relations with factions, creatures, orders, recruitment of rare troops and many more. Success relies on many factors, but attributes and creature's character is most important.
QUESTS however are completely unique, new idea. There are, large, combined missions, that have their own narration. Yes, it a story within your story, a game that is played inside your game, by a companion. I know that it sounds secretive, but good, they are supposed to be intriguing.
ORDERS can do their own politics, that will affect centers. They will help other lords, they may even decide to help you. They do have 'hidden characters' so some of them can have negative impact on center as well. They will send missions, small armies to other centers, and try to affect them with their way.
Factions are no more just a bunch of lords riding 'horsies'. Each center has its own citizens, which are divided into core population and (2nd cat.) loyal citizens. Their create a NATION, called often just a faction. Centers can have their own happiness and health level. Good management is more important. Balance of power has changed, so it is easier to capture a center but a lot harder to keep it.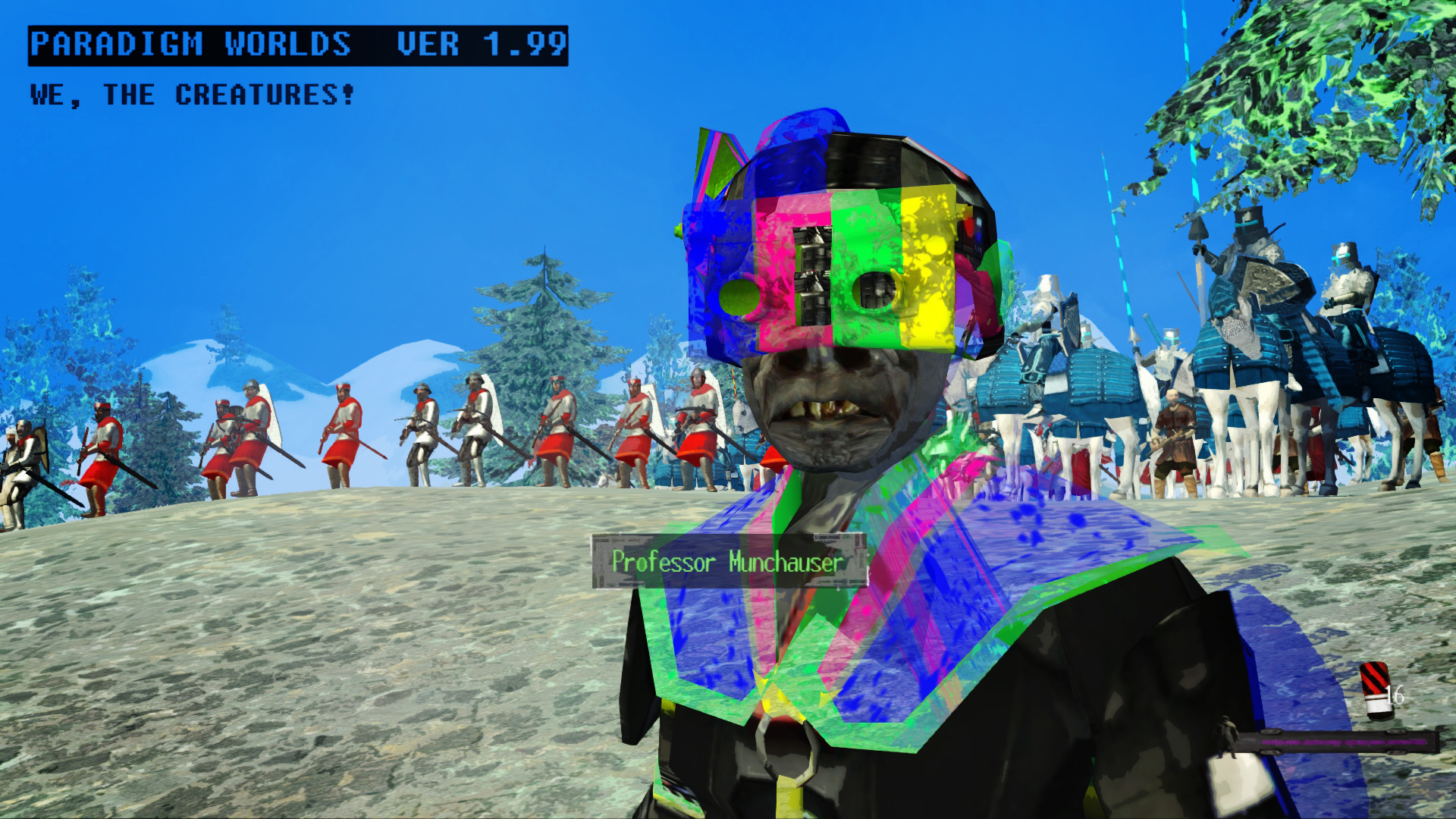 Paradigm Worlds cannot achieve number 2.0, because it lacks a STORY. And I can assure you, that this story exists, (still in my head), but it is clear like a diamond, because it is fought as a FINAL EXPLANATION of everything that is going on, really going on, in the world of Paradigms. This story is like a LAST PUZZLE to the whole idea of paradigms, and everything that is behind them. And what is behind that too.


I know that not everyone has a a luck to have a new pc that can run new Bannerlords. There are people who want play 'old' Warband just because they like it. To all of you I can say that I remember about You and will not leave you alone.
Yes, in a way, this journey slowly comes to a finale, like everything good, it has to end at some point. No sooner than everything, play, joy, fun, all good ideas, AND THE STORY will find its place in the PARADIGM WORLDS.
Some people were asking me if I will 'port' mod to Bannerlords. I do not say no, I don't know if there is a really a point. I might try creating another MB:Warband mod as well, at least as a sketch of an idea. I really would like follow idea of inter-creature personal relations, I think that mod that would solely focus on that, completely ignoring warfare could be a really interesting experience. Soap-opera RPG - that is my working title. Combined with new psychology system I had created for new release of Paradigm?


That is to be discussed, but first things first. Finis coronat opus, STORY, a Story of us, and a story of creatures there in this mod, they will become one, and then I will be ready to go further.
I will post more detailed updates, very soon. Release 1.99 is ready, but I have to prepare some tutorials, articles,' changelog', documentation. So, we're talking days, not weeks till I will publish PARADIGM WORLDS 1.99.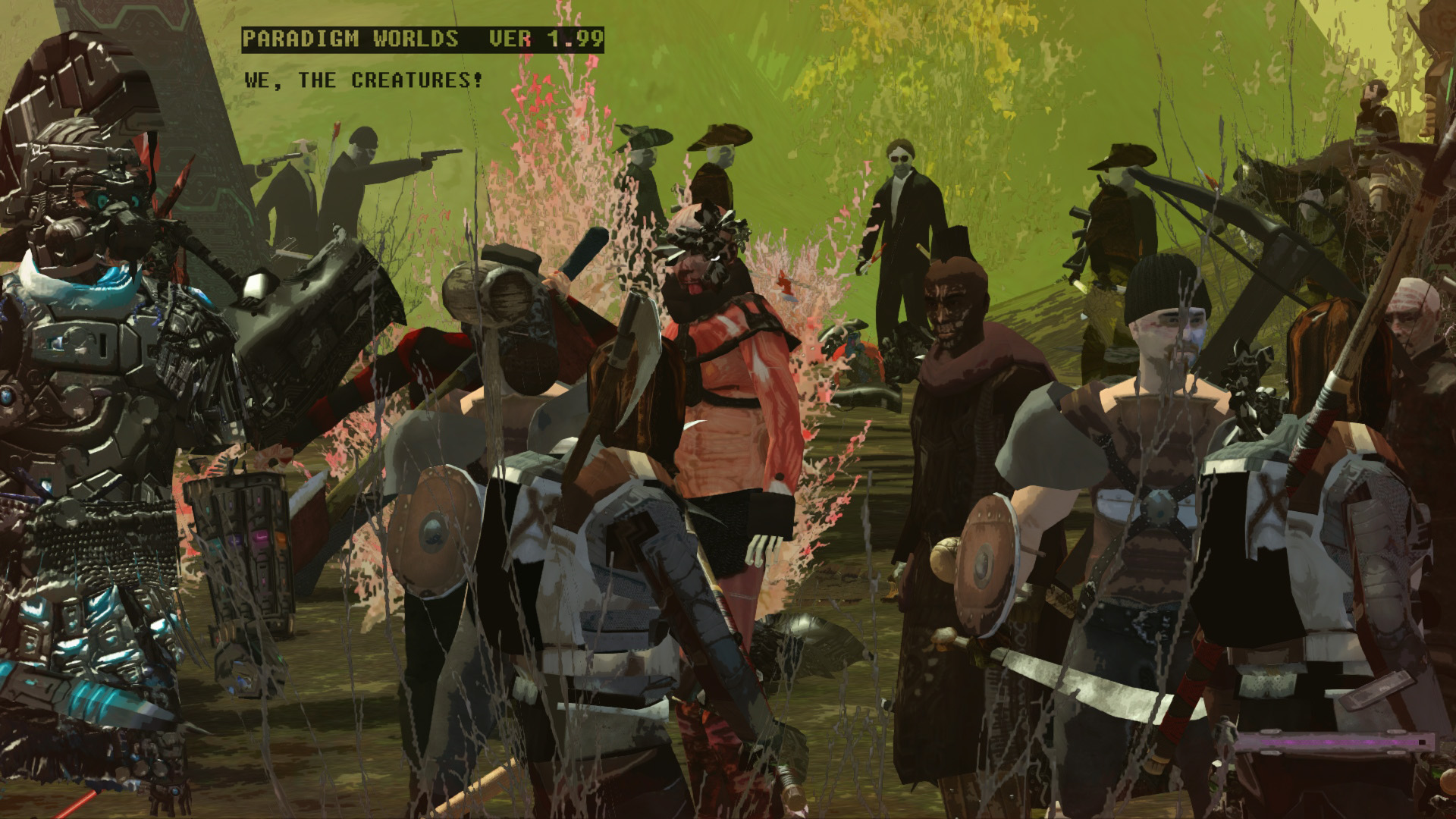 If you have any question, feel free to ask 'em, as always Your curiosity is my food :)
Seeya Soon,
Karol Grodecki