First off I'd like to apologise for leaving it so long before I wrote this blog. Mostly it's because a lot of the work we've been doing on the mod has been "invisible", related to gameplay and balance. It's also because I've been too busy actually modding to write a news post.
Secondly, I'd like to formally announce something rather important:
A release date
We are hoping to release the mod sometime in early to mid September. This is because two of the primary team members, myself and LTCC, will be going to university, so obviously we won't have as much time to devote to UEAW.
Cool Stuff
Although a lot of the things that are being worked on are behind the scenes, I'm sure you've noticed some of the nice images that have been gradually appearing on our media section, mostly courtesy LTCC and his excellent engine particles.
Related to the CIS images that have been appearing, I'd like to draw your attention to a little-known ship that we will be including for the CIS faction. The ship, seen below in the top left of the scene, needs a name. We have a shortlist on our forums, so if you want to influence the decision, head over to our forum via our offical page link on the right.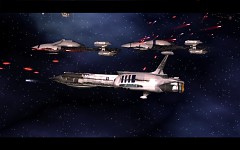 A little more background on the ship: it appears during the Battle of Coruscant in Episode III. Watch the scene carefully, and you can see it quite near the Invisible Hand. Because there is almost no information on it, we have decided to give it an armoured carrier role due to the heavy plating that replaces the standard Recusant spine. It will have fewer weapons emplacements than the Recusant because of this. Here's a direct comparison of the weapons loadouts:
Standard Recusant
3 heavy turbolaser cannons
8 medium dual turbolaser cannons
4 heavy laser cannon batteries
4 laser cannon batteries
Unnamed Recusant Variant
3 heavy turbolaser cannons
6 medium dual turbolaser cannons
2 flak cannon batteries
2 laser cannon batteries
Questions and comments are welcome, as usual.
Until next time
evilbobthebob
UEAW co-leader