The Road to Edain 4.0: A Dwarven Stronghold

Happy Holidays, companions of Edain!
With the previous two updates, we've brought back a number of basic elements from the first Battle for Middle-Earth in Edain. Our search for a more rounded economy led us to the conquerable economic build plots. This in turn made the neutral outpost redundant. From that, we developed the idea of replacing ​​the problematic inn and beacon with a second type of build plot which the player can occupy in order to build faction-specific support structures.
After these steps, one question naturally arose: How far do we want to go in our return to the first installment of the BfME series?
The original game used a completely different construction system: Structures were not built freely by mobile porters, but players instead began the game with a walled fortress or a military camp. These bases offered a limited number of build plots to construct your barracks or other structures. If you wanted more building more building space, you had to move out and conquer the neutral plots distributed on the map.
The sequel removed these bases and gave players the freedom to build any structure they wanted in any number at the location of their choice. This is the established standard in strategy games and opened up quite a few new strategies. However, this system was also responsible for some of the most persistently frustrating gameplay and balance problems, such as the dominant strategy to surround the enemy's base with walls and towers to wall him in. Or to cluster so many defenses in one place that they became impossible to penetrate. Or building wells on the frontlines to heal units faster than the enemy could damage them. All of these are fun at first glance, but ultimately are detrimental to the game's health - mainly because they make the flow of the game static and greatly reduce the role of field battles.
The predefined fortresses with their limited number of build plots offered the players comparatively less freedom. However, they ensured that every game would see dramatic siege warfare: Archers rained down arrows from the parapets, Orcs and Uruks stormed the walls with ladders and siege towers and rams pounded on the gates. This infused every skirmish battle with pure movie atmosphere.
And because the player could upgrade his fortress in various ways, but was at the same limited in the number of defenses he could construct, the siege battles could be designed in a way to be exciting for both sides. In this area, the sequel could never reach the original walls: With walls your men couldn't even walk on and the possibility to build up towards a critical mass of impenetrable defenses, sieges were rarely interesting to play and never atmospheric.
We took a long time to weigh the pros and cons of each system. Eventually we came to the conclusion that the advantages of the predefined castles from BfME I reign superior. Although it differs from strategy game standards, it is much closer to the spirit of The Lord of the Rings. The most important battles of the War of the Ring were siege battles. And while almost every strategy game offers free building, almost none feature exciting siege battles. We have therefore decided to bring back this unique feature of Battle for Middle-Earth in our mod.
In plain English, this means that captains of Gondor and Rohan now command these imposing castles:
You can garrison the walls with archers and upgrade them with towers, catapults, banners and side gates. On the inside, the various castles offer between seven and nine sites for regular buildings. You can also build economy structures within the fortress so that you are not starved completely at the very start when you have not yet taken all external build plots or when you are temporarily pushed back into your base over the course of the game. Nevertheless, the player who controls the outer plots commands a substantial advantage and no general should cede them to the enemy without a fight.
Evil factions like Mordor and Isengard are instead aggressors, and their camps are much less strongly fortified:
However, they can build frightening war machines such as siege towers, ladders and mines to storm every bulwark.
But of course Edain has many more factions that the original game. We couldn't simply port over the existing castles and call it day. No, it was clear to us that if we took this step, we'd also have to create new strongholds. The enormous effort this would require was one of the main reasons we had shied away from this undertaking in the past, even though we are all huge fans of the original game. For version 4.0, we finally decided to tackle the matter with all our energy. Here's what we came up with for the Dwarves...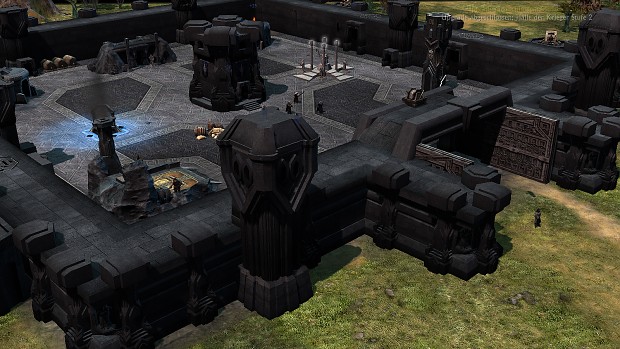 This proud fortress of Durin's folk will be a formidable obstacle to even the most determined invaders... and while the Dwarves were the first of Edain's faction to receive an unique castle of their own, they will not be the last.
Another advantage resulting from the new system is that if we no longer have to take free building into consideration, we can greatly improve the playability of fortresses with narrow space like Minas Tirith. We can place build plots just like in the regular bases and program the AI how to use them. In addition, we have found a way to ​​finally get the AI to close the gates before an attacking army. Fans of epic siege battles have a lot to look forward to in Edain 4.0!
Of course, many other game mechanics will have to be altered as a consequence of the new fortification system. We look forward to your input here. Let us know which aspects you believe must be considered when making these changes and where you think further adjustments will be required. We are also curious which other elements of the first BfME you would like to see in Edain, and which elements of BfME you would like to see preserved throughout these changes.
Furthermore, we'd like to assure you that even while much will change, the core of Edain will remain in place. Our goal is unchanged: To provide you with the best possible Tolkien experience through a diversity of units, deep and interesting heroes and extensive attention to details from both books and films (including The Hobbit!). And we are confident that version 4.0 is a right step in this direction.
We could go on and on about what you can expect in version 4.0. For example, there will be smaller camps with less fortifications on maps which simply can't accomodate larger castles. In addition, we are working on further improvements such as a new unit counter system. But that is beyond the scope of the update, and much of it still lies ahead of us. But because we want to work hand in the hand with the community on the future direction of Edain, we chose to give you this first look into what is to come now rather than later. We hope you enjoyed what you saw and look forward to your feedback!
Finally, to adress the one question that seems to be on everyone's mind: We are resolved to finally make Edain 4.0, with all its sweeping changes, the version of Edain's debut with full English text. To that end, we have enlisted the community's help in our German forums in order to advance the translation, and because many users have lent a hand we have made significant progress. If you are fluent in English and German and would like to contribute, drop us a message!
We have an exciting year before us...