Hello! Good night everybody. First of all, I'm back because this is a mod with a social cause toghether, 
joining the useful to the pleasant. Fight Covid with inniciatives and using the mod as a marketing tool.
Well, I know that many who followed the project since the beggining also followed my psychological fall. How much this mod "cost" for me? How blinded, obsessed I was? At the point to the addiction and lost job, girlfriend, friends, etc.
Faced with all this, you must ask the following question: Should he back to the project? Is this good for his health?

He will lose everything once again?

Well, before I talk about the mod, I'm going to talk a little bit more about myself these days, 
as a way of venting, because I read many, many positive comments here, 
and I saw how much you care and how good it is to have this in a community and I'm really gratefull for this.

Ok, now I'm work with graphic design for an advertsing company, also, I'm do freelance jobs in graphical design, and a lot of Adobe Package techniques I learned, I learned because the mods. Yeah, in certain way was bad because I was addicted, but was good because I learned things that now help me on the job. Also, I'm back to the law school (I want to be a lawyer), about girlfriends, maybe I get one, or maybe not, I'm thinking about that, maybe I took a different path, only God knows.

Talking about God, is kinda... Ironic, I am a catholic, and well, let's be honest, ACII, and all the AC Series are not very "pro-catholic", and the catholic church, in special a friar from my town, an excellent Franciscan priest, help me to get "cured" from my addiction, now is just a happy hobby, nothing more, and if the game is pro catholic or not, don't matter, is a game, is not important. But truth be told, if you believe or not, for me, for Renan, the guy behind that project, the person, God helps me a lot, helps me to see my arrogance, my addiction, my blindness, my problems. A lot of them. Is a lot more of just an addiction to the mods, and I hope in these articles I can share more of this with you guys. Is important everyone know, that behind a graphic designer, behind a modder, behind a game designer there's a person with feelings, problems, and a lot of things, I want to talk to you about my past, about the time I lost my father, about depression, but about good moments too.

But why? Why I want to get back to this project. Well, I live in Brazil, and here in Brazil some places have quarantine, and some not because our bad politicians, luckly in my city the mayor declared quarantine, and thats REALLY IMPORTANT, STAY HOME FOLKS! My work, is in homeoffice, so I produce better and faster since my PC is a "SUPER MACHINE", and I have a free time to do all things I want.
THIS IS IMPORTANT READ THIS PART:

But... I don't want to retake this project only with the mod in mind, or the game in mind, I want with this mod bring some things we can do in OUR HOMES (stay in homes) or with social actions to combat the Covid-19, we need to do this. For the first suggestion, I want you guys take a look at folding@home (https://foldingathome.org/) this is a inniciative that creates a SUPERCOMPUTER to figure out the proteins and other elements of the virus, and with that a vaccine or a cure can be found more easily, and I hope... more fast.
Every update, I hope I can do that weekly or each 2 weeks, I will try to bring some inniciative that we can help to fight covid-19, after all, if we're Assassins, let's assassinate Covid :P
Well, about the mod, here some shots: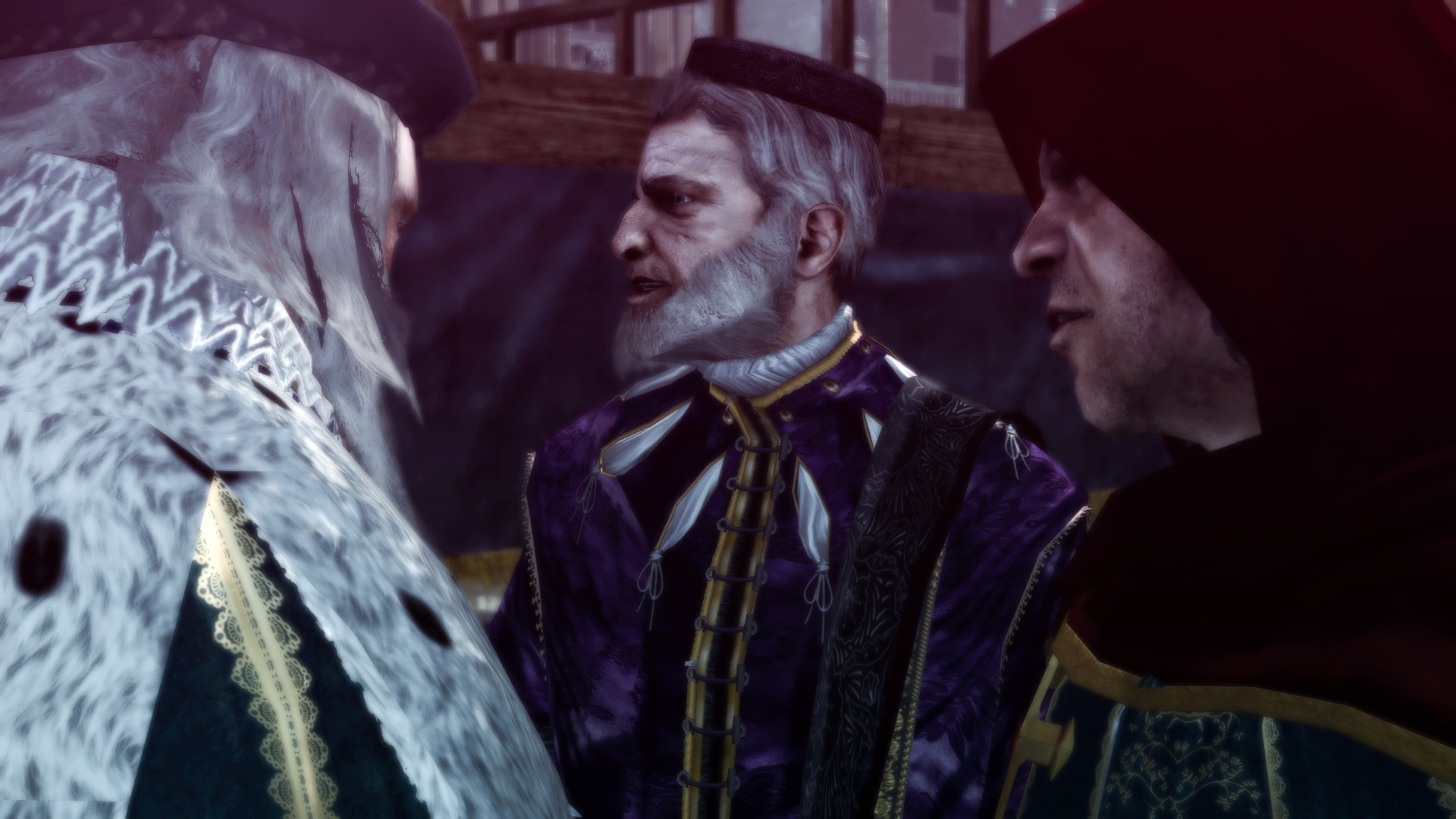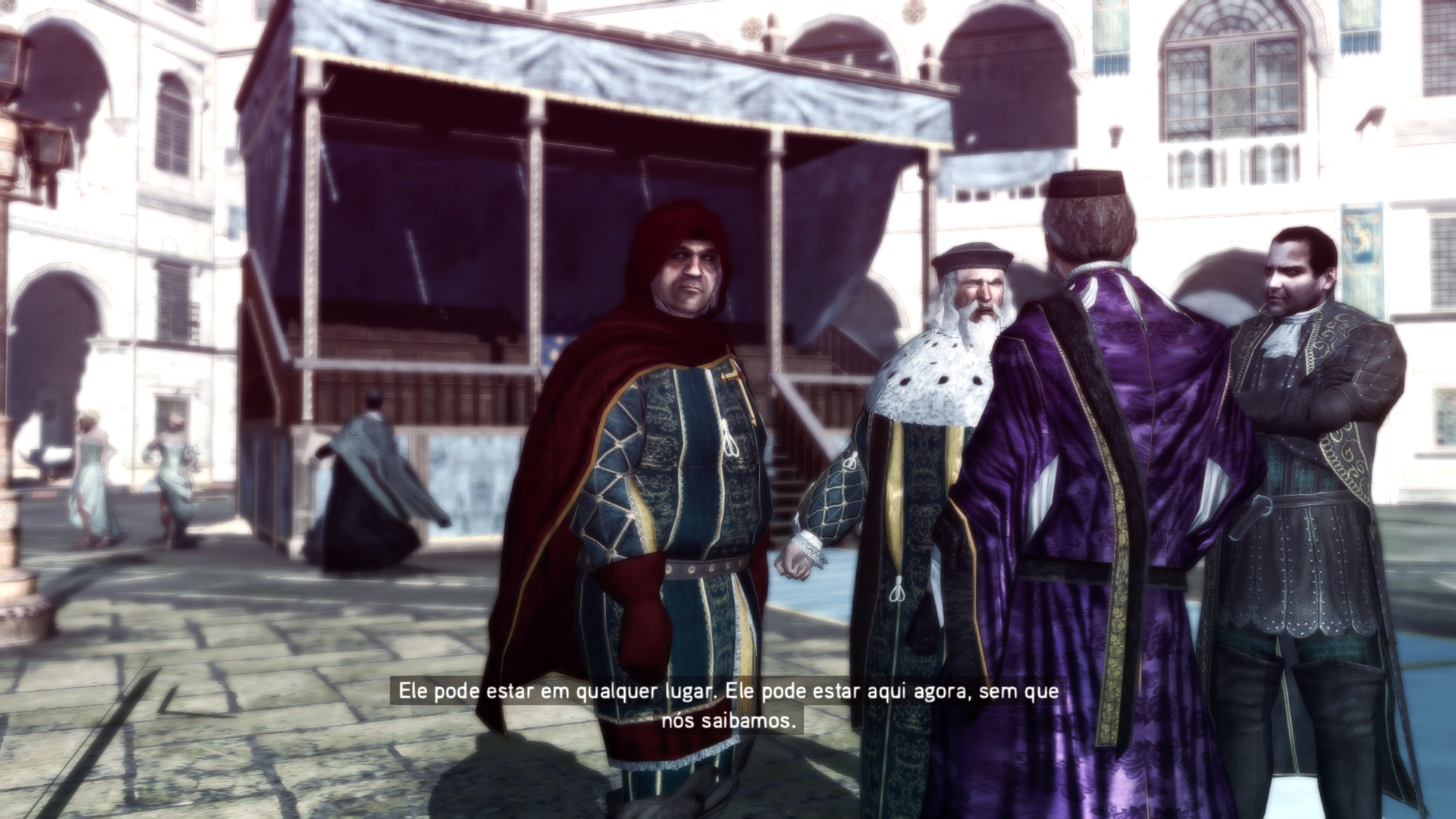 Is far from perfect, but... this a retex of the Main NPC's, in this case, Barbarigos, also we have a new shader using Reshade, to be more close to Ezio Collection, at the moment we have 570 textures edited, scenarios, citizens, NPC's, clothes, weapons, everything, in a WIP stage, but better than the originals, also, a cool guy of Xentax probaly can extract the faces from PS4 Ezio Remaster, and that would be a GREAT GREAT IMPROVEMENT (I Really suck in texturing faces). But... I really, really don't want to do this alone. I want YOUR HELP.

Yes, if you know how to do good textures, or want to learn some techniques, know how to rip PS4/Xbox-One Textures for we improve even more, know how to do great shaders effects in Reshade, or know some historical things that can help us, WELCOME ABOARD. Ps.: If you know how to fix that mess of engine that AC2 engine is and fix the shadows and lods I KISS YOU!


Okay, with all that said... WE'RE BACK! AND...


#STAYHOME #FIGHTCOVID #LIFEISIMPORTANT